Sometimes it's just so easy to reach for the take away menu. But if you're trying to lose weight it's best not to get your calories delivered to your door in a greasy cardboard box.
Try this great recipe for a delicious, low fat pizza that's going to be ready faster than you could have it delivered.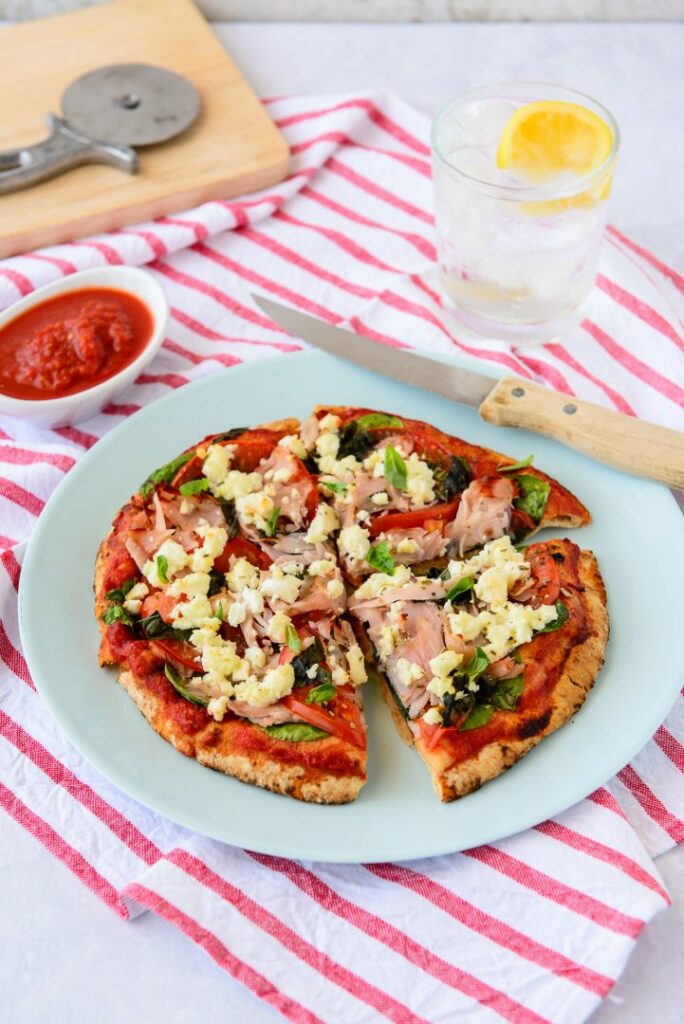 By making your own healthy take away food you can control what goes in, and of course, what stays out.
An important note for pizza is not to go overboard with your toppings. Two to three good quality ingredients is a great option. Any more than this and the pizza tends to become a little sloppy.
Ingredients for the dough:
1 ½ teaspoons (or 1 sachet) of dried yeast
½ teaspoon of sugar
¾ cup warm water
2 cups plain flour
1 pinch salt
1 tablespoon olive oil
Ingredients for a simple and tasty tomato base:
1 can diced tomatoes
1 brown or red onion, finely diced
1 clove garlic, minced
2 tablespoons of balsamic vinegar, or red wine
Salt and pepper to taste
1 tablespoon olive oil
Directions
Place the yeast and the sugar into the warm water.  Place somewhere warm and let the yeast activate for ten minutes or until foamy on top.
Preheat your oven to 200°C and line two baking trays with baking paper.
First, prepare the sauce. Heat a frying pan on medium-high heat.   Heat up your oil and add the garlic and onion.  Stir well and cook for 3-4 minutes until just coloured.  Add tomatoes, as well as the salt and pepper.  Allow the sauce to cook down a little for about 3 minutes before adding the balsamic vinegar or wine.  Turn down the heat and allow the sauce to simmer while you get on with the dough.
Place the flour, salt and olive oil into a large mixing bowl and add your yeast mixture.  Bring together with a wooden spoon to form a ball of dough.  If necessary, add more water or flour to get the consistency right.
On a lightly floured surface, knead the dough for two minutes until it becomes soft and elastic.  Break the dough into two pieces and roll out thinly to fit the size of your two baking trays.   Pour over your sauce and then add the toppings of your choice (remember, less is more).  Bake in the oven for 20-30 minutes or until the pizza crusts are golden and crispy.
Makes: 2 pizzas. Serves: 6. Calories per serve: 213.
Here are some great flavour combos you could try:
shredded cooked chicken breast, olives and feta
mushroom and tasty cheese (pictured)
sliced roast lamb, cherry tomatoes and haloumi
Love the Healthy Mummy team xxxx
If you are curious about the 28 Day Challenge click HERE for some our ENERGY BOOSTING recipes.
Just CLICK HERE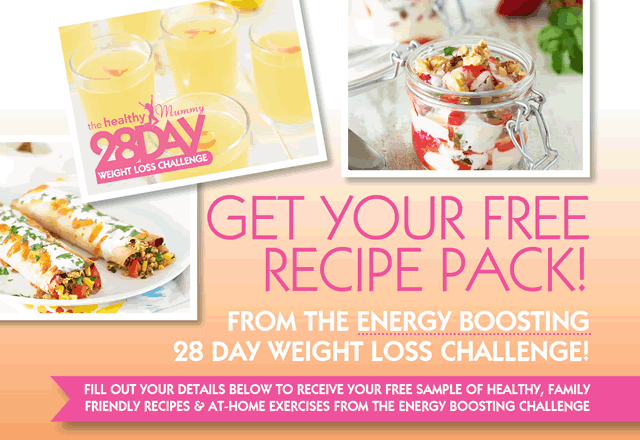 About the 28 Day Challenge
A few key things to note are:
The Challenge menu is FULLY customisable
You have access to over 1700 exclusive recipes
You have access to over 300 exercise routines
Meals are family friendly and are made in under 10-20 minutes
For a limited time, we are offering you a HUGE DISCOUNT on the lifetime membership discount on the 28 Day Weight Loss Challenge – you can see this awesome offer here
Join now
You won't regret it!