There is a common misconception that in order to follow a healthy eating plan that is will be hard work, complicated, non family friendly and not tasty.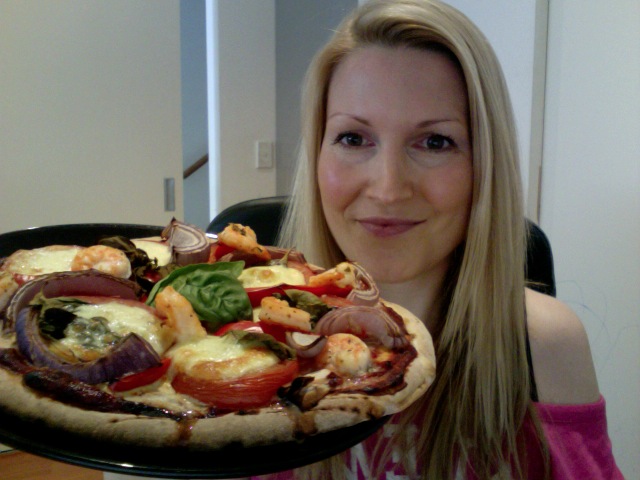 But this is 100% not the case. The Lose Baby Weight pregnancy weight loss plans are designed to be easy to follow for the busy mum and rather than a fast weight loss diet, it is a healthy and sensible eating plan that helps you lose your baby weight in a safe way and the average loss is 500g – 1kg a week and our plans are also made to be safe if you are breastfeeding your baby and wish to lose weight.
Tonight we made a delicious and healthy eating home made pizza and served it with a BIG salad and it went down a storm with my toddler and greedy husband.  See the recipe below and give it a go this week too – and best of all it only takes 5 minutes preparation.
Prawn & Vegetable Home Made Pizza
1 x wholemeal pizza base (or use wholemeal pitta bread)
2 x large tomatoes cut into thick slices
1 x red onion
4 -5 x cherry tomato size mozzeralla balls
Half a red Capsicum into slices
3 x tbsp of tomato paste
8 x fresh prawns (or use another protein/meat/fish)
A handful of chopped basil
To make it simply spread the tomato paste to your base then load up with all the vegetables and prawns then pop in the oven. Sprinkle with the chopped basil then serve with a big salad
And don't forget to check out our current promotions and discounts page to see what specials we have on this week on our Healthy Mummy product range