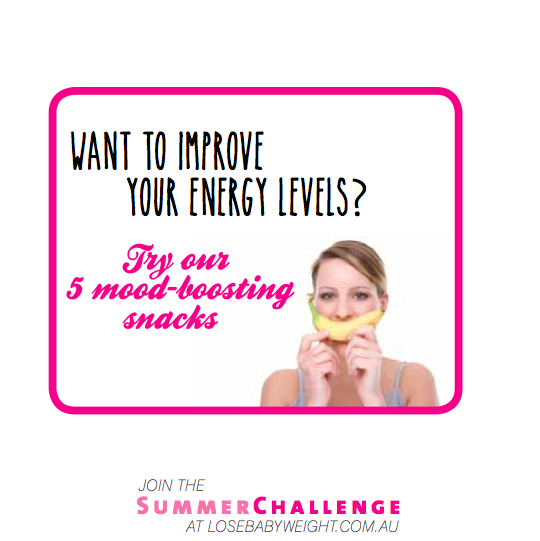 When you are looking after kids you might often feel tired, hungry, stressed, frazzled, tired, anxious, on edge, oh and did we mention tired?
It's all too easy to go for the quick fix in the snack department.
Especially when it feels like on every corner there is a shop wanting to sell you biscuits, lollies, cakes, chips and sweet drinks.
So instead of letting yourself get to that 'I'm so hungry I could eat 15 chocolate biscuits' stage of hunger, prepare some snacks in advance.
Because hunger is one of those things that just keeps on coming back every day, so you need to be prepared for it.
Today we have 5 great snack options that are good for you AND contain ingredients that are known for their mood boosting qualities. So you will feel satisfied and full of natural energy!
These healthy muffins are a great home made alternative to the fat and sugar laden breakfast cakes that some cafes try to pass off as being 'healthy.' They also contain bran which is great for your digestion, helping you to fight off sluggishness.
Blueberries are a little super star that can actually help to produce a 'feel good' enzyme which is sure to work wonders on your mood.
These tasty morsels manage to pack in two healthy veggies as well as a protein hit from the almond meal. It's great to try and enjoy some savoury snacks instead of always looking for the sweet option.
Spinach is chock full of antioxidants and folic acid. It has been shown to reduce tiredness as well as fight depression.
These healthy treats pack in the goodness with oats, wholemeal flour, yoghurt, seeds, eggs and warming spices. No added nasties means you can have your cake and eat it too.
Full of potassium the humble banana is a great option if you feel tired or a bit stressed.
Eating salmon can help to focus your attention and fight depression. These savoury fish cakes are a great grab-and-go snack that you can keep on hand in the fridge. Full of fresh herbs and the sweetness of the sweet potato, they manage to pack in 4 different veggies as well as the heart loving salmon.
This simple recipe makes 24 mini muffins, so why not keep some in a zip lock bag in the freezer so that you can grab them on your way out the door? They should be defrosted by the time hunger strikes.
No matter how you like your eggs, they are a great snack option as they are full of protein to keep you fuller for longer. They also contain choline which has been proven to improve energy levels and your general mood.

GET YOUR 10% DISCOUNT
If you are ready to lose weight then the Lose Baby Weight plans offer a healthy and safe exercise and diet routine and you can get a 10% discount by using code LOYALTY at the checkout
PLUS our BEST SELLING 28 Day Diet & Exercise Plan is available as a 200pg Printed Book and you can get your copy here 
Plus our NEW CALORIE BIBLE is now available – get your copy today! Only $19.95 and a must have in your handbag!
Click HERE to see our shop