At Lose Baby Weight, we don't encourage mums to starve.
In fact we recommend mums keep snacking which will not only provide them with energy but will also increase their metabolism rate. With this in mind, you have to snack wisely.
Here are a few easy-to-make healthy snack recipes that you will love to snack on.
Plus you can read about why the metabolism is so important in weight loss here and get some tips on how to boost yours
---
Easy snacks to keep you going
A handful of nuts and a couple of pieces of fruit
2 carrots, chopped up cucumber and raw cauliflower drizzled with olive oil and balsamic vinegar
Carrots with low fat cottage cheese
An apple with peanut butter
A small bowl of strawberries with a tbsp of Greek yoghurt
A hard boiled egg with slice of wholegrain toast
Whole grain toast with tinned tomato sardines
A slice of wholegrain toast topped with some tinned salmon, Philadelphia light and spinach leaves
A low fat yoghurt with a pieces of fruit
2 rice cakes topped with low fat cottage cheese, cucumber, tomato and red pepper
Small serving of natural yoghurt, with linseed's, and a pinch of cinnamon.
2 wholegrain crisp breads spread with mashed avocado and a squeeze of lemon juice.
2 multi grain crispbreads topped with salmon, cottage cheese, and herbs.
1 rice cake topped with a hard-boiled egg and mixed herbs
Mini Waldorf Salad – Lettuce leaf, sliced apple, sliced celery, cucumber and a couple of walnuts… drizzle of natural yoghurt OR maple syrup
Cup of green tea blend and a sliced golden delicious apple with lemon juice drizzled on
Carrot sticks or cucumber with hummous or salsa
Brushetta and made with chopped up fresh tomatoes with finely chopped red onion combined with 1 tsp of basil pesto, some crushed garlic and a heap of good quality balsamic vinegar. Mix it all together and eat with some multi grain toast
Grated green apple with grated raw beetroot
Vegie & fruit snacks pre-cut waiting and ready in the fridge
---
Low Fat Snack Recipes
Spicy Hummus with Olives
Ingredients:
2 x 400g tin chickpeas, drained
2 red peppers
6 garlic cloves
4 tbsp. water
1 tbsp. extra-virgin olive oil
Juice and zest of one lemon
Large handful fresh basil
10 pitted black olives
1 tsp. cayenne pepper
Salt and pepper
Method of Preparation:
Roast the red peppers on a non-stick baking tray in a 220C oven until blackened. Put into a bowl, cover with cling film and leave for ten minutes. Remove the cling, then peel off the skins and remove the seeds.
Place the chickpeas, peppers, garlic cloves, water, oil, lemon juice and zest, basil leaves, olives, cayenne pepper, salt and pepper into a blender.
Blend until smoothly processed then tip into a bowl, cover with cling film and refrigerate until you're ready to eat it.
Omit the olive oil if you're going for a very low-fat hummus, but keeping just 1 tbsp. in makes it nice and smooth. Recipe serves 6.
Crunchy Chickpeas
Ingredients:
1 x 400g tin chickpeas, drained
1 tbsp. olive oil or oil spray
Salt and cayenne pepper to taste
Method of Preparation:
Preheat oven to 230C.
Pat the chickpeas dry, then drizzle with oil and sprinkle with salt and pepper.
Roast for 30-40 minutes. Keep an eye on them for the last 10 minutes to make sure they don't burn.
If you want to make these into a sweet snack, sprinkle with cinnamon and low-cal sweetener once cooked, omitting the salt and cayenne pepper. These are a great low-fat alternative to nuts. Recipe serves 4.
Oat, apple and sultana bars
1 ½ cup oats
½ cup almond meal
½ cup wholemeal flour
½ cup brown sugar
¼ tsp baking powder
¼ tsp ground cinnamon
½ cup sultanas
¼ cup plain natural yoghurt
¼ cup honey
1 tsb golden syrup
1 large apple peeled and chopped
Add first 7 ingredients to large mixing bowl
Mix together honey, apple, syrup and yoghurt
Add to dry ingredients, mix until well combined
Spread onto slice tray (approx 20x30cm)
Bake at 180 for approx 30 mins or until browned"
Homemade Microwave Crisps
I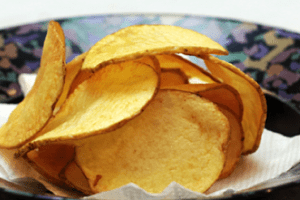 ngredients:
1 potato
1 tsp. oil
Salt and seasoning to taste
Method of Preparation:
Thinly slice the potato on a mandolin or in a food processor with the slicing attachment – they need to be paper thin.
Arrange greaseproof paper on a microwave proof plate or serving dish. Arrange the potato slices on the plate in a single layer and drizzle with oil.
Put into a microwave and cook on high for 3-7 minutes. Times depend on the power of your microwave. They are done when they are browned and crispy.
Once crisp, toss with the seasoning of your choice (a few drops of vinegar would be tasty) then repeat the process with any remaining potato slices.
Mixed dried herbs would work well as a seasoning agent, as would paprika and chilli powder. Ground cinnamon is an ideal seasoning if you want to make sweet crisps.
Roast Tomato Salsa
Ingredients:
4 large ripe tomatoes
1 small red onion
2 garlic cloves
2 red chillies
Handful freshly chopped coriander
1 tbsp. lime juice
Salt and pepper
Method of Preparation:
Slice the tomatoes in half and arrange cut side down on a baking tray. Put into a 200C oven and cook until the skins are charred, around 15 minutes.
Remove the skins then roughly chop the flesh.
Finely chop the red onion and mince the garlic cloves. Slice the chillies in half lengthways, remove the seeds then finely dice the flesh.
Stir together the roasted tomatoes, red onion, garlic, chilli, coriander, lime juice and salt and pepper. Chill for an hour before serving.
Serve this salsa with homemade crisps or chips or with some fresh vegetable crudités, such as carrot or celery. Recipe serves two.
Mini Savoury Egg Muffins
Ingredients:
1 whole egg + 4 egg whites
50g reduced-fat grated cheddar
100g fresh spinach
1 small onion
Salt and pepper
Method of Preparation:
Heat the oven to 170C. Spray two mini muffin trays with oil spray.
Finely slice the onion. Spray a frying pan with oil spray and add the onion. Cook for 5 minutes or until soft, then add the spinach and cook until wilted.
Whisk the eggs and egg whites with salt and pepper and then stir in the cheese.
Divide the onion and spinach mixture between the 24 mini muffin holes and then divide the egg mixture between them.
Put into the oven and cook for 10-15 minutes or until set and puffed up.
If you like, add sliced cooked mushrooms and finely chopped lean ham to these savoury muffins for extra flavour. These are a great lunchbox snack. Recipe makes 24 mini savoury egg muffins.
Hot Artichoke Dip
Ingredients:
250g low fat cream cheese (or use half cream cheese half 0% fat yoghurt)
1 x 400g tin artichoke hearts, drained
1 garlic clove
25g grated Parmesan cheese (you can leave this out if you want, but each person will only eat 5g or so of the cheese and it does give a great flavour)
Salt and pepper
Method of Preparation:
Roughly chop the artichoke hearts and mince the garlic clove.
Stir all ingredients together and season well. Put into an oven dish and cook at 180C for 15 minutes until golden and bubbling.
Serve this dip with homemade crisps or tortilla chips, or with vegetable crudités. Give more flavour to the dip by using a herby cream cheese. Recipe serves 5-6.
Grilled Potato Skins
Ingredients:
4 small baking potatoes
125g low-fat sharp/mature grated cheddar
2 tbsp. extra light mayonnaise
Paprika
2 slices lean ham
Salt and pepper
2 spring onions
Method of Preparation:
Prick the potatoes with a fork all over. Place into a 200C oven for 40-50 minutes until soft and tender.
Let the potatoes cool then cut them in half. Scoop out the flesh.
Put the potato skins back into the oven for 20 minutes until crispy.
Finely slice the spring onions and the ham. Mix with the potato flesh, half the cheese, mayonnaise, paprika, salt and pepper.
Divide the onion and ham potato flesh back between the potato skins. Top with the rest of the cheese.
Put them back into the oven for 10 minutes or so until golden and bubbling.
Experiment with different flavours – try cooked mushrooms, bacon or even just onion and chive. Recipe serves 4.
Smoked Salmon Pinwheels
Ingredients:
225g smoked salmon slices
225g fat-free cream cheese
Black pepper
200g rocket leaves
Lemon wedges
Method of Preparation:
Spread the smoked salmon with the cream cheese. Sprinkle with black pepper and arrange the salad leaves over the cheese.
Roll up the salmon, so you have a long roll that looks like a Swiss roll then slice into pinwheels.
Stick a cocktail stick through the pinwheel to keep it together and then serve with lemon wedges.
You can also do this with thick lean ham or cooked bacon in place of the salmon. Recipe serves 4.
Low-fat Chicken Nuggets
Ingredients:
4 skinless boneless chicken breasts
100g wholemeal breadcrumbs seasoned with salt and pepper
1 tsp. dried basil
1 tsp. black pepper
Pinch dried chillies
Pinch salt
½ tsp. dried thyme
Small handful freshly chopped parsley
2 eggs
1 tbsp. water
Method of Preparation:
Beat the eggs with the water.
Chop the chicken into strips or bite-sized pieces and set to one side.
Combine breadcrumbs, basil, pepper, chillies, salt, thyme and parsley in a bowl.
Add the chicken to the eggs and coat, then put into the breadcrumb mixture and toss evenly to coat the chicken in the breadcrumb mixture.
Lay the chicken nuggets onto a baking tray, and cook in a 220C oven for 7-10 minutes, then turn and cook for another 5 minutes or so.
Add more or less chilli and pepper to the recipe, depending on your personal preferences. This recipe serves 4.
Low-fat Roasted Pumpkin Seeds
Ingredients:
Seeds from one whole pumpkin
Oil spray
Salt, pepper and a pinch of paprika
Method of Preparation:
Rinse the pumpkin seeds and then dry the pumpkin seeds on kitchen paper.
Spread in a single layer on a baking tray and spritz with oil spray before seasoning with salt, pepper and paprika.
Bake in a 170C oven for 20-25 minutes until golden and crisp, then serve warm or cold.
Make these sweet pumpkin seeds by roasting with 1 tbsp. brown sugar and 1 tsp. cinnamon – delicious! Recipe serves 2.
So, use these healthy snack recipes to cook up healthy and low fat snacks that are both delicious and easy to prepare as well.
---
Cheesy Polenta Fingers
These crunchy fingers are a cinch to make as well as being a great snack when you're on the go or between meals. The kids will love them as well!
Ingredients
1/2 cup of polenta (you can usually find it in the health food aisle of your supermarket)
1.5 cups of salt reduced vegetable or chicken stock
1/4 cup of low fat grated cheese (I like mozzarella or cheddar)
1/4 cup of finely grated vegetables of your choice (I usually use carrot or pumpkin but zucchini and spinach would also work well)
1 tbsp. olive oil
Directions
Pour stock into a medium sized saucepan and heat on high heat till it begins to boil.
Reduce heat to medium and gradually add the polenta to the saucepan, bit by bit, stirring constantly.
Continue to stir the mixture until it begins to thicken to the consistency of mashed potato.
Add the cheese and veggies to the saucepan and mix well.
Pour mixture into a baking paper lined tin or baking tray. Smooth over the surface with a wooden spoon to remove any bubbles or lumps.
Place the tray in the fridge and leave till mixture hardens (usually an hour).
Remove tray from the fridge and turn out the block of polenta onto a chopping board.
Cut block into quarters and then slice each quarter into fingers
Heat olive oil in a fry-pan over medium heat and add fingers, cooking till golden.
Remove fingers from fry-pan and place on absorbent paper to drain.
Serve on their own or with a side salad.
Makes approx 8-10 fingers Calories per finger – 45
---
Fetta, spinach and avocado spread
Dips and spreads are a delicious (and nutritious) option when following a weight loss and healthy eating plan. They fill you up and keep energy levels stable, without adding too many calories to the mix. Pick your dips and spreads wisely though and stick to ones that are low in fat, salt and sugar. This fetta, avocado and spinach dip is a great option.
Ingredients
1 x large avocado
1/2 cup reduced fat fetta cheese
1/2 tbsp of extra virgin olive oil
1 tbsp lemon juice
1 tbsp of low fat Greek yoghurt
1/2 cup baby spinach leaves, chopped into small pieces
Directions
Slice avocado in half and scoop out the flesh, place in a small bowl and mash well with a fork.
Crumble in the fetta and continue mashing till a smooth spread is formed
Add olive oil, lemon juice, yoghurt and spinach and stir well to combine
Serve immediately
* If you wanted to make this while out, you can combine all ingredients except the avocado then add it in  just before serving.
* Diced tomato, spanish onion and even rocket leaves all make great additions to this spread.
Makes enough for 2 people – Calories per serve – 240
---
Roast Beetroot Spread
Nothing beats beetroot when it comes to antioxidants and other health benefits. Try this spread to reap the benefits today!
Ingredients
4 fresh beetroots, topped and tailed and rinsed
1 cup of low fat Greek Yoghurt
1/2 cup raw cashews (not roasted and salted)
1 clove garlic, crushed
2 tbsp lemon juice (freshly squeezed or from a bottle)
1 tbsp olive oil
1 tspn ground cumin
1 tspn ground cinnamon
Directions
Preheat the oven to 200C
Combine olive oil and crushed garlic.
Place beetroots on a baking tray and drizzle with olive oil/garlic mixture.
Place baking tray into the oven and roast for approximately 45 minutes.
Once time is up, remove baking tray from the oven. Allow beets to cool slightly before peeling away the outer skin. You may want to wear gloves for this part to prevent your hands from staining. Skin should come away very easily if baked through.
Slice beetroot into wedges and set aside.
Place cashews into a food processor bowl and coarsely chop (you could do this by hand if needs be).
Add beetroot, yoghurt, lemon juice and spices.
Process until mixture has a chunky but spreadable consistency.
Store in an airtight container in the fridge for up to three days.
Makes 6-8 servings – Calories per serve – 108
---
Zucchini, spinach and ham muffins
Try these simple but delicious savoury muffins for a nutritious snack on the run.
Ingredients
100g ham, finely diced
2 cups wholemeal self raising flour
3/4 cup almond meal
1/2 large zucchini, washed and grated
1/2 cup baby spinach, washed and shredded
1 tsp baking powder
80g unsalted butter, melted
1 cup skim milk
1/2 cup grated cheese
Vegetable oil spray
Directions
Preheat the oven to 180C.
Spray two 6 muffin muffin trays with vegetable oil spray and set aside.
Sift wholemeal flour into a large bowl, followed by the almond meal.
Add baking soda and mix to combine.
Pour in the milk and melted butter and mix well.
Add the ham, zucchini and spinach and make sure batter is all combined.
Spoon batter into the muffin trays.
Cook for 25-30 min or until muffins are golden.
Enjoy!
– Cooked muffins can be frozen for up to a month.
Makes 12 muffins – 230 cal per muffin
---
Stuffed Avocado Halves 
Ingredients
2 large, ripe avocados
1 large vine-ripened tomato, deseeded and finely chopped
1 small red onion, diced
1 tbsp basil, finely chopped
1 tbsp fetta, crumbled
1 tbsp olive oil
1 tbsp lime juice
1/4 tsp tabasco sauce
Directions
Cut the avocadoes in half and remove the seed.
In a small bowl, combine tomatoes, onion, basil, fetta, olive oil, lime juice and tabasco sauce and place in fridge to marinate.
Before serving, scoop tomato mixture out of bowl and divide evenly amongst avocado halves
Spritz lemon juice over the top and serve immediately.
---
Healthy Wholegrain Banana Bread
Ingredients
1 cup buckwheat flour
1 cup LSA
2 large eggs, beaten
3 ripe bananas, mashed well
1/3 cup coconut flakes
4 tbsp olive or coconut oil
2 tbsp honey
2 tsp cinnamon
1 tsp natural vanilla extract
1 tsp baking powder
Directions
Preheat the oven to 180C.
Place mashed bananas, eggs, oil, honey and vanilla into a large bowl and stir well to combine.
Fold in the buckwheat flour, followed by the LSA mix.
Add half the coconut and stir to combine.
Line a loaf tin with non stick baking paper
Sprinkle remaining coconut over the top.
Place in the oven and bake for 40-50 minutes or until a skewer inserted into the loaf comes out clean.
Once golden brown and cooked through, remove from the oven and allow to cool on a wire rack before serving.
Makes approx 10-12 slices (depending on thickness) – Cal per slice – 210
---
Zucchini Fritters
Ingredients
3/4 cup zucchini, grated
1/2 cup spinach leaves, shredded
2/3 cup cheddar cheese, grated
1 large egg, beaten
4 tbsp plain wholemeal or spelt flour
zest from 1 lemon
1/4 cup mint, chopped
Pinch of sea salt (to absorb water from the zucchini)
2 tbsp olive oil
Directions
Place grated zucchini in a colander/strainer and sprinkle with salt.
Allow to sit for 10 minutes then use your hands to squeeze out all the excess moisture.
Place zucchini in a large bowl and add the other ingredients.
Use your hands to combine well and form into small patties (mixture should make 12-14 fritters).
Heat a large frypan over medium/high heat and add the 1 tbsp of the olive oil.
Cook half the fritters, turning after a couple of minutes.
Set aside on absorbent kitchen paper once golden brown.
Add second tbsp of oil to the pan and cook remaining fritters.
Serve with a side salad or on their own.
Makes approx. 12 fritters – Cal per serve – 55
---
A Trio Of Guilt Free Dips
Beetroot Dip
Ingredients:
1 x 400g tin of beetroot, drained
2 tsp horseradish cream (or you could use hot English mustard)
1 tbsp lemon juice
1 cup natural yoghurt
Salt & pepper, to season
Directions:
Place all ingredients into a blender or food processor and blend until smooth.
Serves: 6. Calories per serve: 81
Hommus Style Dip
Ingredients:
1 can of chickpeas, drained and rinsed
2 tsp minced garlic
½ cup natural yoghurt
2 tbsp lemon juice
Salt & pepper, to season
Directions:
Place all ingredients into a blender or food processor and blend until smooth. Serve with a sprinkling of paprika on top.
Serves: 6. Calories per serve: 64
Simple Tzatziki
Ingredients:
1 large cucumber, peeled and diced
1 cup natural yoghurt
2 tsp minced garlic
Handful of fresh mint leaves, chopped
Salt & pepper, to season
Directions:
Place all ingredients in a bowl and bring together with a spoon. Serve with some extra mint on the top.
Serves: 6. Calories per serve: 70
Serve the dips with:
Carrot, capsicum or celery sticks
Florets of lightly steamed broccoli or cauliflower
Cherry tomatoes
Snow peas
Toasted pita bread triangles
As a spread on a sandwich
Alongside some lamb cutlets, grilled chicken breast or fish fillets
---
Make Your Own Ricotta In 5 Minutes
Just 3 ingredients is all you need!
Ingredients:
2 cups of full cream milk
2 tablespoons of lemon juice
¼ teaspoon salt
Directions:
Place the 3 ingredients in a glass jug and mix gently with a spoon.
Place in the microwave on high for 3-4 minutes.
Take it out and stir very gently for 5 seconds. You will see the milk separate into solid white curds. If not, pop it back in the microwave for a further 30 seconds and stir again.
Take some cheesecloth and fold it to make 4 layers and place it over a bowl (or you can do what I did and use a (new!) blue dishcloth, but just one layer is needed).
Pour the milk mixture on top and allow it to drip through. Resist the urge to squeeze it or help it along in any way.
After a minute check to see if the liquid has all gone, and then you can place the cheese onto a plate for immediate use.
It doesn't make a huge amount (half a teacup in my case) but it is plenty for making a pasta dish, smearing on toast, etc.

GET YOUR 10% DISCOUNT
If you are ready to lose weight then the Lose Baby Weight plans offer a healthy and safe exercise and diet routine and you can get a 10% discount by using code LOYALTY at the checkout.
Click HERE to see our shop