Every month, a mum who is on the Lose Baby Weight plans will be writing about their journey, exercise, ups and downs and will be here to help motivate YOU and THEMSELVES along the way.
If you'd like to become our Motivating Mum for the month click here to find out more (we pay you for it too!).
Eleanor Hannah has been motivating us all with her posts during May and June.
This mum of three has already lost almost 30kg and has overcome some major obstacles along the way.
You can read some of Eleanor's recent posts here and here.
'This week has been filled with small realisations.
I've lost almost 30kgs – that's like two of my children – in just over a year. Finally in my head I'm starting to see the change in me 🙂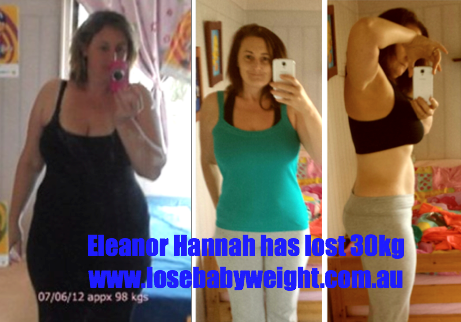 I took a selfie (beginning to love them hehe) and normally I cringe and go eek but this one I was like 'wow that's really me.' I have a waist again, just one chin and I'm starting to see the person I want to be and I used to be.
Good ole hubby also made me realise a few things too. I wondered why he wasn't commenting on any of my photos saying how proud he was of me etc and male speak here.
He said 'But it's how you used to be, you have done amazing but this is how I know you.'
My heart sank a little but then I thought you know he's right!!!!
5 years ago we got married, and I've known my hubby since I was 12 – so we've known each other a long time.
When we got married I was the happiest I had ever been and in the best shape. My eldest was almost 3 and I felt good.
Hubby has always supported me and never once said anything mean about my weight and has encouraged me every step of the way the last year 🙂
This whole conversation made me think of how I put on 30 kgs. For me it was hubby's diagnosis of cancer 6 months after my second child was born (our first).
I made sure I was active all through my pregnancy and had lost most of any weight I put on very soon after she was born.
We got his diagnosis and the world fell out from underneath me.
We had basically 4 months of driving, sitting, driving, me working, taking our 6 month old everywhere, driving, sitting and more driving.
It's now all a bit of a blur but I know now I basically stopped eating. I'd maybe have breakfast but more than likely wouldn't eat till after 3pm.
Which completely proves the theory that starving yourself does not help you lose weight!
So it's taken me 1 year and a bit so far to finally see my metabolism start working again. I have to constantly remind myself to eat. I'm starting to feel hungry again; it's a weird but awesome feeling.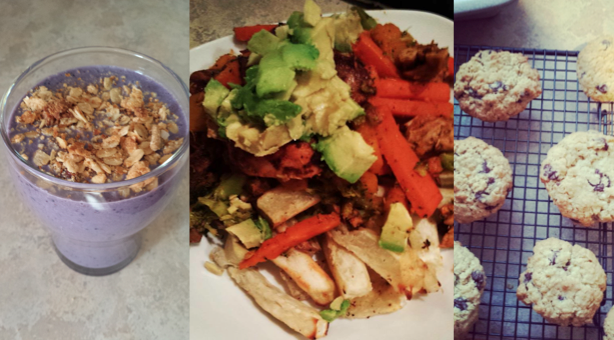 Also just wanted to say a little about the excuse of healthy food being too expensive.
I drink a Healthy Mummy Smoothie for breakfast and lunch; and as a family of 5 we spend max $150 a week on our food.
We can't afford to spend any more than that; and we eat really well and I use the 28 Day Diet & Exercise Plan and recipes from the Lose Baby Weight site.
We very occasionally have take away's, and we eat lots of veggies and fruit so it can be done.
Lots of planning and shopping around but it definitely can be done 🙂
I found out the other weekend how much our bodies get used to eating healthy. Hubby and the kids wanted KFC. We haven't had KFC for a very very long time.
I got a twister, and as soon as I took a bite I felt gross. Not because I felt guilty but because it felt oily and gross and tasted fatty.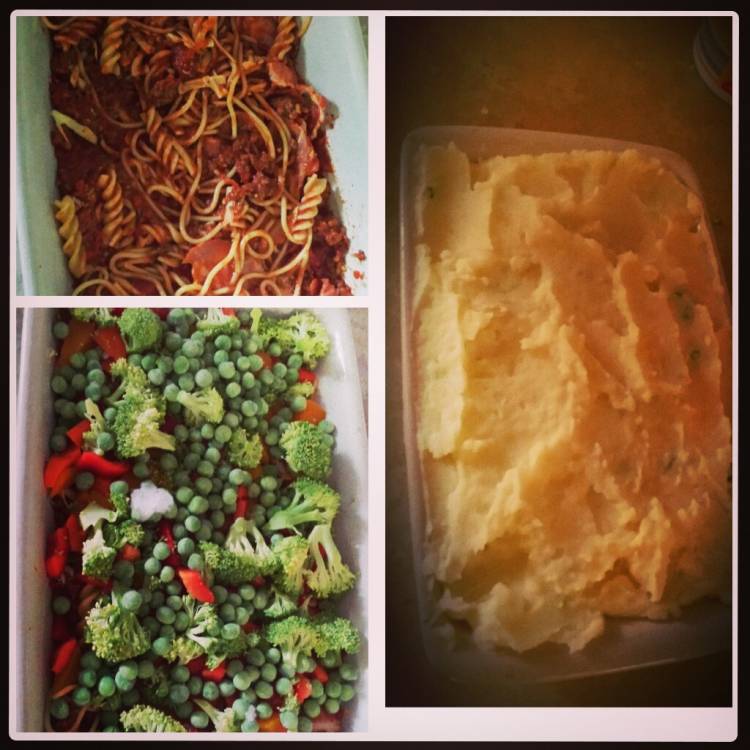 Within an hour I was on the toilet haha and my face came out in pimples the next day too.
The kids and hubby also said they had a funny tummy and spent a lot of time on the toilet, so it just shows what effect these type of foods have on our bodies and our kid's bodies.
I'm super excited for standing on the scales on Monday as I haven't stood on them all month or taken my measurements.
I'm feeling really different. I bought some yoga pants from Big W yesterday and they only had a size 10 in the colour I liked.
I was thinking oh well if I don't fit them it can be my goal to fit them – and yep they are stretchy and size is prob more a 12 but they fit and they are a size 10!!!
I've been loving the school holidays and have been getting active with the girls. Lots of time at the park, walking, and we've been having running races – gotta get that exercise in!
Hope you like the pics of my healthy food I've been making.
Have a good week everyone.'
– Eleanor Hannah
 
GET YOUR 10% DISCOUNT
If you are ready to lose weight then the Lose Baby Weight plans offer a healthy and safe exercise and diet routine and you can get a 10% discount by using code LOYALTY at the checkout
PLUS our BEST SELLING 28 Day Diet & Exercise Plan has now launched as an 84pg Printed Book and you can get your copy here 
Click HERE to see our shop