Every month, a mum who is on the Lose Baby Weight plans will be writing about their journey, exercise, ups and downs and will be here to help motivate YOU and THEMSELVES along the way.
If you'd like to become our Motivating Mum for the month click here to find out more (we pay you for it too!).
Mum of three, Eleanor Hannah has been motivating us all with her posts this month after losing 25kg with Lose Baby Weight.
You can read some of Eleanor's previous posts here and here.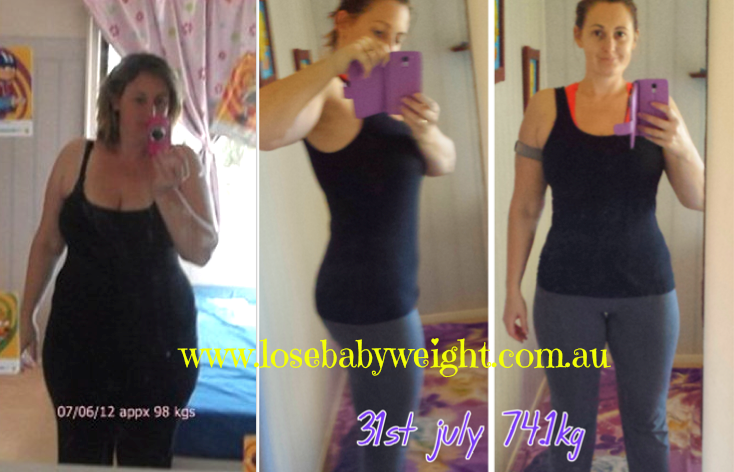 Hi, Eleanor here,
I have had a great week, I have been sticking to my exercise and eating plans about 90% of the time this week. I have been having a yummy Healthy Mummy Smoothie for two meals of the day. I found some oat milk at Aldi the other day and thought I'd give it a go.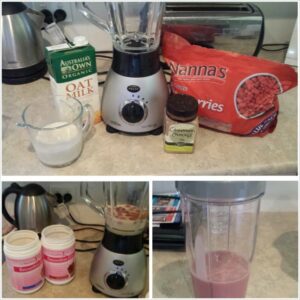 It's really yummy so I have been having that with my smoothies with raspberries and blueberries.
I have been doing mini workouts during the day when I can. For example, a quick workout from fitness blender on youtube or I make up my own i.e. 50 squats, 50 lunges, 20 pushups. I'm even able to do a couple on my toes too  which is very exciting 🙂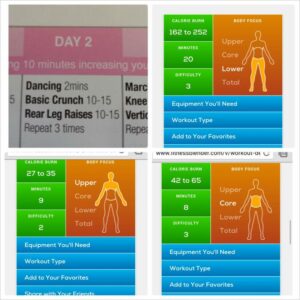 Ok so mondays have recently become a day that is all for me.  I found a marvellous daycare and Miss 3 and Miss 1 go there every Monday for the school hours. Up until now my only me time has been at the gym! I'm just starting to enjoy me time as up until now it has been rare!
Monday morning my 8 year old got a lift to school so hubby and I walked the girls down to daycare. It was cold but so nice to get out first thing and I feel so much better for it now, although I didn't think about the empty pushchair walking home and felt like a real dork and got some interesting looks!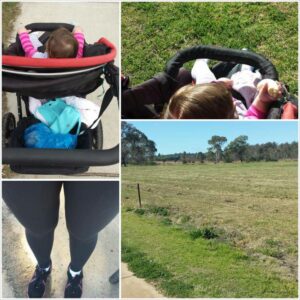 While walking home I decided to stop in at the gym and put my membership on hold. I looooove the gym but haven't gone in over a month due to the kids being sick but mainly cause I like being at home. I hate rushing the kids in the morning to get to a class and I hate going out after hubby gets home at night.
And I can do my exercise at home following the Lose Baby Weight 28 Day Program. In the last year I have bought second hand weights, a second hand spin bike and a bench I love working out at home and usually do short bursts of exercise all throughout the day. I am a bit nervous about not having the gym as my fallback but I will enjoy the gym membership money in the account and it will be put to good use when Lose Baby Weight release the workout DVD in 3 weeks which I am so excited about.
Someone years ago told me when you have a goal in mind to never ever miss a Monday as it can set you up for the week ahead. Also it's ok to look like a weirdo pushing an empty pushchair!
Have a great week lovely mummies 🙂  Thank you so much for all your positive comments on my story on the Lose Baby Weight facebook page, you all inspire me so much and your support makes me keep going.
You can check out Instagram (eleanormumof3) where I post daily pics of what I'm up to. I also post regularly on the LBW facebook page.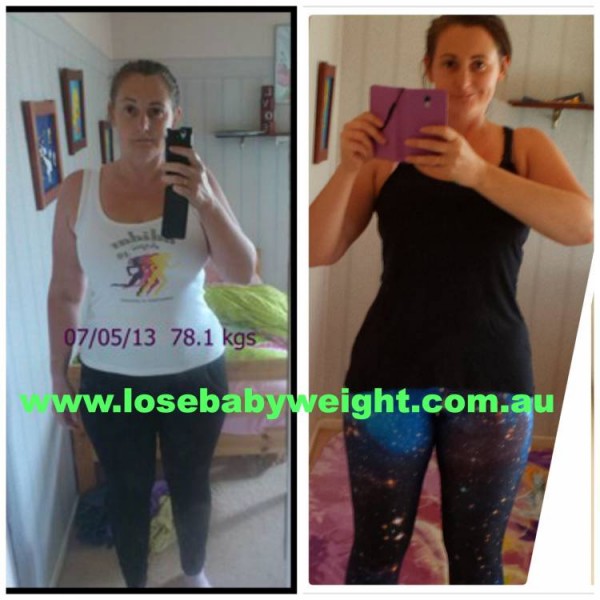 Weight Loss This Week:
I'm down to 73.7kgs so a loss of 400gms this week, 4.7 kgs away from my goal. So close but it feels so far away.
Eleanor xx
P.s. Hurry up and release the workout DVD Lose Baby Weight!
GET YOUR 10% DISCOUNT
If you are ready to lose weight then the Lose Baby Weight plans offer a healthy and safe exercise and diet routine and you can get a 10% discount by using code LOYALTY at the checkout
PLUS our BEST SELLING 28 Day Diet & Exercise Plan is available as an 84pg Printed Book and you can get your copy here 
Plus our NEW CALORIE BIBLE is now available – get your copy today! Only $19.95 and a must have in your handbag!
Click HERE to see our shop