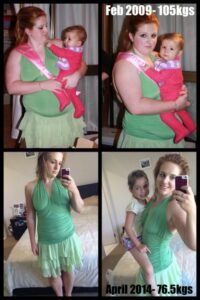 Motivating Mum Cat has been following the healthy eating plans from Lose Baby Weight and has lost over 39kg's.  You can see Cat's latest update here and today Cat has written in to share her tips for Dinner Prep for Super Busy Mums:
"Hi Mummies,
My name is Cat and I am a mum of 2 (6 yrs and 2 yrs).  I am also a working mum who is working 4 out of 5 nights a week as well as rotating weekend shifts so I know the spare time I do have is precious.
Feeding my family healthy and nutritious meals is such an important necessity to me. Once upon a time I would have let working nights mean frozen chips and nuggets for dinner- NOT NOW!  I am the main cook in the household and although my husband is a massive help he does need instructions on how to cook meals and just seeing "Shepherd's Pie" on the whiteboard would not be enough direction.
I do my weekly meal plan before doing my grocery shopping. To start off with I go through the meat in the freezer and write down how many of which meat product. I then sit down with pen and paper,  my phone, my 28 Day Plan and my Summer & Spring cookbook. On my phone, I go straight to the Lose Baby Weight website and search through the recipes- I generally just search "beef mince" or "chicken mince" or head straight to my favourite categories- Slow cooker recipes, Chicken Recipes and Husband Friendly food. A million different meals come up and I search through them  writing up my meal plan.
I always have to keep in mind- Can this meal reheat well? Can I pre prepare it for husband just to reheat? Is it Husband (fool) proof? Will the kids love it (I'm yet to find a Lose Baby Weight recipe the kids don't like).
I have found a good handful of recipes that have a tick of approval from all of the above criteria and are made with a good mix of meat cuts. I hope you all enjoy them also.
Sausage and Veggie Tray
I literally pop this dish into a baking tray and cover with cling wrap and hubby just pops it into the oven before he baths the kids. It also reheats well  for when I get home from work! Click here for the recipe
Turkey Burgers
I usually make up the patties and leave them on a plate in the fridge. I also cut up an array of salad for the burgers so all hubby has to do is cook the burgers and assemble. It only takes me about 20-30min in the morning to do up the patties and salad. Click here for the recipe
Easy Slow Cooker
Our favourites are the Chicken and Mushroom Curry & Hungarian Beef Goulash.  Both of these I make up in the morning after school drop off and leave it cook all day. All hubby needs to do is serve it up when he gets home. Click here for the recipes
Healthy Coconut Chicken Burgers
Same as the Turkey burgers; I make up the rissoles and pop them into the fridge, cut up a huge plate of salad and Hubby just needs to cook and assemble. Click here for the recipe
Tuna Fish cakes
I only made these last night. They were a huge hit all around. I made them in the morning and popped them into the fridge to be cooked by hubby. I cut up all the veggies (Carrot, Broccoli and Corn ) and popped it into the steamer, all he had to do was turn it on.  Another alternative would be to make a salad to serve with the patties once cooked. Click here for the recipe
Anyway I hope this may help Mums who are time poor and maybe can afford 30min when bub is down napping. Get on it! It really makes peak hour (Bath and Dinner time) soooooo much easier and if you are a working mum I hope these also help you. They have definitely helped me keep the weight off while working weird hours.
Cat  x "

Need to stock up on Healthy Mummy Smoothies? Then see our shop here
And join our 28 Day Weight Loss Challenges here