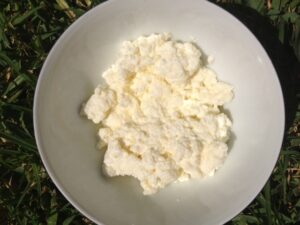 Whether it's fresh from the deli, in a container from the supermarket, or even if you've made your own – ricotta is a versatile cheese that adds creaminess to any recipe.
High in Vitamin A and calcium, ricotta is a creamy white cheese with a mild flavour. It is Italian in origin and is traditionally made from cow's, sheep's or goat's milk.
Depending on the brand, 100g of regular ricotta comes in between 150-180 calories; and the extra light versions have around 50 calories.
How Do I Use It?
Add to pasta sauces to enrich the flavour and add creaminess (without adding too many calories)
Pop some in your eggs: omelettes, scrambled eggs and frittatas can all benefit of a few spoonfuls of ricotta for a bit of richness
Try it in your low fat lasagne instead of béchamel sauce.
Spread it on toast instead of butter
Slice a zucchini or red capsicum in half and scoop out some of the flesh. Smear in some ricotta and lemon zest, season, and bake for 15-20 minutes.
For a delicious canapé, serve ricotta on large croutons with pesto and roasted red capsicums; or try a ricotta stuffed zucchini flower.
You can also make individual spinach and ricotta pies.
Add it to your mashed potato with some fresh Parmesan.
On top of your favourite pizza with some fresh basil pesto
Mix ricotta with some spinach and use it to make a stuffed chicken breast.  
As a dessert, try ricotta with a handful of raspberries, and a squeeze of honey and fresh lemon juice. Or use it to make a lighter version of cheesecake.
Make Your Own 5 Minute Ricotta
Did you know it takes just 3 ingredients to make your own ricotta? I found this out today and have to say it is a very satisfying way to spend five minutes in the kitchen.
Ingredients:
2 cups of full cream milk
2 tablespoons of fresh lemon juice
¼ teaspoon salt
Directions:
Place the 3 ingredients in a glass jar and mix gently.
Place in the microwave on high for 3-4 minutes (depending how strong your microwave is).
Take it out and stir very gently for 5 seconds. You will see the milk separate into solid white curds. If not, pop it back in the microwave for a further 30 seconds and stir again.
Take some cheesecloth and fold it to make 4 layers and place it over a bowl (or you can do what I did and use a (new!) blue dishcloth, but just one layer is needed).
Pour the milk mixture on top and allow it to drip through. Resist the urge to squeeze it or help it along in any way.
After a minute or so have a look to see if the liquid has all gone, and then you can place the cheese onto a plate for immediate use.
It doesn't make a huge amount (half a teacup in my case) but it is plenty for making a pasta dish, smearing on toast, or some of the other ideas above.
I made some this afternoon and used it tonight to stuff some mushrooms (with ricotta, parsley, olive oil, and garlic) and then popped them under the grill for ten minutes.
Enjoy!
GET YOUR 10% DISCOUNT
If you are ready to lose weight then the Lose Baby Weight plans offer a healthy and safe exercise and diet routine and you can get a 10% discount by using code LOYALTY at the checkout
Click HERE to see our shop