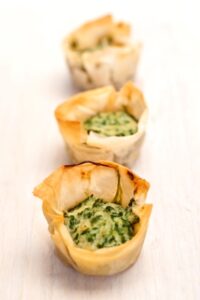 One of my favourite food combinations in the world would have to be spinach and cheese. I think it's the way the earthy taste of the spinach combines with the salty, creamy taste of the cheese. Whatever it is, it's heaven! And foods like these, especially the ones you enjoy the most, don't have to be off the menu when you're trying to lose weight and follow a healthy eating plan.
One of the first mistakes people often make when starting their weight loss journey is to cut right back on all the foods they deem 'bad' or 'unhealthy'. While cutting soft drinks, sweets, copious amounts of chocolate or chips, and calorific fast food is a sensible thing to do, removing things like pies or tarts and other homemade goodies can end up having a negative effect as you feel deprived and sometimes angry or frustrated that you have to miss out on something that you enjoy eating so much.
By tweaking your favourite recipe, and cooking your favourite foods at home, in your own kitchen, you can still enjoy them (in moderation of course, especially for sweeter or more calorie dense treats), without any guilt, leading to a happier, healthier you. Spinach and cheese pie is actually made up of some super healthy ingredients that can help, instead of hinder your weight loss.
All greens, leafy veggies are a fabulous addition to your diet, but spinach would have to be one of the picks of the bunch. Packed full of iron, vitamins and minerals, recent studies have also shown that the potent antioxidants it contains can actually help combat a variety of different cancers as well as increasing muscle efficiency. Super green indeed! Paired with eggs, low fat ricotta and a sprinkling of fetta, these individual pies provide a lunch (or dinner) time protein hit as well as a nice, big helping of greens. And because they're individually sized, you've got built in portion control.
Enjoy!
Ingredients
400g bag of baby spinach leaves, rinsed

5 eggs

250g low rat ricotta

75g low fat fetta, crumbled

1 tbsp parmesan, grated (optional)

Zest of one lemon

3 green onions, thinly sliced

Pinch dried oregano

1 tbsp olive oil

6 sheets filo pastry

2 tbsp butter
Directions
Preheat oven to 180C

Heat olive oil in a small saucepan or frypan over low/medium heat

Add spinach to the pan and allow to wilt

Keep stirring the leaves frequently until they are soft and malleable

Once completely wilted, remove from the heat and set aside

In a large mixing bowl, combine the eggs, fetta, ricotta, parmesan, oregano, onions and lemon zest

Mix well to form a thick 'pie batter'

Once the spinach has cooled slightly, place into the bowl of a food processor or use a stick blender to gently process and break up the leaves into smaller bits

Add the spinach mixture to the egg and cheese mixture and stir to combine

Use 1 tbsp butter to grease a muffin tray

Place filo sheets on a clean surface

Cut pile in half and half again so you have four separate squares
Place squares on top of each other and cut in half, cross ways, so that you have 48 small pieces of pastry
Melt the remaining butter
Brush 1 filo piece with butter and press it into the base of the muffin tin, allowing the corners to extend over the top of the pan.
Repeat with 5 filo pieces, rotating them slightly, to completely cover the side of the pan. Repeat with remaining filo and butter to line remaining muffin cups.
Bake for 35 minutes or until pastry is crispy
Makes 8-10 individual pies – Cal per serve – 193
GET YOUR 10% DISCOUNT
If you are ready to lose weight then the Lose Baby Weight plans offer a healthy and safe exercise and diet routine and you can get a 10% discount by using code LOYALTY at the checkout.