We are delighted to announce that Lisa Westlake – who is our Instructor in our Exercise DVD has won the coveted and very prestigious Outstanding Contribution Award To Fitness in 2013 in the annual Fitness Australia Awards. Congratulations Lisa!
The Award for Outstanding Contribution to the Fitness Industry has been specifically created to honour the people who have made significant contributions to the development and advancement of the fitness industry in Australia and it is testament to Lisa's incredible experience and expertise as a Fitness Professional and Physiotherapist to win this top award.
We chose Lisa to be the instructor in our Exercise DVD because of her extensive experience in post natal fitness and as a physiotherapist and the customer feedback on our DVD has been incredible as well as the DVD now being regularly recommended by Midwives (see midwife reviews here), Health Care Professionals and Physiotherapists.
You can also see the customer reviews here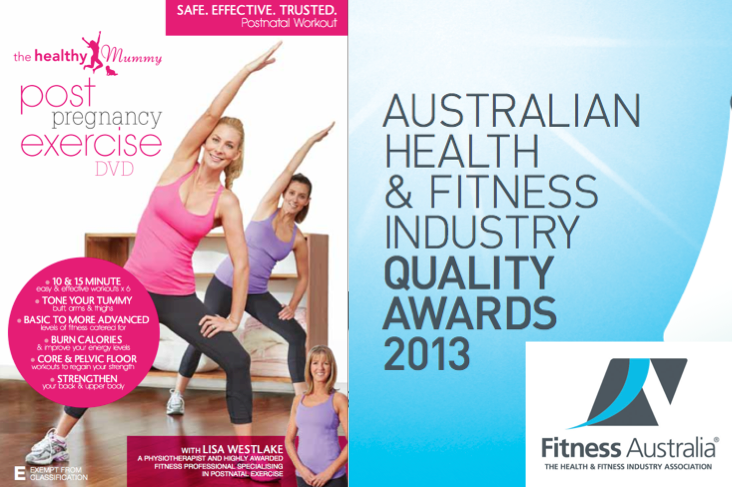 Lisa's Qualifications and Experience
Lisa is a mum of two and a highly regarded Physiotherapist and post natal fitness instructor and is recognised in both areas as an expert in pre and post natal fitness. Lisa's extensive qualifications make her one of the most qualified post natal experts in the world and these include
Australian Fitness Leader of the year 2000, Fitness Presenter of the Year 2003, Fitness Author of the Year 2009
Women's Health Physiotherapist  : teaching pre and post natal fitness classes for over 20 years
Frequent speaker to fitness and physiotherapy national and international  conferences on pre and post natal fitness and wellbeing
Lecturer, Melbourne University and Monash University Schools of Physiotherapy
Lecturer in post grad physiotherapy course on Exercise for Women at Curtain University ( WA) and Melbourne University.
Regular pre and postnatal fitness courses around Australia and online course in Australia
One of 4 on the advisory panel for Fitness Australia, developing "Guidelines for fitness instructors working with pre  and post natal women"  to be launched 2013
Ambassador for Pelvic Floor First Project ( a Continence foundation of Australia initiative)
Regular presenter on ABC radio health and fitness talk back
Author of pre and post natal publications 2011
Runs health and wellbeing retreats in Australia and overseas
MC at various health and fitness events such as Mothers Day Classic, Brazilian Butterfly Queen of the Lake, Run Melbourne
And now winner of the 2013 Outstanding Contribution to Fitness Award by Fitness Australia
The Post Pregnancy Exercise DVD, with Lisa as the Instructor

Trying to fit in exercise when you are a busy mum is often easier said than done, but The Healthy Mummy Post Pregnancy Exercise DVD has been created to help mums fit in exercise at home and can be done in bite sized chunks when it suits them.
The DVD provides 6 safe and effective workout which are 10-15 minute in length and that target specific areas of a woman's body to strengthen it, tone it up as well as helping to improve the fitness levels of mums performing the DVD.
The exercises in The Healthy Mummy Post Pregnancy Exercise DVD are effective and safe and Lisa will guide you through each of the workouts. As well as assisting in the improvement of your overall fitness levels, the workouts in the DVD will also help in the burning of calories, the improvement of your core strength and the strengthening of your pelvic floor.
The six workouts are broken down into 10 and 15 minute sections that you can do when it suits you – or if you have the time and energy you can do the DVD as one 70 minute continuous workout. The Healthy Mummy Post Pregnancy Exercise DVD also covers special considerations post-birth, such as caesarean sections, back strains, muscle separation, incontinence and pelvic floor issues.
[pb_vidembed title="" caption="" url="http://www.youtube.com/watch?v=dFzzPjQdLnQ" type="yt" w="580″ h="485″]
The Workout Summary
15 Minute Low Impact cardio workout – The Low Impact Cardio routine will improve your fitness and energy levels, as well as burning calories, while avoiding stress on your body – in particular, your vulnerable pelvic floor. This workout will put you on the path to being a fitter, leaner and more energetic version of you.
15 Minute toning cardio workout – By combining a low impact cardio conditioning routine with light resistance training, this energetic workout will make your heart and lungs stronger while burning calories and toning your arms, legs and butt. This is a great addition to the low impact routine, or as a stand-alone cardio option with the added bonus of arm and leg toning.
10 Minute upper Body workout – Conditioning your upper body will not only have you feeling and looking stronger, it will provide postural strengthening to combat stress on your upper back. You will also benefit from increased muscle stamina and definition, allowing you to keep up with your little ones.
10 Minute Lower Body workout –  Hone in on your butt and legs with this lower body strengthening workout. It will have you looking and feeling strong, toned and energised.
10 Minute Abs, Back & core workout – The abdominal, back and core muscles are at the centre of a healthy body. With these safe and effective exercises, you will improve your posture, help alleviate back pain and strengthen your pelvic floor while you regain your waist and condition your abs and back.
10 Minute Stretch & Relax-  Lengthen your muscles and relax your mind and body as you calmly and quietly stretch your body, top to toe.
You can purchase the DVD here for $39.99
PLUS…See our special section covering all you need to know on special considerations post-birth, such as caesarean sections, back strains, muscle separation, incontinence and pelvic floor issues.
We hope you enjoy The Healthy Mummy Post Pregnancy Exercise DVD and, as always, we love customer feedback so please get in touch.
Questions & Answers with Lisa