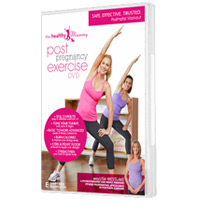 Wow, we have been pretty blown away by the feedback coming in on the Healthy Mummy Post Pregnancy Exercise DVD.
We had put an enormous amount of work into the DVD ensuring that it was the most useful exercise DVD that any mum could have (whether you were a new mum or a mum with older children), and ensuring the workouts were really challenging plus really safe and catered for mums with any special post natal conditions as well as being an intensive workout that did not put pressure on the pelvic floor.
Plus we made the workouts into 6 separate workouts that were easy to do over the course of a busy mums day as opposed to feeling like it was impossible to do it all at once (who has the time or energy for a 70 minute workout!?).
So we have been really excited (and nervous) to get YOUR feedback, but it has been rolling in! And everyone has also been kind enough to fill out the online survey we are also running giving their feedback too so thank you!
And to date over 500 mums have given us the feedback that they would recommend to their friends and that they love the DVD! Below are some of the feedback that has been sent in and posted on our Facebook page:
Belinda Brooks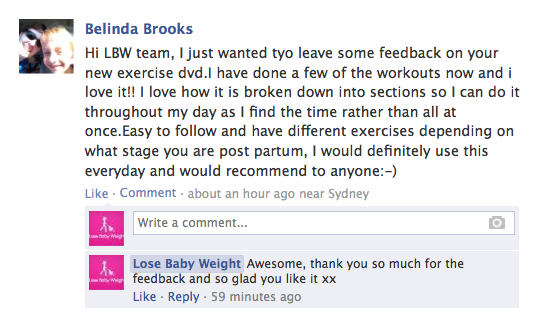 Kat Brown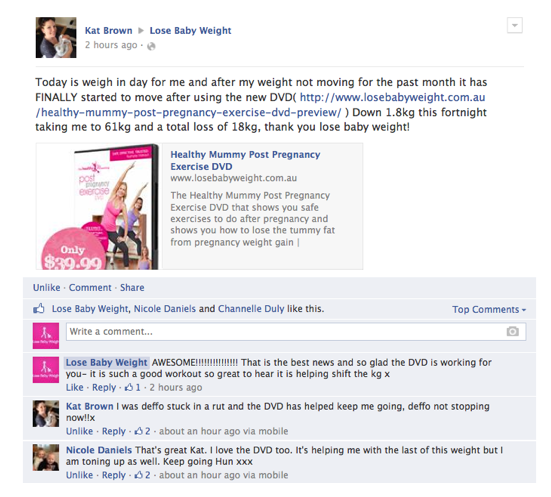 Belinda Officer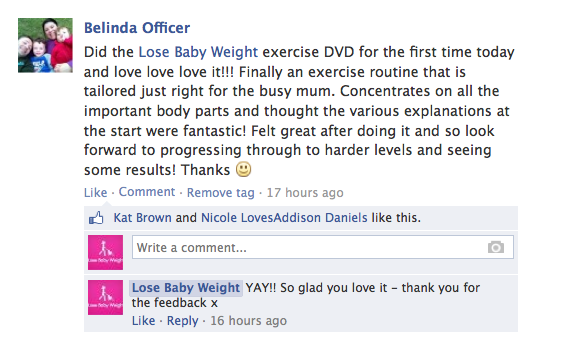 Tasheena Snow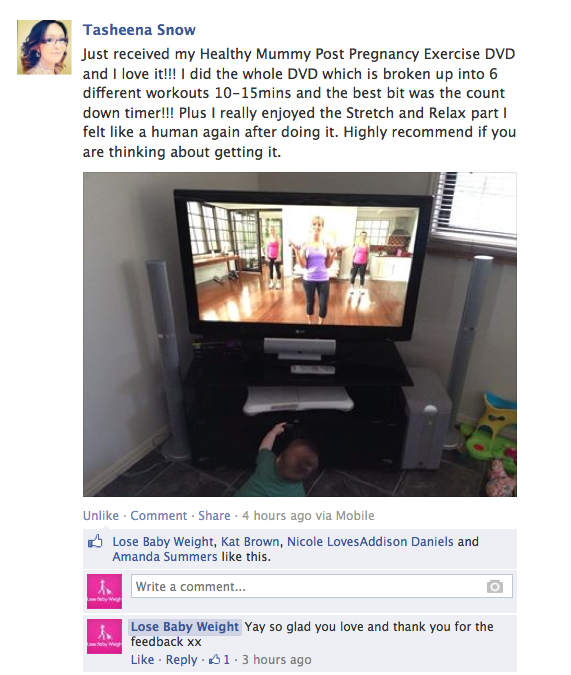 Chaye Challacombe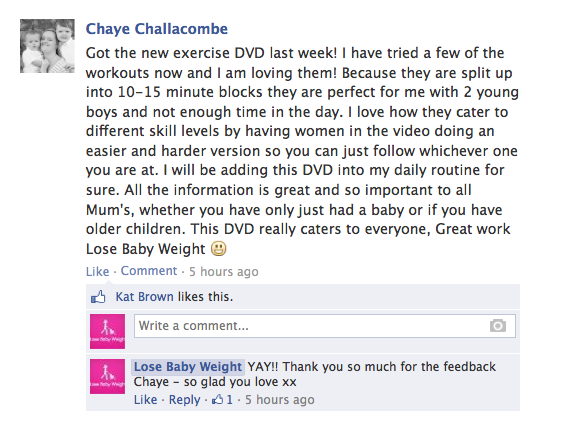 Amy Costa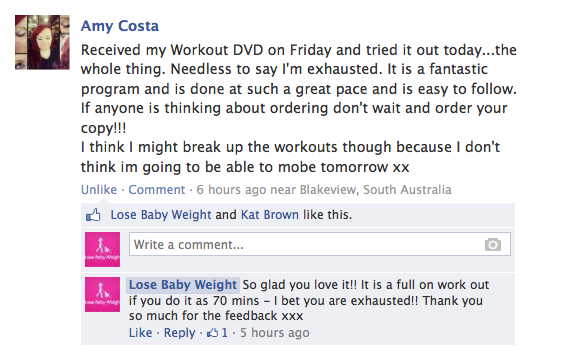 Nicole Daniels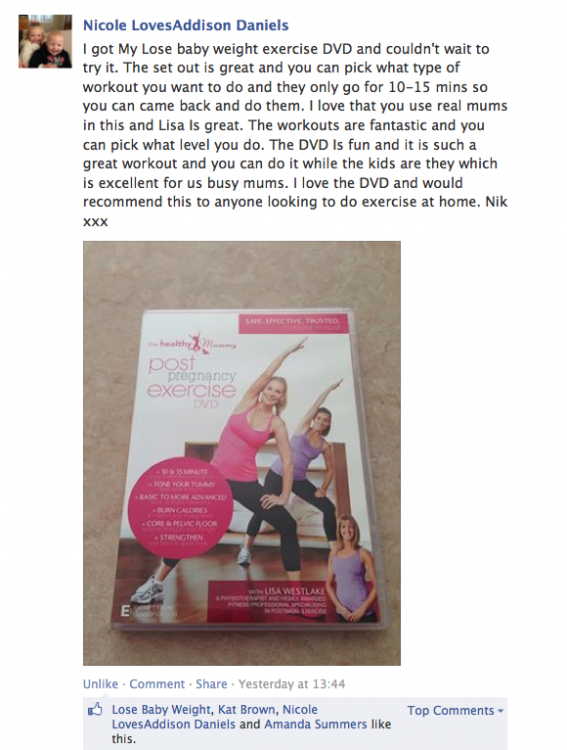 Rachael Hall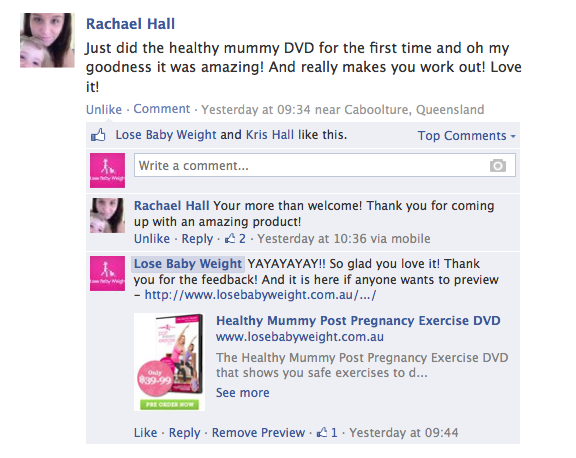 Robyn Parkinson's Review
I tried out the DVD tonight! I did the low impact cardio, the core workout and the stretch and relax.
I've never been into exercise DVDs before, but I really enjoyed doing these workouts in the privacy of my own home! The ten minute segment format is great and makes it easy to slot the workouts into your day.
I was really impressed with the low impact cardio segment. I had pelvic floor weakness for six months after my daughter was born and I wasn't able to do any high impact exercise during that time. I really struggled to find a workout that would raise my heart rate and make me feel like I was working out and exercising 'normally.'
I wish I had this DVD back then! I found that it got my heart rate up and felt like a good overall workout, whilst being pelvic floor safe. The routines were simple and easy to follow, whilst still feeling good to complete. I was still glad for the privacy of my own home though as I can be a bit uncoordinated when learning new routines, no matter how simple! Charlotte was being grumpy and clingy for the first few minutes but I was still able to do the routines as you can see in the photos – she just added resistance!
I did postnatal Pilates for months after Charlotte was born, run by a physio. I noticed that the core strength exercises were very similar to the ones we did in the Pilates classes, with the added bonus of being able to do these whenever I want, and not having to pay each time!
I really enjoyed the stretch and relax segment. We have been under a lot if stress lately and I really needed to de-stress. This was perfect. I turned the lights down and took 10 minutes all to myself whilst hubby gave Charlotte her bath. I felt a lot looser and relaxed afterwards!
I am not a morning person by any stretch of the imagination, but I am returning to full time work thus month, so I am planning on doing a 10 or 15 minute segment before work most days so I don't have to waste my precious time with Charlotte trekking to the gym at night!
Delight Smallridge 's Review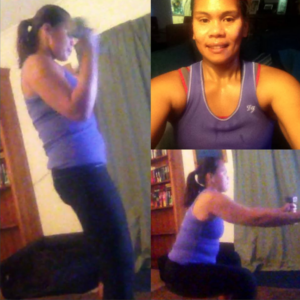 "OMG! This DVD is great. I have always been very physical and love exercising. I have had so many exercise DVD's in the past but I've never sweat like this and felt the work like I did today.
I did all the exercises – the advance cardio toning section kept my heart rate to the roof and was sweating after it. The arm work and leg work kept my muscle burning and the abs work was fantastic.
It's a very well thought through exercise DVD and for us busy mums we can pick sections on the DVD that we can do for at least 30 min a day and it'll raise our heart rate and feel like we really had a work out.
I'm going to use this DVD from now on a regular basis
Thanks so much for this fantastic product!"
About Our Post Pregnancy Exercise DVD
And for a SAFE & EFFECTIVE Exercise DVD that supports your pelvic floor health get our DVD here
The DVD can be followed by all mums (for example new mums or mums with older children) and can be followed by someone with a basic or a more advanced level of fitness.
The six workouts are broken down into 10 and 15 minute sections that you can do when it suits you – or if you have the time and energy you can do the DVD as one 70 minute continuous workout. The Healthy Mummy Post Pregnancy Exercise DVD also covers special considerations post-birth, such as caesarean sections, back strains, muscle separation, incontinence and pelvic floor issues.
[pb_vidembed title="The Post Pregnancy Exercise DVD" caption="" url="http://vimeo.com/73423922″ type="vem" w="600″ h="455″]
The Workout Summary
15 Minute Low Impact cardio workout – The Low Impact Cardio routine will improve your fitness and energy levels, as well as burning calories, while avoiding stress on your body – in particular, your vulnerable pelvic floor. This workout will put you on the path to being a fitter, leaner and more energetic version of you.
15 Minute toning cardio workout – By combining a low impact cardio conditioning routine with light resistance training, this energetic workout will make your heart and lungs stronger while burning calories and toning your arms, legs and butt. This is a great addition to the low impact routine, or as a stand-alone cardio option with the added bonus of arm and leg toning.
10 Minute upper Body workout – Conditioning your upper body will not only have you feeling and looking stronger, it will provide postural strengthening to combat stress on your upper back. You will also benefit from increased muscle stamina and definition, allowing you to keep up with your little ones.
10 Minute Lower Body workout – Hone in on your butt and legs with this lower body strengthening workout. It will have you looking and feeling strong, toned and energised.
10 Minute Abs, Back & core workout – The abdominal, back and core muscles are at the centre of a healthy body. With these safe and effective exercises, you will improve your posture, help alleviate back pain and strengthen your pelvic floor while you regain your waist and condition your abs and back.
10 Minute Stretch & Relax- Lengthen your muscles and relax your mind and body as you calmly and quietly stretch your body, top to toe.
PLUS…See our special section covering all you need to know on special considerations post-birth, such as caesarean sections, back strains, muscle separation, incontinence and pelvic floor issues.
Questions & Answers