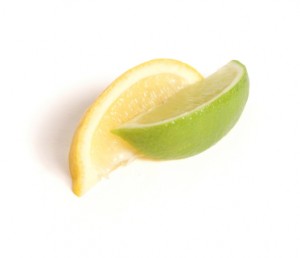 They are very rarely eaten 'straight up', but lemons and limes sure are the delightful co-star of the fruit world.
Both lemons and limes are packed with Vitamin C (the antioxidant that helps fight heart disease, inflammation and cancer), as well as fibre. But it's their flavour that can really help with weight loss.
Their strong flavour can jazz up your healthy meals and drinks without the added calories of a packaged dressing, sauce or flavourings.
Did you know? Limes actually have more Vitamin C than lemons, oranges or grapefruits.
The Major Health Benefits of Lemons and Limes
Antioxidant: lemons and limes contain large amounts of Vitamin C, which is an antioxidant. Antioxidants can help improve the functioning of your body and also improve your overall fitness. This means you will have more energy to get active.
Diuretic: lemon and lime juices are natural diuretics, so adding them to water helps flush the body of excess fluids. This can help relieve bloating and constipation.
Digestion: the citric acid contained in lemon and lime can help the liver to produce more bile, which aids in better food digestion.
Appetite Reduction: drinking water flavoured with lemon or lime juice can help you to feel full, reducing the amount of food (and therefore calories) that you consume, which leads to weight loss.
Look for firm, unmarked fruits that are brightly coloured and heavy for their size – this tells you that they are full of tasty juice. Store lemons at room temperature for around a week or two; but they will keep longer in the fridge. Limes are best kept in the fridge.
Before use, roll a lemon or lime on the bench to loosen up the juice before cutting open. 
Uses for Lemons and Limes
1) Juice:
use as a dressing for roasted vegetables
squeeze over stir fries for a flavour punch
use in a salad dressing by adding the juice to oil, salt and pepper, fresh coriander, and garlic
add lemon juice and fresh ginger to hot water for a refreshing pick-me-up
as a marinade for beef: mix lime juice, ginger, black pepper and soy sauce.
pour over freshly steamed vegetables such as beans, snow peas and carrots
squeeze one or both into a chilled glass of mineral water for a refreshing drink
add to water to liven it up. This is especially good if you find it hard to get through your recommended amount of water per day. Slice up the lemon or lime and add to your water jug, top with water and ice and chill. You could also add mint and sliced cucumber.
Pop some into your Healthy Mummy Smoothie. Try Belinda's Berry Lime Smoothie
Rub into your hands to remove strong odours such as onions or fish.
Make a delicious salsa for Mexican nachos by blending up the juice of a lime with 4 tomatoes, 1 tsp chilli, 1 tsp garlic and a bunch of fresh coriander
Kids will devour fruit kebabs dipped into natural yoghurt spiked with lime juice and zest
Pretend you're on holidays with our summer mocktails 
Take guacamole to another level with fresh lime juice added
2) Zest
Sprinkle over roast vegetables for the last 20 minutes of cooking time
Add to yoghurt
Use it to flavour desserts, such as custard or fruit salad.
Make your own iced tea and add a twist of lemon or lime