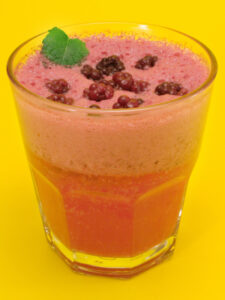 Enjoying a fresh and frothy drink on a hot day is one of summers greatest pleasures.
If you're pregnant, breastfeeding or prefer to avoid alcohol however, your options can seem a little on the limited side.
Even if you do enjoy a Chrissie beverage, alternating between alcoholic and non-alcoholic drinks is a great way to keep calories in check and your weight loss on track.
As yummy as those cocktails and glasses of the bubbly stuff are, alcohol is what we term 'empty calories', meaning that you've got calories going into your body that aren't actually benefitting it or lending any extra nutritional value to your diet.
This can cause the kilograms to creep back up over periods like the festive season as we often lose track of the drinks we indulge in here and there, while the calories continue to pile up.
Add in the sometimes less than healthy canapes that seem to accompany a glass or two of wine, and that gym session you may have missed to attend the office get together and it's easy to see why the festive season can be home to the kilogram creep.
Mocktails are a great option when you're in the mood for something festive but would prefer to steer clear of alcohol.
Tasty, refreshing and pretty to look at, they'll always be a popular option during the warmer months.
While the only limit to your mocktail making is imagination, there are a couple that consistently rise to the top.
Here are our top 5 of best summer mocktails
Festive Cherry Blitz – Cherries are in season so try this muddled up fruity delight.
In a small bowl place 1 cup of pitted cherries, 1/2 cup mint leaves, 1/4 cup lime juice and 1/4 cup cloudy apple juice. Using a tablespoon or something sturdy, muddle the fruit, herb and juices together. Seperate mixture into four glasses and top with mineral water.
Healthy Berry Daquiri – Love a daquiri but not keen on the sugar and alcohol content? This alcohol free version is your new best friend!
Place 1 cup mineral water, 1 cup lemonade, 1 frozen banana, 1 cup frozen strawberries, 1 cup frozen raspberries, 2 tbsp lemon or lime juice and 1 cup of ice into your blender and whiz for 30 seconds. Serve immediately. Makes 2 serves.
Berry Delicious Lemon Spritzer – Fruit infused sparkling water is delicious on a warm day.
In a pitcher or jug, combine 1 cup mineral water, 1/2 cup traditional lemonade, 2 tbsp mashed strawberries, 1 tbsp whole raspberries, 2 tbsp lemon or lime juice and 2 wedges of lemon or lime. Place in the fridge and allow to infuse and chill for at least 2 hours before serving. Makes 4-6 servings
Cucumber, Lime and Mint Mixer – Super quick and easy to prepare, a round of these mixers can be on the table in an instant.
Mix 2 cups soda or mineral water, 1/4 cup lime juice, 1 small cucumber, sliced into rounds and 1/2 cup mint leaves. Makes 4 servings.
Raspberry Cooler – This ruby red concoction is perfect for hot summers days.
Mix 3 cups mineral water, 2/3 cup lime juice, 2 tablespoons stevia together in a large jug. Place 1.5 cups of fresh or defrosted raspberries in a mesh sieve and press down with a wooden spoon to extract the juice. Add ice-cubes to the mix and serve. Makes 4-6 servings.
If you are ready to lose weight then the Lose Baby Weight plans offer a healthy and safe exercise and diet routine.
And don't forget to check out our current promotions and discounts page to see what specials we have on this week on our Healthy Mummy product range