Motivating Mum Kimberley Moffat shares her mid month blog on how she stays motivated with Lose Baby Weight and is loving the 28 Day Challenge – plus has lost 12kg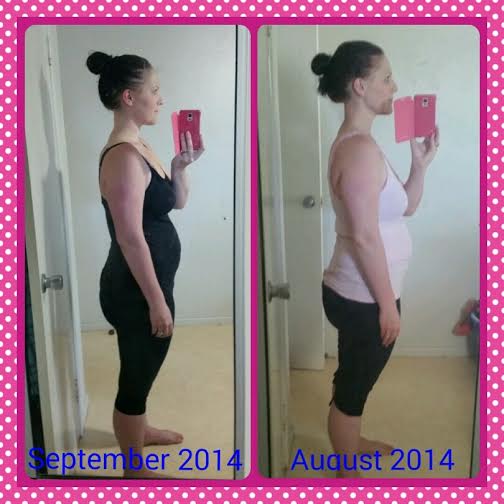 Hi Everyone!
My name is Kimberley and I am a Motivating Mum this September. What an amazing month it has been so far! I have absolutely loved the Spring 28 Day Challenge and watching the support in the Facebook Healthy Mummy & Lose Baby Weight Private Support Group.
The Challenge has really been a milestone for me for a number of reasons. I've started getting up at 5:30am with hubby to do my exercises. This would never have happened before! It is such an awesome way to start my day, I no longer take longer than my kids to wake up as I am pumped and ready for the day ahead. It has really changed the tone for the mornings too! I've also managed to cut down on coffees I "need" to get me through the day as I have so much more energy.
The 28 Day Challenge food has been incredible. It has been so good to try new food with simple ingredients that give you the same taste as the 'naughty' shop bought marinades! Hubby and mister 2.5yo have absolutely loved every meal with the Chicken & Avocado Salad, Teriyaki Lamb Stirfry, Sweet Mustard Chicken being our favourites! The menus have used ingredients multiple times so I have found that I am wasting less food too, which is always a bonus!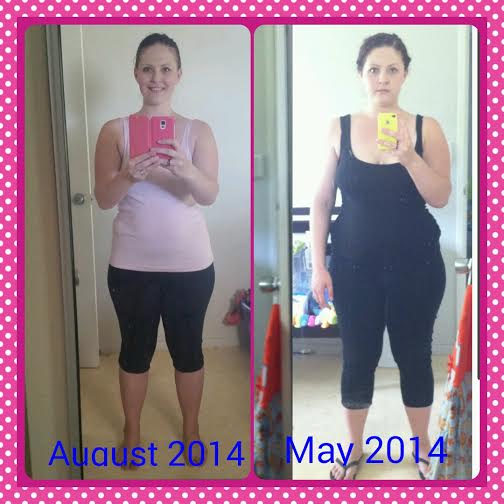 I am loving my Healthy Mummy Smoothies for lunch, with my favourites being the Healthy Iced Coffee (perfect for this warmer weather), Antioxidant Smoothie (huge pick-me-up!), Chocolate Doughnut and Snickers (for my chocolate fix). It is so good to have a yummy and filling smoothie for lunch when I'm at my busiest. I always eat my lunch on time now, instead of only remembering at 3pm.
A huge motivator these past two weeks has been having a support buddy. It makes a huge difference having someone on a similar journey to check-in with, to share successes, ask questions and have a laugh. I have lost 8cm so far (not sure on kg as my scales decided to play havoc) in the Challenge, and that is just Week 1! The results from other mums have also been a good motivator, helping me push a little harder.
My body is definitely toning up too. My collarbones are back (yay!), my core is strong and coming through but it just feels amazing to put my hands on my hips and get a shock as I expect to feel more there.  I am really enjoying the Lose Baby Weight products and results. I am not focusing solely on the scales, which in itself is a huge change. I love feeling strong, toned and fit! I would never have thought I could come so far, in mind and body, six months ago, but here I am!
My goals this month have been to complete the 28 Day Challenge exercises as a minimum, do at least one outdoor activity a day with my kids and drink 2lt of water as a minimum a day. I have been able to achieve these and more so far. The next two weeks, I've decided to work towards drinking 3lt of water a day (as I seem to have more energy drinking this much especially exercising; I am hitting this goal by having my 3lt bottle all ready to go for the day as a way to keep me aware of how much I'm drinking), to try a new smoothie every day and to include a cardio activity/exercise everyday.
I've learnt to prioritise myself as well as my family. Housework can wait and my kids are always fed, dressed, played with and looked after – they'll survive if I exercise for 30 minutes. This has been a big struggle for me as I like to have a clean house everyday and have mummy guilt if I spend time doing something for myself. It has been surprisingly amazing! My 2.5yo and hubby will watch me exercise and cheer me on! It pushes me harder with his little "Go Mummy, GO! Exercise!" He has even started to do squats and stretches "like Mumma", now THAT feels awesome!
Be kind to yourself and make little changes. It is so important to look after yourself. After all, this is your journey, your life. Push yourself a little more each day and set yourself daily, weekly and monthly goals to work towards. I hope to see all of your results following the Challenges or not.
Lose Baby Weight has so many options; there is something for everyone.
Kimberley Moffat
Need to stock up on Healthy Mummy Smoothies? Then see our shop here
And join our 28 Day Weight Loss Challenges here