Every month, a mum who is on the Lose Baby Weight plans will be writing about their journey, exercise, ups and downs and will be here to help motivate YOU and THEMSELVES along the way.
If you'd like to become our Motivating Mum for the month click HERE to find out more
Kat's Update
So it is another month and I was very excited to jump on the scales on the 1st and even more excited when I saw that I had a 4.3kg loss for August and over 15kg since starting the Lose Baby Weight plans.
That has given me the extra motivation that I needed to take on the get ready for summer challenge and give it 110% and I am really enjoying it so far!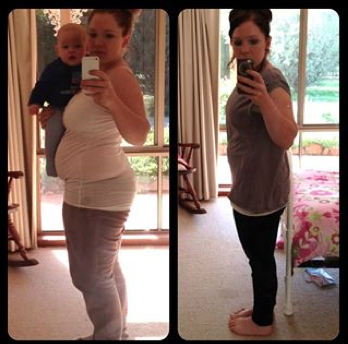 I am doing the 10,000 steps a day challenge and I have really been enjoying it! I love that I am always very conscious of where I am walking too and that I don't mind so much that I have to get up to fill a drink bottle for what seems like the 100th time.
I am continuing to push myself with my exercise and trying to do something different each day to mix it up like skipping, jumping on the kids trampoline, holding hand weights while I do my walk and my squats and my daughter(who is 5) and I have been racing down our driveway each day as she is determined to beat me 🙂
It is still really hard some days to fit in a walk especially with a teething bubba and another who thinks 5:30am is a good time to get up but I  have been pushing through and continuing with the 28 day plan food and exercises and anything else is a bonus.
My husband has been home so i took the opportunity to try some recipes off the web site. We tried the healthy pasta bake which the kids had as their main meal and we had it as a side dish, it was very yummy! We also tried the delicious and nutritious chocolate cake that we had as a birthday cake- so yum! Our two year old could not get enough of it! It will be my go-to cake from now on as one of our boys is allergic to eggs so it will be perfect.
We also tried the savory pumpkin muffins from the spring and summer cookbook and they were YUM! The kids ate them all the day they were baked and my daughter enjoyed cooking them with me.
I am still having a healthy mummy smoothie for breakfast and lunch and I have been enjoying trying the suggested smoothies that lose baby weight put up each day- the raspberry and chocolate has been one of my favorites.
I have set myself some new goals for September and they are:
To drink more water as the weather warms up
To donate some clothes that no longer fit to charity
To increase my running times
To enjoy the lovely spring weather with my kids
My measurements are:
Weight: 63.4kg down 4.3kg (a total of 15.6kg since starting in June)
I will be taking the rest of my measurements at the end of the month.
I hope you have all signed up for the get ready for summer challenge and are enjoying the extra motivation to get fit and healthy!!
Xoxo
GET YOUR 10% DISCOUNT
If you are ready to lose weight then the Lose Baby Weight plans offer a healthy and safe exercise and diet routine and you can get a 10% discount by using code LOYALTY at the checkout
PLUS our BEST SELLING 28 Day Diet & Exercise Plan has now launched as an 200pg Printed Book and you can get your copy here 
Click HERE to see our shop