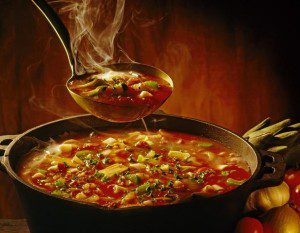 As soon as the weather gets cooler our bodies seem to start craving comfort foods. Today was really cold in our part of the world and all I was thinking about eating was either a tasty, piping hot and creamy risotto (you can make our low fat risotto here) or a roast with mash potato and gravy – yummmmmm.
So it makes sense that the average weight gain over winter is 4kg! But is there a way to still eat the warming and soul comfort food over winter without ruining your weight loss and healthy eating plan?
The answer is yes! All you need to do is make healthier food choices and make lower fat and lower calorie versions of the comfort foods – which is possible.
Top ways to make comfort food less fattening
Using low fat cheese – such as low fat cottage cheese is a great way to add a cheese taste and texture to any sauce – or use low fat sour cream
Use your slow cooker to make delicious and healthy comfort foods – see some of our recipes for some ideas

Use lean cuts of meat and if possible use chicken and lean pork
Use wholegrain rice or quinoa instead of white rice
Make a healthier mash by using 1/4 quantity of white potato, 1/4 quantity of sweet potato and 1/4 quantity of carrot and mash with 1 x tbsp of light sour cream and add a few shakes of nutmeg for a melt in your mouth taste
Make soups! Soups are ideal in the winter months and you can make real hearty meals with them which satisfy your hunger, taste buds and need for comfort food
Make baked apple for a low fat and low calorie hot dessert – see some recipes here

Make porridge for breakfast and add in 1 x tbsp of our smoothie mix to give your porridge a sweet flavour and extra vitamin boost
Make your own wedges using an oil spray to give them a crunch and cook them in the oven
Try one of our meal makeover recipes which are all low in calorie and are very comforting
Use turkey mince rather than the higher in fat beef mince
And if you need some structure to eating healthy foods over winter then see our 7 Day Winter Warmer Plan which is packed full of easy to make and tasty comfort foods and lots of tasty soups – infact we have over 35 winter recipes in there.
And don't forget you can get your free copy with all mail orders placed in June!
Winter Weight Loss Challenge 
Have you been taking part in our Winter Weight Loss Challenge?
Each day we have been giving you challenges to help you reach your weight loss goals.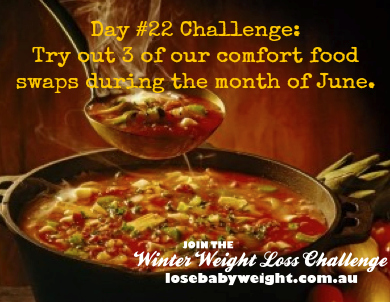 The Day #22 challenge is to try out 3 of our delicious comfort food swaps during the month of June.
Maybe you could even combine two swaps into the one recipe! Let us know how you go by sharing your thoughts in the comments section.

GET YOUR 10% DISCOUNT
If you are ready to lose weight then the Lose Baby Weight plans offer a healthy and safe exercise and diet routine and you can get a 10% discount by using code LOYALTY at the checkout
PLUS our BEST SELLING 28 Day Diet & Exercise Plan has now launched as an 84pg Printed Book and you can get your copy here 
Click HERE to see our shop