For those of us trying to lose our pregnancy weight or just focusing on general weight loss we should make sure we are eating healthy recipes and healthy foods.
These are delicious Quinoa Rice or Cous Cous dishes which nourish the body and help to fight stomach fat.
Brown rice salad with chilli bean and garlic prawns
500 g raw green prawns, deveined with the tail removes
2 cloves of garlic, crushed
1 tbsp. of flaxseed, rice bran or olive oil
Juice of 1 lime or ½ a lemon
For the salad
2 cups of brown rice (I use a packet of microwave rice)
1 cup of bean sprouts (optional)
1 cup of torn basil leaves
½ cup crushed peanuts
 ¼ cup lemon or lime juice
4 tsps. of chilli bean paste (Coles and Woolworths usually stock this in the Asian food aisle but if not, you can find it in Asian supermarkets)
2 tsps. of flaxseed, rice bran or olive oil
Pinch of Maldon Sea Salt Flakes
Directions
Combine prawns, garlic, ½ tablespoon of chosen oil and citrus juice. Cover with cling film and refrigerate for 15 minutes.
Prepare rice according to packet instructions. When cooked, place in a large bowl to cool slightly.
Heat 1/2 tbsp. of chosen oil in a large fry pan over medium/high heat and add prawn mixture. Stir fry till prawns turn pink and look cooked through then set aside in a clean bowl.
Rinse fry pan under cool water and dry before returning to cook top.
Heat chosen oil on high heat.
Add the crushed peanuts and 2 tsps. chilli bean paste to pan and stir continuously until peanuts are golden in colour.
Remove from the pan and sandwich between two sheets of kitchen paper to remove excess oil.
Add lime or lemon juice, remaining 2 tsps. chilli bean paste and salt flakes to the pan and cook for approximately 2 minutes, or until the sauce thickens.
Add prawns, peanut mix and sauce to rice. Scatter with bean sprouts, torn basil leaves and a squirt of lemon or lime juice.
Enjoy!
Serves 4 – Calories per serve – 480
---
Protein and vegetable cous cous.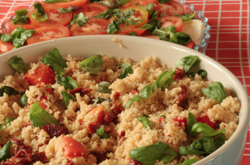 This can also be made with chicken, fish, tofu or lean pork.
Ingredients
Lean meat x 2 cups (we used steak)
2 cups of cous cous
Broccolli x 2 cups
Tomato based sauce (home made with 5 blended tomatoes or bought from the supermarket)
Half a cup of low fat cottage cheese and 1 x tbsp of goats cheese
1 large onion
1 cup of cauliflower
1 cup of green beans
Chopped basil
Sea salt and cracked black pepper
To cook the cous cous place it in a bowl and pour on boiling water (enough to fully cover the cous cous) then cover for 2-3 minutes for the cous cous to absorb all of the water – then it is cooked – SUPER easy.  You can also use rice or Quinoa in this dish instead of cous cous
Next cook the onion, seafood, sliced up beans, cauliflower and broccolli in a large pan and add in the tomato sauce, chopped basil and low fat cottage cheese. When everything is cooked and the cottage cheese blended in add in the cooked cous cous and season with the sea salt and cracked black pepper.
Enjoy!
Calories per serve – 510
[pb_vidembed title="Cous Cous Low Fat Recipe" caption="" url="http://www.youtube.com/watch?v=QpSWY2S6AUQ" type="yt" w="580″ h="485″]
---
Spicy Quinoa and Chickpea Warm Salad.
Ingredients
1 tbsp Olive Oil
2tsp Cumin
1tsp each of Garam Masala, Turmeric and Ground Fenugreek
1 medium red chilli finely diced
3 cloves of garlic chopped
1 small piece of fresh ginger grated or chopped fine
1 onion, diced
4 or 5 mushrooms chopped
1 capsicum diced
1 lebanese cucumber diced.
2 handfuls of baby spinach chopped.
1 cup of quinoa.
1 tin of chickpeas drained
Cracked black pepper and sea salt
Directions
Prepare the quinoa as per packed instructions (*TIP: use a rice cooker to cook the quinoa putting in the quinoa and the amount of water as directed on the packet).
Heat a large fry pan and put in the olive oil to heat, add the onions, garlic, ginger, chilli and spices and cook until onion is colouring in pan and spices are fragrant. Add in the mushrooms and cook until mushrooms are cooked through. Add the cooked quinoa to the pan and stir to coat in onion and spices. Add the chickpeas and allow to warm through. Season with cracked black pepper and sea salt.
Place the capsicum, spinach and cucumber in a serving bowl and add the quinoa mix. Stir to combine and serve immediately.
Calories per serve – 360
---
Roast Vegetable and Couscous Warm Salad
This is delicious served with grilled chicken breast and steamed broccoli or is lovely on its own as a vegetarian dinner.
Ingredients
3 Mushrooms, chopped
1 Zucchini cut into 2.5cm cubes
1 Eggplant cut into 2.5cm cubes
1 Small piece of pumpkin cut into 2.5cm cubes
1 Red Onion cut into thick slices
4 cloves of garlic, chopped
2 Tbsp balsamic vinegar
1 Tbsp Olive Oil
1 Cup of Coucous
Cracked black pepper and sea salt
Directions
Preheat the oven to 180º.
Place the mushrooms, zucchini, eggplant, pumpkin and red onion in a bowl and add the olive oil and garlic. Stir the vegetables to coat in the oil and garlic and place on an oven tray and put in the oven to cook. (*TIP: You may need to use 2 oven trays to spread the vegetables in a single layer to allow consistent cooking).
Once vegetables are nearly cooked prepare the couscous as per packet instructions. Once the couscous is cooked add the balsamic vinegar and stir to coat. Remove the vegetables from the oven and add to the couscous with black pepper and sea salt seasoning. Stir to combine and serve immediately.
Calories per serve – 280
---
Quinoa and Prawn Chilli Salad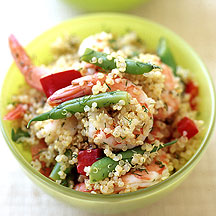 One of my all time favourite spring recipes (that is also packed full of excellent nutrition and will help weight loss) is Quinoa and prawn chilli salad. This is sooooo easy to make and will be a hit with all the family.
Ingredients for Quinoa and prawn chilli salad (serves 4)
2 cups of Quinoa
1 cup of fresh prawns
1 finely diced red chilli
Green beans – chopped up
3 cloves of crushed garlic
Chopped up corriander
1 large onion – finely chopped
1 bag of fresh spinach
1 cup of fresh or frozen peas
Juice from 1 lemon
1 cup of diced cherry tomatoes
A pinch of Sea Salt
A generous serve of Cracked black pepper
2 tbls of olive oil
5 tbls of balsamic vinegar
Directions
Cook the Quinoa in boiling water for approx 10-15 minutes. In a separate frying pan, cook the prawns, chilli, onion and garlic and also add in the peas and green beans for the last few minutes so they are lightly cooked.
In a big bowl, add the cooked Quinoa and the prawns and veg and then add in the spinach, tomatoes and the corriander and season well with the lemon juice, vinegar, oil, sea salt and black pepper
This is a SUPER TASTY summer dish and is bursting with flavour and nutrients – plus takes less than 20 minutes to make
Calories per serve – 560
---
Super Nutritious Rice Salad
Tinned or freshly cooked lentils
Tinned or freshly cooked kidney beans
Rocket leaves
Brown rice
Red peppers, yellow peppers and orange peppers
Fresh wild salmon – finely chopped
Fresh parsley
2 carrots
Green beans
2 hard boiled eggs
Cucumber
Olive oil
Balsamic vinegar
Fresh basil leaves
Spring onions
2 crushed cloves of garlic
Sea salt and pepper
Cook the rice, lentils and kidney beans and add to a large serving bowl
Finely chop the all of the vegetables and add to the serving bowl
Lightly cook the salmon and add to the bowl
Then make vinaigrette with 3 tablespoons of olive oil, the crushed garlic, the sea salt and pepper and 8 table spoons of balsamic vinegar.  Add the vinaigrette to all of the ingredients in the bowl and give it a good stir – taste and add more vinegar to taste.  Finally quarter the eggs and place on top – ready to serve and delicious.
Calories per serve – 520
---
Chicken Risotto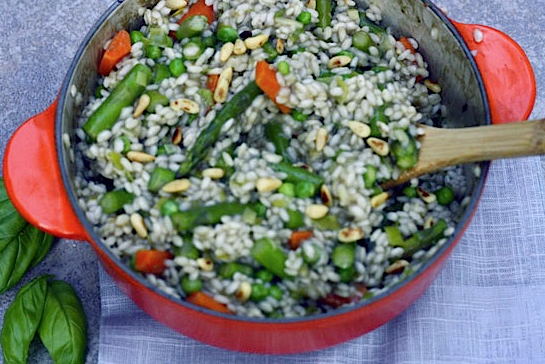 Risotto is a brilliant and healthy meal to make for the entire family and the good news is that it can be a really healthy option if you make it in the right way. Our healthy and low fat recipe for chicken and vegetable risotto is a must try for anyone wanting to eat healthily or lose weight
Ingredients
Drizzle of olive oil
4 cloves of garlic – crushed
1 red onion, chopped up
1 bunch of asparagas – chopped up
2 Cups Arborio rice
4 chicken stock cubes or fresh chicken stock
2 chicken breast, chopped into chunks
1 red capsicum chopped up
1 cup of semi sun dried tomatoes
1 bag of spinach
1 cup of peas
Shaved parmesan
Instructions
Fry the garlic onion and cook until golden and soft
Add in the rice mixing for one minute.
Warm up the stock in saucepan then add in to the rice cup by cup until it has all been absorbed.
Next add the chicken into the saucepan and after it has cooked for 15 minutes add in the vegetables and tomatoes
When everything is cooked add lashings of cracked pepper and serve straight away with some shaved parmesan on top
Calories per serve – 520
---
Chicken Fried Rice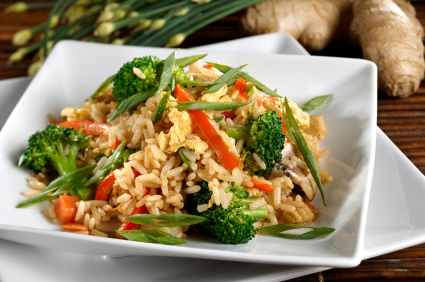 Serves at least 4
Ingredients:
300 g of skinless chicken breast (trim any excess fat)
300 g cooked brown rice
4 egg whites
Gold n Canola cooking oil spray
Shallots (5 individual) finely chopped
2 Cloves garlic crushed
½ can peas
½ can corn
3 tbs soy sauce
1 Carrot finely chopped
Brocollini chopped roughly
Method:
Heat a large non-stick frying pan over medium heat. Spray with oil. Add egg whites and cook, stir until scrambled (approx. 3-5 minutes). Remove from pan and set aside.
Spray pan with oil and place back over medium heat. Add garlic and shallots and cook for 2 minutes (stirring). Add carrot and chicken. Cook stirring for 5 minutes or until chicken is golden brown and cooked.
Stir in cooked egg whites, cooked rice, corn, brocollini, peas and soy sauce. Cook until heated through (approx 1 – 2 minutes). Serve
Calories per serve – 370
---
Paella
Ingredients
6 boneless chicken breasts, preferably free-range or organic, skin on, each quartered
A small amount of sea salt and freshly ground black pepper to taste
plain flour, for dusting
olive oil
100g chorizo, sliced
6 slices lean ham
1 onion, finely chopped
4 cloves of garlic, finely chopped
2 litres hot chicken stock, preferably fresh or organic
2 large pinches of saffron
1 heaped teaspoon smoked paprika
500g paella rice
small bunch flat leaf parsley, leaves picked and chopped, stalks chopped
2 handfuls peas, fresh or frozen
10 king prawns or 5 large Tiger Prawns
optional: 500g mussels, scrubbed
optional: 2 small squid, halved and scored
Method
Preheat your oven to around 190ºC. Season the chicken pieces and dust with flour. Heat a little olive oil in a large deep pan and fry the chicken until golden brown on both sides. Place the pieces on a baking tray and into the oven for 30 minutes.
Put the pan back on the heat. Add the sliced chorizo and pancetta or bacon and fry until browned and crispy. Then add the onion and garlic and cook until soft. Meanwhile infuse half the hot chicken stock with the saffron. Add the smoked paprika, rice and infused stock and leave to cook on a medium heat, stirring from time to time.
After 20 minutes the rice should be nearly cooked. At this point, pour in the rest of the stock along with the peas, prawns, and the mussels and squid if you are using them. Place a lid on the pan and cook for 10 minutes more.
Finally, add the cooked chicken and serve sprinkled with chopped parsley and a wedge of lemon.
Serves 6. Calories per serve 590
---
Roast Vegetable And Brown Rice Salad
Ingredients
2 cups cooked brown rice
1/2 sweet potato, cut into large chunks
1 large beetroot topped and tailed, rinsed and chopped into medium sized chunks
1 carrot topped and tailed and chopped into four pieces
1/2 cup pumpkin chunks
1 cup baby spinach leaves
2 tbsp lemon juice
3 tbsp extra virgin olive oil
1 tbsp balsamic vinegar
1 tsp ground cinnamon
1 clove of garlic, crushed
1 tsp red paprika
Directions
Pre-heat oven to 180C
Combine 1 tbsp olive oil, cinnamon, crushed garlic and paprika in a large bowl
Add cut vegetables to the bowl and use your hands to make sure they are well coated in the oil/spice mix.
Line a large baking tray with non-stick baking paper.
Place coated veggies on the tray and into the oven.
Roast for 50-60 min, turning once at the halfway point.
Place 1 cup of rice in each serving bowl (makes 2 servings) then top with the roast vegetables and baby spinach leaves.
In a cup or small bowl, whisk together the remaining olive oil, lemon juice and balsamic vinegar to make the dressing.
Drizzle over the salad and enjoy!
Makes 2 servings – 508 cal per serve
---
 Turkey Risotto
Ingredients
450g turkey meat, skin removed (you could also use turkey mince)
1 x brown onion, diced
1 x leek, topped and tailed and diced
2 x red capsicums, deseeded and diced
2 x cloves of garlic, crushed
2.5 x cups salt reduced chicken stock
500g x Arborio risotto rice
4 x tbsp parmesan cheese, grated
2 x tbsp chopped parsley
1 x tbsp olive oil
Ingredients
Heat olive oil in a medium saucepan over medium heat then add onion and garlic and cook until transparent.
Add leek and capsicum and allow to soften a little.
Add rice to the pan and cook, stirring continuously for 2 minutes.
Start adding the stock to the pan, 1/2 cup at a time. Allow rice to absorb all the stock before adding more.
When all stock is added, add in turkey and parmesan.
Reduce heat slightly, cover and allow to simmer for 5 minutes.
Remove from heat, sprinkle with parsley and serve.
Makes 4 servings – Cal per serve 650
---
Healthy Mushroom Risotto
Ingredients
2 tbsp olive oil
250g mushrooms (smaller varieties are better), sliced
2 litres salt reduced vegetable stock
2 cups Arborio Risotto rice
2 tbsp grated parmesan cheese
1 clove of garlic, crushed
1 tbsp lemon juice
2 cups of rocket leaves, washed
1 cup of thyme leaves
Directions
Heat your stock in a large saucepan over a medium heat till it's gently simmering. Keep it on the hob to stay warm.
Heat the olive oil in a medium frypan over a medium heat.
Add the garlic and saute for a couple of minutes or until garlic starts to colour (but not burn).
Add the mushrooms and saute for 2-3 minutes.
Add the rice to the mix and stir to combine.
Slowly begin adding the warm stock to the frypan, one ladleful at a time. Do not add any more until the first ladleful is absorbed.
Allow to simmer until rice is tender (about 20 minutes).
Stir in the thyme leaves, lemon juice and parmesan then divide between four bowls.
Garnish with rocket leaves and serve.
Makes 4 serves – 302 calories per serve
---
Tasty Roast Pumpkin And Toasted Quinoa Salad 
Ingredients
1/3 cup quinoa, rinsed
1/2 cup water
1 cup butternut pumpkin, cut into chunks
1/4 cup rocket leaves
1/4 cup spinach leaves
Handful parley leaves, chopped
3 tbsp balsamic vinegar
2 tbsp extra virgin olive oil
1 tsp olive oil
1 tsp dijon mustard
Olive or vegetable oil spray
Pinch of sea salt flakes
Directions
Preheat the oven to 180C
Spray the pumpkin with olive oil or vegetable oil spray
Sprinkle with salt
Place in the oven to roast for 35-45 minutes
While pumpkin is cooking, add 1 tsp of olive oil to a frypan or saucepan
When warm, add the quinoa and lightly toast for 3-5 minutes
Once toasted, pour in water and bring to the boil
Once boiling, reduce heat to a simmer and cover
Allow to simmer for 10-15 minutes or until quinoa has absorbed all the water and become fluffy
Before serving, mix quinoa, roast pumpkin, spinach, rocket and parsley together
To make dressing, whisk remaining olive oil, balsamic and mustard together and drizzle over salad.
Makes 1 serving – Cal per serve – 320