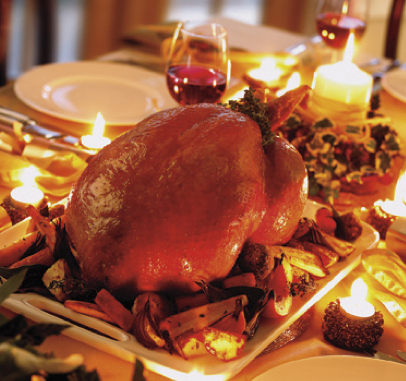 Christmas and the holidays is definitely a time of year that we all tend to overindulge and eat too much.
Which isn't a bad thing as long as we don't do it all of the time. But if you are already making good progress with losing your pregnancy weight – it can be a tad depressing if you pile on 4kg which you worked so hard to lose!
So although we are not saying to deprive yourself over Christmas, we wanted to give you a few traditional high calorie and high fat dishes that can be transformed into much healthier versions – so you can still indulge without gaining weight – a win win!
Christmas Survival Guide: How to Stay Healthy This Christmas
Christmas is the one time of year where all of the family gets together to give and receive gifts and enjoy a few days of parties, festivities, food and drink.
Usually, Christmas food is very heavy and can be full of calories and fat, but see our tips below on how to make healthier choices.
How to Cook Ham, Turkey and Chicken
The three meats mentioned above are the most popular meats to be eaten at Christmastime, and although chicken and turkey are relatively low in fat anyway, if they're cooked in fat or prepared with high-calorie cream or butter, eating them will really derail your weight loss plans. We've come up with a few low-fat ways of preparing ham, turkey and chicken so that you can enjoy all of the flavours of Christmas with less of the fat.
Baked Ham
If you're a big fan of traditional baked ham but not the calories that come from covering it in sugar and mustard, try using pineapple juice to cook the ham in instead.
Pineapple Ham Ingredients:
1 3.6kg whole ham joint, boneless
5 tbsp. balsamic vinegar
5 tbsp. pineapple juice + extra if needed
30 whole cloves
2 tbsp. grainy mustard
Method:
Boil the ham in boiling water, skimming the scum from the top of the joint, for about an hour. This just speeds up the cooking time.
Allow the ham to cool enough so that you can handle it. Meanwhile, mix together the balsamic, pineapple juice and grainy mustard.
Score the ham with a sharp knife one way and then score it in the opposite direction to create diamond shapes on the flesh of the meat. Poke a clove onto the points of each diamond.
Pour the balsamic mixture over the ham and place into a 170C oven. Cook for half an hour, then scoop up any mixture that has ran off the ham and baste the ham. Cook for another two hours, basting every twenty minutes, and if you need more liquid add more pineapple juice. Leave to rest for 20 minutes under foil before serving.
BBQ Turkey
This simple turkey recipe is a great, low-fat way of cooking turkey. BBQs are a fantastic cooking tool as you get a heck of a lot of flavour for little to no fat. Don't faff around cooking a whole turkey – buy breasts, as these have the least amount of fat, and whack them on the barbie.
Ingredients:
4 x turkey breasts
Juice of two lemons
2 x garlic cloves
1 tsp. dried mixed herbs
½ tsp. paprika
Pinch salt
4 tsp. extra-virgin olive oil
Method:
Crush the garlic cloves and mix with the lemon juice, mixed herbs, paprika, salt and olive oil.
Rinse the turkey breasts and place them into the marinade. Cover and refrigerate for at least two hours.
Heat the BBQ and when ready to cook, remove excess marinade and cook on the BBQ for half an hour, turning once through cooking. Check that they are cooked all the way through before serving.
Roast Chicken
This wonderfully moist chicken dish uses low-fat spread instead of traditional butter, still giving a wonderfully moist texture and flavour but without the usual calorie content found in real butter. Low-fat spread is just as tasty and flavourful when cooked, but make sure you go for a decent version rather than a cheap version for the best flavour. Cook the chicken in its skin to keep the flavour in, and then remove the skin for your serving.
Ingredients:
1 whole chicken
250g low-fat spread
1 whole head of garlic
1 lemon
1 tsp. paprika
Salt and pepper
2 tbsp. chopped fresh rosemary
Method:
Zest the lemon and crush all of the garlic cloves from the head of garlic. Mix together the low-fat spread, lemon zest, paprika, rosemary and a good pinch of salt and pepper.
Slide your hand between the skin and flesh of the bird and rub ¾ of the butter mixture all over the breasts, legs and wings. Rub the other ¼ of the butter inside the cavity and season well. Cut the lemon into quarters and pop into the cavity and then bind the legs with kitchen string and tuck the wings into the leg joints.
Cook in an 180C oven breast side up for around 50 minutes or until the juices run clear.
Instead of serving your meats with the usual fat-roasted potatoes and honey-glazed vegetables, try a few simple Christmassy side salads. Cutting back on the calories and fat in your side dishes also means that you could splurge a little on the dessert or on having some chocolate as a treat. Take a look at these side dishes and dessert ideas for inspiration.
Click here for lots os healthy salads to make
Click here for Pavlova and Chocolate truffles
Click here for roasted potatoes, brussel sprouts and mash potato
Click here for a whole section on healthy Christmas recipes
---
Survival Tips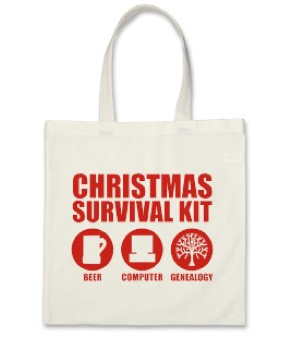 So we've figured out how we can make some of our favourite Christmassy foods lower in fat and calories but still just as tasty. But what do you do when you go to someone else's house or a restaurant for Christmas dinner or for a party over the holidays? We give you some top calorie-counting and stress-busting tips below.
Plan ahead. If you're going to a restaurant, take a look online to see if you can find the menu beforehand, or call ahead and ask if they have low-fat options such as plain turkey, side salad, jacket potatoes etc. If you ask in advance, chances are that they will be able to make something up for you.
Get your friends and family on your side. Let them know you're trying to lose weight or that you're trying to eat healthily and in general, they will support you. But if they don't know about your eating habits, they could just think you're being miserable – so tell them! That way they will be able to offer you a healthy choice, meaning that you get to enjoy the festivities without feeling grumpy that you can't eat anything.
Remember that Christmas is only once a year. If you do go off-track and eat more than you wanted to, don't let it get you down. Even the best laid plans can get derailed, especially if you have children, so remember that even if you've eaten too much at one party or event it doesn't mean the end of the world – get back on track the following day and don't let one little lapse turn into a big collapse.
If there is no healthy option at a restaurant or at a friend's house, don't make yourself miserable by depriving yourself. Choose something to eat that will do the least amount of damage and just have a small portion of it. Having a taste is usually enough to satisfy cravings without you having to have a monster-sized portion.
Stick to a certain drink. Vodka, gin, whisky etc. with a diet mixer are all great drink choices if you're trying to keep your weight stable. Try to steer clear of creamy drinks such as Irish cream liquor and don't fall into the trap of thinking that alco-pops are low in calories – because they're not. If you're going to someone's house for Christmas and you don't know what they'll have in drink-wise, just take your own – you can buy low-cal alco-pops that are around half the calories of normal alco-pops, or you could take a small bottle of vodka or gin to drink with a diet mixer. If you're desperate for a winter warmer such as mulled wine, stick to one glass. Many of us don't realise that the alcohol we drink over the Christmas period, never mind the food we eat, can cause us to put on weight.
Try not to stress out. Feeling stressed about what to wear, what to buy and what to take with you when you go to people's houses can cause you to turn to food to comfort eat, so try to remain calm and relaxed throughout the holidays and you should find that you're less likely to reach for the chocolate.
If you do fancy a treat, try not to chastise yourself – just make yourself a low-fat treat rather than reaching for the pre-packaged chocolates.
Christmas is a time for family, so relax, enjoy your family time and remember that it only comes once a year – so whether you use that fact to remind yourself that you can get back on track eating-wise in just a few short days or whether you use it to remind yourself that you don't have to put up with the in-laws for much longer, remember to enjoy yourself and have fun this Christmas!
And don't forget to check out our current promotions and discounts page to see what specials we have on this week on our Healthy Mummy product range