We all love a dessert for a treat at one time or another but usually they mean bad news for any weight loss program or when you are trying to lose baby weight and stomach fat.
But the good news is that dessert can also be made lower in fat and calories.
You just need to have a think about how you can use substitute ingredients to your advantage which is good news when you are trying to lose stomach fat.



---
Chocolate and Coconut Mousse
2 bananas
1 avocado
5 fresh Medjool dates
1 tbsp natural peanut butter
1 ½ tbsp cocoa or cacao
1 tbsp hot water
2 tbsp desiccated coconut, to serve
Place all ingredients (except the coconut) into a food processor and blend for one minute until smooth. Chill for 60 minutes before serving with the coconut sprinkled on top.
Serves: 4. Calories per serve: 240.
Salted Dark Chocolate Popcorn
1 tbsp coconut oil
1/3 cup popcorn kernels
100g dark chocolate
½ tsp salt
Heat coconut oil in a large pot with a lid over medium heat. Pour in the kernels and place the lid on. Shake so that the oil covers each corn kernel. Listen to hear when the popping has slowed right down, and then remove from the heat. Place popcorn onto a large tray covered in baking paper. Melt the chocolate in the microwave on medium until runny. Pour chocolate over the popcorn and toss to coat. Add the salt to taste and allow the chocolate to harden up on the popcorn at room temperature for 60 minutes.
Serves: 4. Calories per serve: 240.
Pavlova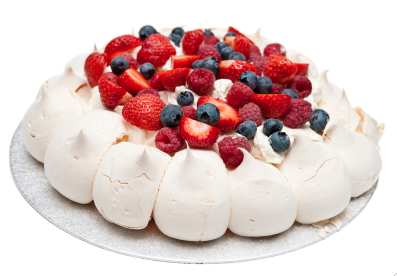 Pavlova is a hugely popular dessert, and if made with lots of sugar and full-fat cream can be really one of the worst things to eat if you're watching your weight.
However, if you make the meringue for the base using half sugar and half sweetener or all sweetener you can really cut back on the calorie content.
Ingredients:
4 egg whites
1 cup natural sweetener such as Stevia
1 tsp. lemon juice
1 tsp. vanilla extract
Method:
Whip the egg whites with an electric beater until they begin to stiffen up.
Gradually add the sweetener, whipping all the while. Continue to whip until stiff and glossy, or until a bit of the meringue rubbed between your fingers feels smooth. If it feels gritty, continue whipping.
Beat in the lemon juice and vanilla and then spread onto a greased and lined baking tin in the shape of a circle. Put it into a 200C oven then immediately turn it down to 170C. Cook for 45 minutes to one hour and leave to cool in the oven.
Top with a combination of low-fat whipping cream (1/4) and 0% fat Greek yoghurt (3/4) or all Greek yoghurt, then pile high with the fruit of your choice. Calories per serve – 160
---
Chocolate Truffles
Amazingly, these chocolate truffles are really not that high in calories or fat – because they're made with water instead of cream, giving them a rich and intense chocolatey flavour but without the fat of the cream.
Melt together 125g 80% dark chocolate and 125g 50% milk chocolate over a pan of boiling water, then very gradually whisk in 100ml of boiling water straight from a kettle. Prod your finger into the mixture and if the mark you made stays pronounced, add a splash more water.
Allow the mixture to set for at least one hour and then use a melon baller to create small truffle balls.
Calories per serve – 80
---
Chocolate & Berry Mousse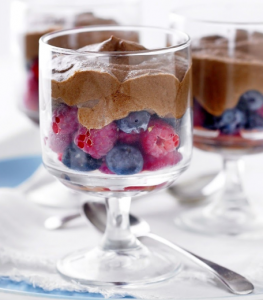 Ingredients
75g good quality dark chocolate, grated or finely chopped
2 egg whites
4 tbsp. low fat yoghurt
1 tsp. runny honey
350g mixed berries of your choice
Directions
Place the chocolate into a heatproof bowl and suspend it over a pan of simmering water. Stir until the chocolate is melted, then leave to cool for 5-10 minutes. Stir the yoghurt into the chocolate.
Whisk the egg whites in a separate bowl until stiff. Add the honey and whisk again until the honey has dissolved, and the egg whites are stiff. Add a spoonful of the egg whites to the chocolate mixture and stir to combine and then carefully fold the rest of the egg whites into the chocolate mixture, being careful not to knock too much air out of the eggs.
Divide the berries between 4 glasses and then top with the chocolate mousse. Place into the fridge until the mousse is set.
Recipe serves 4. Calories per serving: 159, fat per serving: 8g.
---
Crepe With a Twist
1 teaspoon Vanilla essence
1 egg
sprinkle of Cinamon
Teaspoon of almond slithers
2 teaspoons of crushed Macadamias
3 large strawberries (or any kind of mixed berries)
Jalna Vanilla yoghurt
Mix the egg with a fork and add vanilla and cinamon. In a small non-stick pan on low heat, pour in and swirl the egg around so it covers the entire pan. Do not touch the egg with a fork, instead just swoosh the pan around in a circle motion to get even heat over the egg so it cooks evenly. When it starts firming on the top, fold sides in and flip over to cook any soft parts left on the top.
It should only take 2 min to cook. Place in a bowl, add your berries, yoghurt and sprinkle the almonds and macadamias over the top.
Calories per serve -190
---
Chocolate & Pear Puds
Making a pudding from fruit and chocolate is an excellent way to lower the fat and calorie content of a more traditional chocolate dessert.
Ingredients:
6 ripe pears
Juice of 1 whole lemon
1 tbsp. Natvia
3 tbsp. water
50g ground almonds
2 tbsp. unsweetened cocoa powder
2 egg whites
Method of Preparation:
Heat the oven to 140C. Peel, core and finely dice the pears. Put the pears, Natvia, lemon juice and water into a saucepan. Bring to the boil, cover and then reduce to a simmer. Cook for 10 minutes, then remove the lid and cook for another 10 minutes or so until tender.
Spoon into 8 ramekins.  Mix the Cocoa powder and the almonds together. Beat the eggs white until stiff peaks form and then fold into the Natvia and cocoa mixture. Once smooth, spoon onto the pear mixture. Smooth out the tops and then bake for 20-25 minutes until the topping is set.
Recipe serves 8. Calories per serving: 140
---
Dairy Free Panacotta
Ingredients
500ml soy milk
3 level tsp. powdered gelatine (unflavoured) + 3 tbsp. water
2 x tbsp of honey or natural sweetener
Zest of 1 lemon and 1 orange
1 tsp. vanilla extract
Directions
Sprinkle the gelatine over the water and leave to sit for 5 minutes.
Combine the soy milk, honey, lemon zest, orange zest and vanilla extract in a saucepan. Heat until the mixture just comes to the boil then remove from the heat.
Stir in the gelatine mixture until evenly distributed and then leave to cool for 10 minutes. Strain the mixture through a sieve to remove any lumps of gelatine into 4 ramekins, then leave to cool in the fridge for at least 2 hours before serving and serve with fresh fruit such as berries or passion fruit.
Recipe serves 4. Calories per serving: 148, fat per serving: 2g. If you like, you can just use orange zest OR lemon zest, or you could use lime zest and a drop of coconut milk for a tropical pud.
---
Oat Bran Muffins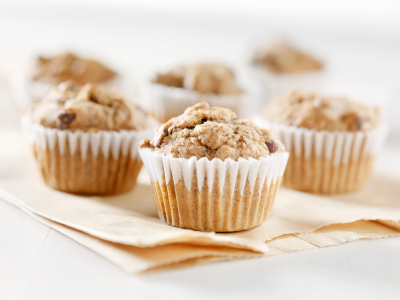 Servings 12
1 Cup Oat Bran
1 Cup Wholemeal Flour
1/2 Cup Natvia
2 Eggs
1/4 Vegetable Oil
1 tsp Baking Powder
1 tsp Mixed Spice
Fruit of Choice either tinned or fresh if fresh grate finely if tinned sml can and drained well if it has been stored in syrup wash the dice.
Combine dry ingredients the add in wet ingredients and mix for one minute. Then cook for approx 20-25 mins on medium oven heat
Calories per serve -140
---
Low fat Gingerbread men
Cut the fat not the flavor. These gingerbread men use half the butter normally used in most gingerbread cookie recipes. Applesauce helps the cookies retain their moisture and gives them a soft texture.
Ingredients:
1/4 cup butter, softened
1/2 cup firmly packed brown sugar
1/2 cup unsweetened applesauce
1 egg
1/3 cup dark molasses
3 cups wholemeal flour
1 tsp baking soda
2 tsp ground ginger
1 tsp ground cinnamon
1/2 tsp allspice
1/4 tsp ground cloves
Preparation:
In a large mixing bowl, beat butter, sugar and applesauce until smooth. Add egg and molasses and mix well. In another large bowl, combine flour, baking soda and spices. Add to sugar and molasses mixture, stirring well. Divide dough in two; cover with plastic wrap and chill for 2 hours.
Preheat oven to 350 degrees. Roll out dough to 1/4 or 1/8-inch thickness. Cut gingerbread men with a cookie cutter. Add candies or raisins to decorate. Place 1-2 inches apart on a parchment-lined baking sheet. Bake 10-12 minutes. Add frosting or more decorations when cool. Makes 30 cookies.
Calories per serve -72
---
Baked pears with cranberries and walnuts
Baked Pears with Cranberries and Walnuts are a good healthy alternative to a fat laden desert. If you don't have pomegranate juice, use cranberry juice, red wine or apple cider instead. Enjoy with a scoop of low fat frozen yogurt with a little cinnamon or nutmeg.
Ingredients:
3 ripe but firm pears
1/3 cup pomegranate juice
1/2 cup dried cranberries
1/4 cup chopped walnuts
Preparation:
Preheat oven to 350 degrees.
Place quartered pears in a baking dish. Drizzle pomegranate juice over pears. Sprinkle cranberries and walnuts over the top. Bake for 20 minutes, or until pears are tender. Serve with juices and fat-free or low fat frozen vanilla yogurt.
Calories per serve -220
---
Carb-Free Peanut Butter Cookies
Ingredients:
2 tbsp. crunchy peanut butter
1 egg white
2 tbsp. low-cal sweetener (or to taste)
1 tsp. vanilla extract
Method of Preparation:
Whisk the egg white until frothy, then whisk in the peanut butter, sweetener and vanilla. Taste and if you think it needs to be sweeter, add more low-cal sweetener.
Drop by the teaspoon onto a baking tray lined with greaseproof paper and cook in a 200C oven for 15 minutes or until set and slightly browned.
These cookies don't really taste the same as cookies made with flour, but they are delicious in their own way. Recipe makes about 12.
Calories per serve – 55
---
Banana and Coconut Squares
Ingredients:
60g self-raising flour
60g wholemeal flour
2 large ripe bananas
4 tbsp. 0% fat Greek yoghurt
2 tbsp. runny honey
1 tbsp. cocoa powder
4 x tbsp of dessicated coconut
1 large egg
1 tsp. vanilla extract
1 tsp. cinnamon
½ tsp. bicarbonate of soda
Pinch of salt
Method of Preparation:
Mash the bananas and mix with the yoghurt, honey, egg and vanilla in a bowl.
In another bowl, sift the self-raising flour, wholemeal flour, cinnamon, bicarb and salt.
Mix the wet ingredients with the dry ingredients until fully combined. Pour 2/3 of the mixture into a baking tin greased with cake release spray or oil spray.
Mix the other 1/3 of the mixture with the cocoa powder and swirl into the batter in the tin.
Cook in an 180C oven for 25 minutes or until set. Cut into 12 squares.
You can easily up the honey content for a sweeter treat, or you could add 50g dark chocolate chips for extra flavour.
Calories per serve – 85
---
Oaty Banana Flapjacks
Ingredients:
225g mashed banana
110g porridge oats
Quarter of a cup of honey
100g sultanas
2 egg whites
4 tbsp. skim milk
1 tsp. vanilla extract
1 tsp. ground cinnamon (optional)
½ tsp. bicarbonate of soda
Method of Preparation:
Preheat the oven to 180C.
In one bowl, mix the oats, honey, sultanas, cinnamon and bicarb.
In another bowl, mix the mashed banana, egg whites, skim milk and vanilla extract.
Mix the dry ingredients with the wet ingredients.
Spread into a lined 23cm by 33cm tin and then put into the oven for 35 minutes or so.
Cut into bars to serve.
Makes 8 servings.
Calories per serve -157
---
Silky Chocolate Mousse
Ingredients:
340g silken tofu
1 tsp. unsweetened cocoa powder
340g dark chocolate chips
1 tsp. vanilla
Pinch of salt
2 tbsp. milk
1-3 tbsp. runny honey (optional, if the chocolate you use is relatively sweet you won't need to add any sweetener)
Method of Preparation:
Melt the chocolate in a bowl suspended over a pan of simmering water.  Put the tofu, cocoa powder, melted chocolate, vanilla, salt, milk and honey (if using) into a blender. Blitz until very smooth and creamy then spoon into 8 glasses. Leave to chill in the fridge before serving.
Recipe serves 8. Calories per serving: 140.
---
Nutty Berry Mess
Ingredients:
400g punnet strawberries or raspberries or half and half
200g low fat ricotta cheese
1 tsp. vanilla extract
2 tbsp. runny honey
50g roast chopped nuts
Method of Preparation:
Divide half of the berries between four glasses. In the ricotta tub, mix the vanilla into the cheese and beat with a spoon until softened and smooth.
Divide half the ricotta between the four glasses, top with the rest of the strawberries and then the rest of the ricotta. Finish each glass with a drizzle of runny honey and a sprinkle of chopped nuts.
Use mixed berries or plain raspberries instead of the strawberries if you want to. This recipe serves 4, calories per serving: 159.
---
Low Fat Apple Pie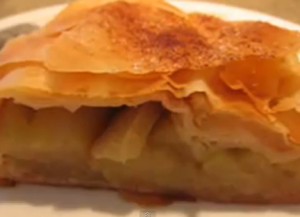 Using filo pastry in place of traditional puff pastry helps to keep this pie low in calories and fat, whilst the cinnamon and nutmeg lend a lovely hint of spice. It's sweetened with honey making it a much healthier choice
Ingredients
6 x filo pastry sheets
5 medium apples
¼ cup runny honey
2 tbsp. lemon juice
2 tbsp. warm water
1 tbsp. rice flour or corn starch
1 tsp. ground cinnamon
½ tsp. ground nutmeg
Directions
Preheat the oven to 175C. Peel, core and thinly slice the apples. Combine the apples in a bowl with the nutmeg, cinnamon, rice flour and lemon juice. Either place into the microwave or tip into a saucepan and cook until the apples are slightly softened, around 3-4 minutes. Leave to cool.
Spray a medium square pie plate (you could use a circular plate) with cooking spray. Combine the honey and warm water in a bowl. Brush one sheet of filo with the honey mixture and lay into the pie plate, pushing into the edges, letting the pastry hang over the sides of the pie plate.
Brush a second sheet of filo with the honey mixture and lay over the top of the first in the opposite direction so you have a cross shape, pushing the pastry into the edges of the pie plate, again letting it hang over the sides.
Brush another sheet of filo with the honey mixture and lay it diagonally across the first two sheets. Brush the remaining sheets of filo with the honey mixture and lay them diagonally at different angles to the first sheets of filo, so that you've covered the bottom of the pie plate and there are no holes or gaps anywhere in the pastry. Pile the apple mixture onto the filo sheets and then gather the filo sheets up and over the apple mixture, scrunching at the top if desired. You could leave some of the fruit exposed if you prefer.
Bake the pie for 15-20 minutes or until the filo is golden brown and the apple filling soft and tender.
---
Apple and Rhubarb Compote
Yum yum rhubarb in my tum! This tartly delicious fruit compote is perfect with yoghurt or as part of a healthy breakfast.
Ingredients
1 bunch of rhubarb, topped and tailed and rinsed thoroughly
2 large green apples, peeled and cored
1 strawberry, leaves removed and cut in half
2 cups water
1/2 large lemon or whole small lemon
1 tsp stevia
1 tsp cinnamon
Directions
Chop rhubarb into chunks, approx 2 cm in length
Chop apple into chunks approx the same size as the rhubarb
Pour the water and lemon juice into a large heavy base saucepan then add the rhubarb, apple and strawberry.
Turn the heat to medium and allow to simmer, stirring occasionally.
Once rhubarb has started to go stringy, add the cinnamon and stevia and mix to combine.
Turn the heat to low and allow to simmer till everything has softened completely.
Remove from heat and once cooled, store in a tupperware container with a tight fitting lid.
---
Guilt-Free Banana Split Ice Cream
Ingredients:
4 ripe bananas
2 tablespoons real peanut butter (made from 100% peanuts)
Method:
Peel bananas and slice them into 3cm chunks.
Place on a tray lined with baking paper and put in the freezer for 2 hours or until firm.
Pop the frozen banana and peanut butter into a high powered blender or food processor (one that can handle the strength of crushing ice).
Blend on high speed until combined – you may find that adding a little milk or yoghurt helps to get things moving. Keep blending a little longer than just the smooth stage as this gives the ice cream feel.
Eat as is for a soft-serve style treat, or place back in the freezer for half an hour to firm up.
Enjoy!
Serves: 6. Calories per serve: 125.
---
Baked Pretzels
Ingredients (makes 12)
1 sachet (7g) dried yeast
½ tsp Natvia
150ml warm milk
1 ½ cups plain flour
½ teaspoon salt
30g melted butter
1 tablespoon olive oil
1 egg yolk, lightly beaten
Coarse seat salt, to sprinkle
Sesame seeds or poppy seeds (optional)
Directions
In a jug or bowl, mix the yeast, sugar and warm milk. Allow the jug to stand for 10 minutes until it gets frothy on top.
Place the flour and salt into a large bowl. Pour in the melted butter and the yeasty milk mixture and bring the dough together into a ball with your hands.
On a floured surface, knead the dough for 8 minutes until soft and stretchy. Place the dough back into the bowl, cover the dough with olive oil and wrap the bowl in cling film. Allow to stand for an hour until the dough has doubled in size.
Line two trays with baking paper. Punch down your dough and knead again for 2 minutes until you feel it become soft and stretchy again.
Now is the time to add your mix-ins if you are using any. Break the mixture up into 12 pieces, covering them with cling film until you need them.
Take one of your 12 pieces and roll it out by hand to around 40cm in length. Curve the dough into a horse shoe with the ends facing up. Pull the left end inwards and down across to the bottom right of the horse shoe. Press lightly to join the dough so that there is a little bit of dough hanging below the arch. Take the right end and tuck it under the left side, again allowing for a little dough to hang over the end to form the traditional pretzel shape. Place on the tray allowing plenty of room between each pretzel as they spread a little during cooking.
Once you have rolled all 12, cover with a clean tea towel and allow them to rest for 30 minutes. With ten minutes to go, heat your oven to 190°C.
After 30 minutes it's time to coat them with the egg yolk and sprinkle over the sea salt and sesame seeds (if using). Bake in the oven for 12-15 minutes or until golden brown. Cool on a wire rack and enjoy while still warm.
Serves: 12. Calories per serve: 250.
---
To see our weight loss plans click here