This photo of me holding my little girl changed my life.
My partner took the photo and when he showed me later, thinking he was great catching a sweet moment, I just about died!
I had already purchased the Lose Baby Weight 28 day plan but was in the mind frame of 'Well I did something good by buying the plan, so chocolate bar for me'. Chocolate was my ultimate weakness…
My two sisters have both had stomach sleeving in the past year, going from 130kg and 135kg down to 62kg and 74kg. However even though they have lost a lot if weight and can no longer eat very much, they still have not learnt how to eat properly!
Feeling I was headed down the same path I took action.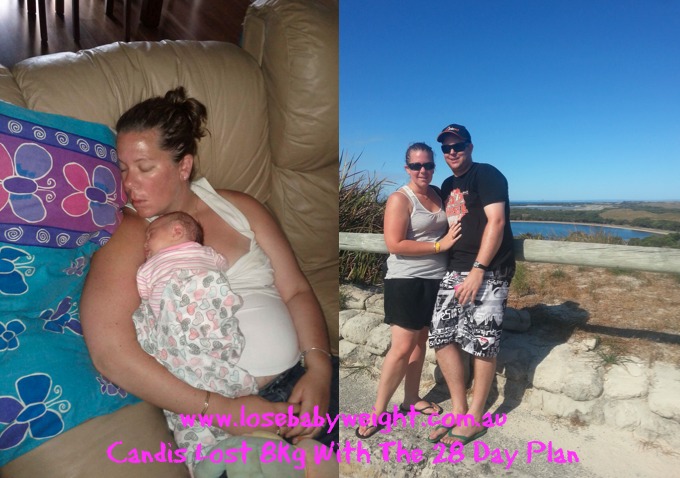 So I did some serious facebook stalking of Lose Baby Weight and found my motivation in your posts.
I redirected the daily emails back to my inbox rather than my junk folder and as per your advice bought a small plate with 3 different sections.
Because even though I was still making a lot of Lose Baby Weight recipes I was eating enough for 3 people.
So equipped with smaller servings and my 28 day plan I set upon my first goal: not to lose weight but instead to lose the roll of fat forming on my back.
I achieved that within 2 weeks – I no longer had to wear cream to stop rashes, or tight singlets under my t-shirts.
From there I made a small weight loss goal of 3kg – not much, but I needed to achieve so I wouldn't fail like I always have.
I lost 3kg in the next 3 weeks and since then have lost another 5kg just continuing what I'm doing by following the 28 day plan.
Yesterday in the middle of the park during my work out I did a little happy dance. It seems that the exercises in the 28 day plan have given me better upper body strength – I can now do 3 push ups on my toes…. I have NEVER been able to do a push up on my toes.
I made a choice after seeing myself in that picture that has not only helped me but the rest of my family.
The second photo is of my husband to be and I taken yesterday on Rottnest, with me in shorts as my legs no longer rub – yay!!
Now down to 83kg I still have kilos to lose to reach my goal weight, but I feel confident and equipped with the knowledge to do it.
Thank you for your emails, posts and valuable information
– Candis
GET YOUR 10% DISCOUNT
If you are ready to lose weight then the Lose Baby Weight plans offer a healthy and safe exercise and diet routine and you can get a 10% discount by using code LOYALTY at the checkout.
Click HERE to see our shop