Potato chips are one of the most commonly craved snacks that don't belong on any healthy eating plan because they contain high amounts of salt and calories, and absolutely no nutritional value.
When you're trying to lose pregnancy weight, it's common to crave savoury, salty foods and the good news is that there are ways to satisfy those cravings without ruining your weight loss efforts.
Try replacing potato chips with healthier snacks like home made kale chips, veggie chips or a handful of raw, unsalted nuts.
This easy recipe for Baked Sesame Nori Chips is a super simple way to create healthy, delicious snacks at home.
Using only a few ingredients these chips are great for parties,kids lunch boxes or just keeping at home to eat as snacks when savoury cravings hit.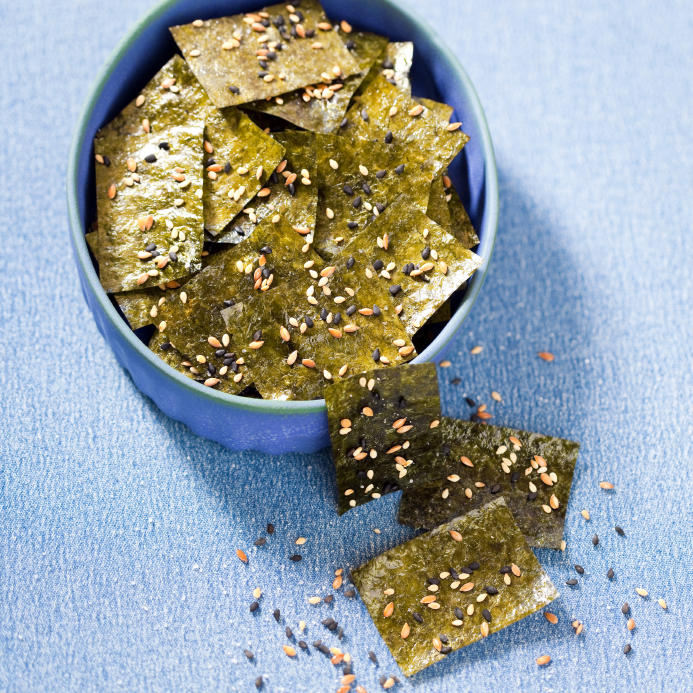 Ingredients:
4 sheets of dried nori seaweed (available in the Asian aisle of most supermarkets or Asian grocery stores)
2 tablespoons of olive oil
1 tablespoon sesame seeds
1 tablespoon flax seeds
Method:
Preheat an oven to 180 degrees Celsius
Take the nori sheets and cut into pieces using a knife or kitchen scissors. Cut into whatever size squares or rectangles you prefer.
Place the nori pieces onto a flat baking tray lined with baking paper.
Using a pastry brush, brush the olive oil onto the nori sheets and scatter the sesame seeds and flaxseeds on top.
Bake in the oven for 15 minutes until crispy.
Serve once cooled.
Serves: 2. Calories per serve: 208
GET YOUR 10% DISCOUNT
If you are ready to lose weight then the Lose Baby Weight plans offer a healthy and safe exercise and diet routine and you can get a 10% discount by using code LOYALTY at the checkout
PLUS our BEST SELLING 28 Day Diet & Exercise Plan is available as a 200pg Printed Book and you can get your copy here 
Plus our NEW CALORIE BIBLE is now available – get your copy today! Only $19.95 and a must have in your handbag!
Click HERE to see our shop