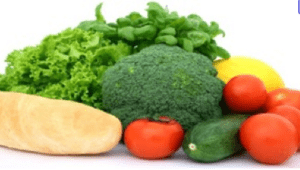 Making sure you are getting the correct nutrition in your diet and and ensuring you are eating healthy foods is crucial to your health and weight loss success.
Without us in taking enough of the correct nutrients our body just cannot work properly and because of the lifestyle we live today not many people get the correct nutrients in their daily diet.
Topped with this is the fact that each day our system is challenged by factors which rob us of vital nutrients and undermine our health and weight loss.
These factors include stress, environmental pollutants, processed foods, junk foods, little exercise and over medication we take.
If our body is not given the right vitamins and minerals then our cellular balance becomes off kilter and this then leads to very low energy levels and tiredness, an inability to lose weight, the increased likelihood to gain weight, greater risk of illness, a sluggish metabolism, poor digestion and dry skin and brittle hair.
So what is the solution?
To feel vibrant and have our bodies working well, we must eat healthy foods and intake a wide selection of vitamins and minerals at each meal to nourish the cells in our body – and in a perfect world the best way to achieve this is to have freshly prepared organic food from each food group at each meal time.
But that is a perfect world and unfortunately most people don't have the time, energy or cash to do this at each meal time and when you throw in the exhaustion most mums suffer from – as well as being time poor, trying to achieve this nutrient packed food combination at each meal time is very hard to do.
This is where the Lose Baby Weight plans can be of GREAT assistance as they have been created with the busy mum in mind who wants to be healthy and lose weight but has time pressures upon her and is tired from a lack of sleep.  The core base product on the plans is our nutritional smoothies which is like a super food for your body.
It gives your body all of the vitamins and minerals it needs in one portion and it does not contain chemicals or weight loss accelerants plus it is made from whole foods.  It is also made from non genetically modified Soy produce.
Our plans recommend using our Healthy Mummy Smoothies to make tasty smoothies by adding fruits or veggies to them and as the smoothies nourish the body from a cellular level you will find that you stop craving junk food and sugar foods after a couple of days on the plan. You will be full of energy and will feel really satisfied from having them.
The Healthy Mummy Smoothie
The Healthy Mummy smoothie has been created to help mums benefit from a wide range of nutrients which can also help support your diet and exercise plan if you are trying to lose weight.
The Healthy Mummy Smoothie has been designed by leading nutritionists and is the perfect companion to a busy mums life.
The Healthy Mummy Smoothie offers an excellent source of essential vitamins, minerals, nutrients & important antioxidants. It contains no weight loss accelerants, caffeine, no wheat and is dairy free. It is also a non Genetically Modified product. You can read the nutritionists' reviews of the range here
How can The Healthy Mummy Smoothie benefit you?
Can help with weight management when used as part of a diet & exercise plan
Provides excellent nutrition for energy
Is Breastfeeding friendly and is designed to support milk supply
It is quick and easy to prepare and tastes delicious
It is low GI & high fibre which helps you feel fuller for longer and aids digestion
It is high in protein & lower in sugar than any other product on the market – please click here to see a comparison table
Ingredients in The Healthy Mummy Smoothie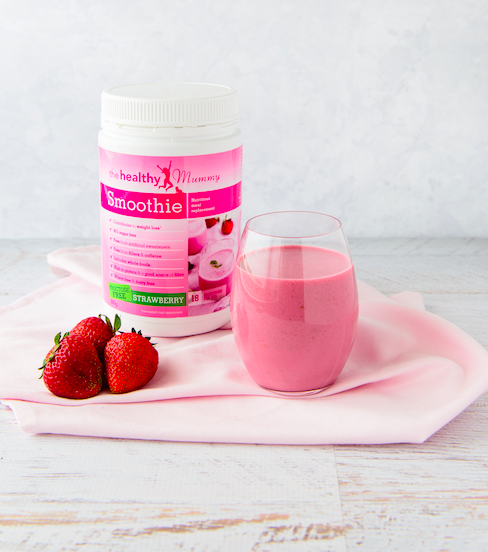 Natural ingredients in our smoothies help give a gentle sensation of feeling fuller for longer, helping to avoid eating large meals or over snacking. They help to bulk the stool & aid bowel eliminations.
Included in our smoothies are:
Apple pectin – a source of soluble fibre that forms gel naturally
Rice bran fibre – a highly fibrous ingredient
Cellulose – major component of cell wall in plants
Psyllium husks – a water-soluble fibre
Inulin – a natural vegetable fibre
Flaxseed meal – healthy fats (omega3 fatty acids) & high fibre making it an ideal ingredient for post birth nourishment
Pumpkin seed meal – adds bulk to assist a sense of fullness & contains a high level of essential fatty acids, protein, zinc & iron.
Protein For Health & Weight Loss:
Soy protein isolate – a complete protein low in fat with high digestibility
Methionine 10mg – important amino acid for normal metabolism
Protease (from aspergillus) – group of enzymes that assist digestive process by breaking down proteins
Soy lecithin 400mg – emulsifying that can aid the digestive system
Bromelain 5mg – enzymes from pineapple assisting protein digestion.
Herbs For Your Health – during a weight loss diet, herbs can help to maintain a feeling of general wellbeing:
Ginger root – a spice often used to add heat to meals while soothing the stomach
Fenugreek – provides support for breastfeeding mothers
Dandelion root – helps absorption of nutrients in "The Healthy Mummy" Smoothie.
LOW GI: as part of a weight loss diet, low GI foods help to release glucose more slowly leading to a more stable blood glucose level.
To see our healthy eating and weight loss plans click here