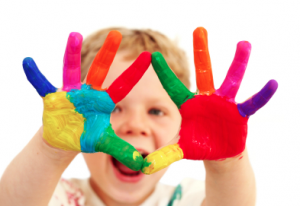 If you've got one (or more), active little ones, rainy weather can be a bit of a nightmare if you're not prepared. There's only so many times you can watch Peppa Pig and only so many snacks you can hand out to keep little hands, eyes and mouths busy.
Having a rainy day survival plan can be the key to remaining sane, especially over the weekend and on those days when it feels like it might rain forever!
Our top 5 activities for a rainy day have been designed for a broad range of ages and ability levels, and some will even get mum and dad up and active (great for burning a few extra calories!)
Top 5 Rainy Day Activities
Get crafty – Craft is an obvious rainy day favourite. Put a twist on tradition by making your own supplies, like our edible finger paint (great for toddlers who try and eat everything), or homemade playdough. The beauty of these activities is that kids can help with both the preparation AND the play part of things. Older kids especially will love helping to measure out playdough ingredients and even toddlers can get involved in mixing and mashing things together.

Go for a 'swim'- When was the last time you let your kids loose in the bath, just for fun? Kids of all ages generally love water so filling the tub with a small amount of warm water, piling in the toys and letting them go for a middle of the day 'swim' is sure to be a big hit.
Cook up a storm – There are plenty of kid friendly recipes on the Lose Baby Weight website. Snacks like nutty cranberry protein balls and choc-chip chickpea protein cookies are especially great for little ones to help with. Older kids can be put in charge of pouring, stirring and measuring, while toddlers will love being given their own small bowl of dry ingredients to play with.
A rainy walk – If you're brave enough, heading out in the rain can be great fun for the whole family. Just make sure you've got your wet weather gear on (including gumboots) and plan to only go out for a short time. Kids will love splashing in puddles and checking out the way the rain turns everything into a greener, damper world. Come home and chuck everyone into a hot bath and you're sure to have happy, warm kiddies.
Build a fort – While outside forts are loads of fun, building one inside, using chairs, sheets, pillows and blankets can be just as good. Yes, your lounge and dining room might be out of action for awhile but the kids will be able to amuse themselves for hours building then decorating their fort. Even toddlers will love running under flapping sheets, pushing around chairs and dragging favourite toys into the newly created hidey hole.
GET YOUR 10% DISCOUNT
If you are ready to lose weight then the Lose Baby Weight plans offer a healthy and safe exercise and diet routine and you can get a 10% discount by using code LOYALTY at the checkout
PLUS our BEST SELLING 28 Day Diet & Exercise Plan has now launched as an 84pg Printed Book and you can get your copy here 
Click HERE to see our shop