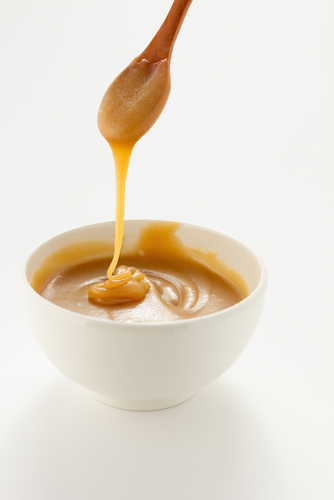 Sometimes when you are trying to lose weight, all you can think about is the types of food you shouldn't be eating.
If desserts features on your list – make that desserts covered in gooey caramel sauce – this recipe is for you.
Using just 4 ingredients, this recipe doesn't call for any added sugar as it is sweetened with honey instead.
Coconut milk offers a richness of flavour as well as some sweetness too.
Can't find tahini? Try using 100% nut butter instead.
While it isn't an everyday option, this caramel sauce is sure to hit the spot when you are craving something decadent.
What can you do with this amazing concoction?
Drizzle over fruit salad
Dip strawberries in it
Pour it over your home made banana ice cream

Serve it with some Date and Orange Scones instead of jam
Serve it over some chunks of frozen banana
Eat it off a spoon…it's that good…
Ingredients:
4 tbsp tahini or nut butter
2 tbsp honey
1 tsp vanilla essence or vanilla bean paste
4 tbsp coconut milk
Method:
Mix the tahini and honey together.
Add in the vanilla and the coconut milk and stir to combine.
Serves: 4. Calories per serve: 132.

GET YOUR 10% DISCOUNT
If you are ready to lose weight then the Lose Baby Weight plans offer a healthy and safe exercise and diet routine and you can get a 10% discount by using code LOYALTY at the checkout
PLUS our BEST SELLING 28 Day Diet & Exercise Plan is available as a 200pg Printed Book and you can get your copy here 
Plus our NEW CALORIE BIBLE is now available – get your copy today! Only $19.95 and a must have in your handbag!
Click HERE to see our shop