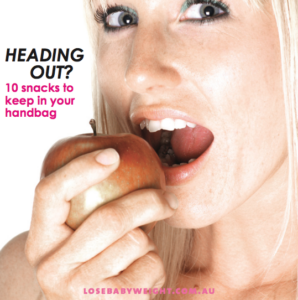 Whether you are staying home today, heading to the shops, going to work or visiting friends – remember this.
You will get hungry at morning and afternoon tea time, and you do need to make a plan for it.
So often we go about our days, with nappy bags and backpacks full to the brim with our children's hats, toys, nappies, snacks, sandwiches, water bottles, wipes, jumpers, swimmers and spare outfits.
Look in a typical mum's handbag and you might be lucky to find a packet of old mints that are covered in fluff.
It's so important to plan ahead and have healthy snacks on hand every day so that you don't get caught out.
Feeling hungry and staring at a tray of muffins at the local café is not going to end well.
Feeling hungry and knowing that you have one of our top 10 handbag snacks tucked away on the other hand – now you're onto something…
Trail Mix
Prepare your own healthy snack pack of nuts, dried fruits and seeds. Trail mix packs a nutritional punch as well as being chock-full of protein, which will keep you full until your next meal.
Handbag Friendly Fruit
Not all fruit was made to travel and be eaten on the go (leave the pineapples at home). But a simple snack such as a banana, apple, or mandarin can be a life saver when you are running around.
Frozen Grapes
Naturally, these won't be frozen by the time you eat them – but they will be deliciously chilled.
Rosemary Popcorn
This is a great snack to eat on the go, as you can dip in and out as needed. Air popped popcorn tossed with some rosemary and sea salt is a delicious snack.
Healthy Muffins
You can't beat these Lose Baby Weight recipes for a handbag snack. Why not bake a few batches of our Carrot Cake Muffins and wrap individual servings before freezing them. Once in your bag they thaw out in no time and make a perfect accompaniment to your mid-morning cuppa.
Rice Paper Rolls
We love these simple rice paper rolls, and you can tailor them to your tastes. Keep them vegetarian if they need to last in your bag for long.
Protein Balls
Once again protein comes to the rescue and saves us from starvation. Prepare a few batches of our Coconut and Apricot Protein Balls and pop a couple into your bag. These travel really well and are also a hit with many little ones too.
Pumpkin and Spinach Bites
These tasty little Pumpkin and Spinach Bites are a great fill-me-up as they contain the goodness of veggies, almond meal and chia seeds.
Rice Cakes
These are a great pantry cupboard staple. You can find some brands of plain rice cakes that are made simply with rice and a little salt (no extras!). Then just add your favourite toppings. Try vegemite and avocado, low fat cream cheese, or all natural peanut butter.
Cheese and Crackers
Pretend it's canapé time and enjoy some healthy low fat cheese with a couple of your favourite wholemeal crackers. Cheese fills you up and keeps those hunger pains at bay.

Need to stock up on Healthy Mummy Smoothies? Then see our shop here
And join our 28 Day Weight Loss Challenges here