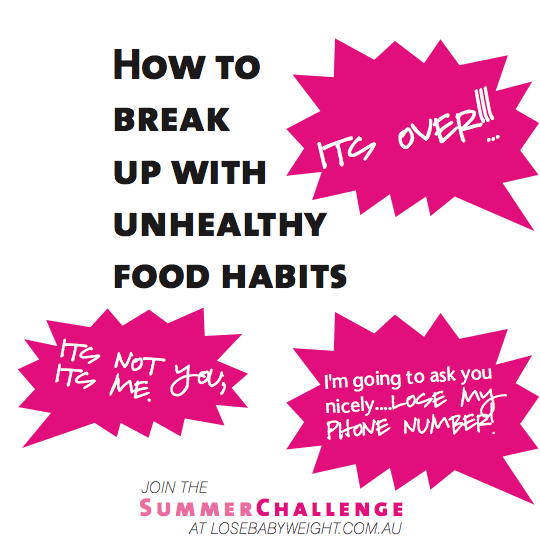 For many of us there are certain bad habits that we know that we should break but we just don't know how.
Today we look at 3 common offenders and give you some advice for kicking them to the kerb once and for all.
Bad Habit: buying junk food when you fill up the car with petrol
Many people find they are in a routine of grabbing a chocolate bar or packet of chips every time they pay for petrol.
Just becoming aware of the trigger (the petrol station) can be a start to overcoming this habit.
Can you fill up at a different time of day, say first thing in the morning, when you are less likely to want the junk food?
Can you explain the situation to your partner and get them to fill up for you?
Can you change the habit to buying a small packet of cashews or a tub of yoghurt instead (if you are actually hungry that is!).
Bad Habit: eating your child's leftovers
As mums we tend to dislike waste and mess. So devouring the last of the mashed potato from your child's plate solves both of those issues.
But the thing to remember is that you are not a rubbish bin, so don't treat yourself like one (even if the kids tend to pass you all their rubbish when you are out and about – don't you hate that?!).
You have your meals and snacks planned out, and all those extra little bits really do add up over the day.
If you are finishing off half a piece of toast, one third of a banana, a few tablespoons of yoghurt and a handful of biscuits each day you can see how this could happen.
If you are actually hungry it's important to remember not to miss any meals or snacks of your own. Take the time to feed yourself as well as everyone else.
Either pack away the leftovers to be eaten later by the kids as is or repurposed as veggie patties, or toss them out. You are not saving money by eating their leftovers, you are just consuming extra calories that you don't actually need.
Bad Habit: ordering a muffin with your morning coffee
This is another common bad habit. The trouble with muffins from a café compared to the ones you can make at home is that they tend to be packed with more sugar and butter which is what makes them taste so good. They don't call it a muffin top for nothing.
Instead why not get into the habit of a Sunday baking session.
Prepare some healthy morning treats for the week and pop them in your bag on the way to the café.
It's easy to leave the muffin in the cabinet when you know you have your own healthy stash in your bag.
Why not try our:

GET YOUR 10% DISCOUNT
If you are ready to lose weight then the Lose Baby Weight plans offer a healthy and safe exercise and diet routine and you can get a 10% discount by using code LOYALTY at the checkout
PLUS our BEST SELLING 28 Day Diet & Exercise Plan is available as a 200pg Printed Book and you can get your copy here 
Plus our NEW CALORIE BIBLE is now available – get your copy today! Only $19.95 and a must have in your handbag!
Click HERE to see our shop