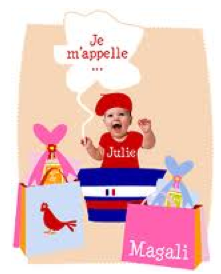 Earlier in the week we brought you the top twenty French boys names and now we are bringing you the girls names version – as promised.
French names are usually traditional but still a little bit unusual, making them a great choice for any parent. It can be tough to work out which name best suits your baby girl, and so to help you, we've compiled a list of the top 20 French names for baby girls and their meanings, so you can choose the name that perfectly fits your little one.
 Emma – Whilst Emma is a popular name throughout the world, it has been the most popular girl's name in France for a number of years. It means "all-containing" or "universal".
 Lola – Lola is a short and sweet name, but it doesn't really have a sweet meaning – it means "sorrows" in Spanish. However, in Sanskrit it means "moving to and fro" – maybe a good name for a fidgety baby!
Inès – Inès is the French variant of the Greek name Agnes, and the Spanish name Inez. It means "pure, holy; chaste".
Manon – Manon, pronounced "mah-non" is the French form of the name Mary, but it also means "bitter".
Camille – Camille is a unisex name in France, although it tends to be used in a feminine way in other English speaking companies. It has Latin origins and means "altar server".
Léa – Léa is the French variant of the Hebrew name Leah, meaning "delicate", "weary", "meadow" or "pasture".
Clara – Clara comes from the name Claire, which has many meanings, including "clear", "bright" and "famous".
Jade – Jade is a super popular girl's name, and it's also a precious green stone.
Anaïs – Anaïs has French origins, and it's thought that it could be a combination of Ana and Isabel. It means "gracious" or "merciful".
Océane – Océane is the French variant of the Greek name Oceane, literally meaning "ocean". Great for families who live near the sea!
Lilou – Lilou is a super pretty French name, meaning "lilies".
Romane – Romane is simply a variant of Romaine, meaning citizen of Rome. It could also come from "Romany", the term for some gypsies.
Clémence – Clémence is the French variant of Clemence, meaning "mercy". It has Latin and Medieval French origins.
Célia – Célia is name of Latin origins, meaning "heaven" or "blind".
Mathilde – Mathilde, pronounced "Mat-tild" is the French variant of "Matilda", which is a German name meaning "mighty in battle".
Maëlys – Maëlys is a French feminine name of Breton origins, and it's the feminine form of the French name Maël, meaning "chief" or "prince".
 Marie – Marie is a version of the name Mary, meaning "bitter".
 Juliette – Juliette is a pretty and feminine girl's name, but it doesn't really have a feminine meaning – it means "down-bearded youth".
 Ambre – Ambre, pronounced "amb-reh" is a variant of the girl's name "Amber", which is also a semi-precious gem.
Lena – Lena is a short and sweet girl's name with a lovely meaning – it has Greek origins, and it means "the bright one".