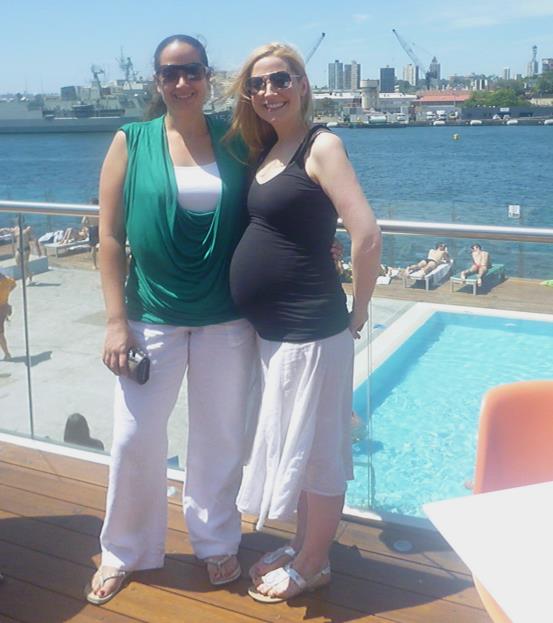 Only 8 weeks for me to go now until my second little baby is here and I cannot wait!
I met up with some other pregnant mummas the other day and it is funny how pregnancy effects everyone so differently – there is no common or average pregnancy and some get a good run and others get a terrible one! (the pic here is of me and a friend – who isn't pregnant)
I met one mum who had had 4 children – plus one on the way – and she just loves being pregnant. Pregnancy makes her feel happier, less tired and she swears the pregnancy hormones just make her body work better.
Then there was another mum who was on her second pregnancy and absolutely hated it and has had horrendous morning sickness, exhaustion, severe haemeroids, very bad back, gestational diabetes and crazy food cravings.
And although the average weight gain is 12-14 kg everyone gains a different amount and amongst the group I was with, some of the mums had gained over 20kg and others only 8kg! And all were in their last trimester.
And as much as it is easy for someone to judge how much weight we all gain in pregnancy – all our bodies, our lives and our circumstances are different and this impacts our weight gain. And no one should ever say things like "ooow she has gained so much" or "she is too skinny for pregnancy" etc.
Everyone is different and no one has the right to judge someone else as we don't know their circumstances – and of course we all have different genetics and different body shapes and weight pre pregnancy.
If you are a regular reader of our blog you will know I do not believe in obsessing about pregnancy weight gain. Instead focus on healthy eating and keeping yourself happy and if this means eating some of the more naughty foods then so be it – just make sure you are getting all the right nutrients in your diet for you and your baby.
Obviously if you are obese then it is a different story with weight gain in pregnancy and it is a good idea to talk to your Doctor about your weight in pregnancy but for the average woman we are big advocates of not stressing about weight gain in pregnancy. There is also the very worrying trend of pregorexia which is just terrible to learn about – and you can read a piece we wrote on this a few months ago here.


I have not weighed myself once in pregnancy and I do not intend to either. Although I think I will post birth just so I have a record of my weight so over the next 12 months when I hopefully lose my weight I will have a bar of where my weight has changed/moved.
Of course I know I have and am gaining weight but I have no desire to know how much and I absolutely do not deprive myself of food. My diet is 80% healthy food and fresh foods but pregnancy hormones is making me want chocolate more than ever before (and my appetiite is bigger than normal too) so I have been happily chomping in to more than my fair share 🙂
I have tried to fit in as much gentle exercise too – and you can see what kind of pregnancy exercises I have been doing here.
But as the last 8 weeks are now here I am finding myself getting more and more tired so have been doing less exercise and although it is virtually impossible to sleep in the day due to running a very busy business and having a VERY active toddler I was very happy this week to fit in a 20 minute nap when my toddler fell asleep on the bean bag we were playing on! Great result – just wish it could happen more often 🙂
I hope all the other pregnant mums reading this get a chance to get some time out before their babies are due and the summer heat doesn't make life and bed time too uncomfortable- ah the joys of the last trimester.
And if you need some tips on what healthy foods to fill up on in pregnancy then you can see some great ideas here
And if you have had your baby and are ready to lose weight then the Lose Baby Weight plans offer a healthy and safe exercise and diet routine.

And don't forget to check out our current promotions and discounts page to see what specials we have on this week on our Healthy Mummy product range