Hi everyone,
I'm so excited for the Healthy Mummy Winter Weight Loss Challenge coming ahead! I have printed out my food diary and goal sheet ready to get started.
I have been a bit up and down with my weight loss for the last couple of months and hopefully this challenge pushes me to reach my goal!
I am currently sitting around 73-74kgs sometimes back to 75kgs – argh! My goal is to get under 70kgs so when I see 69kgs I will be over the moon.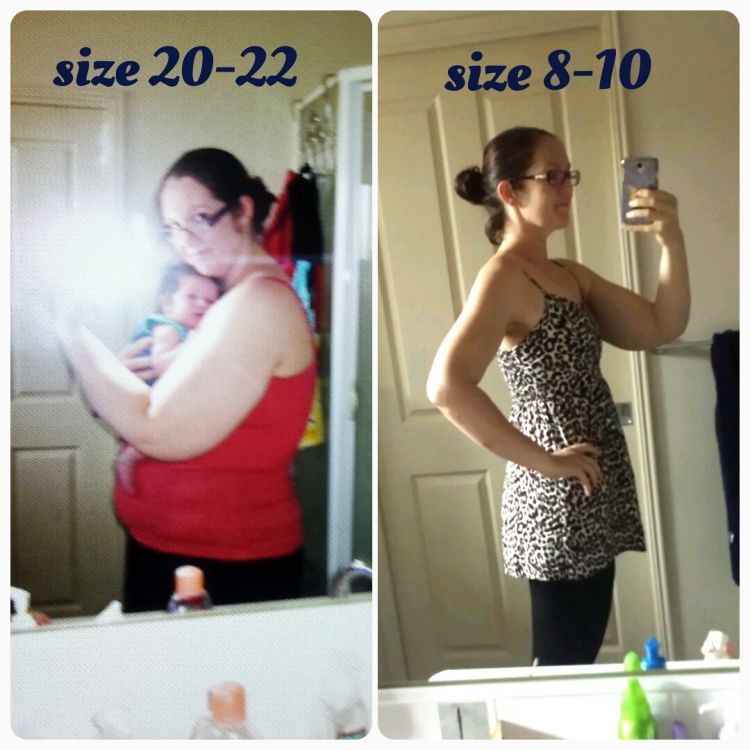 I don't worry too much on what the scales say as they have always gone up and down and stalled over my journey and I focus more on the non-scale victories like clothes being looser or being able to fit into a size 8 top. That made my day because when I started with the Lose Baby Weight plans I was a size 18-20 top!
I have more muscle tone and I can actually see the difference in my body shape. Currently I have lost 39kgs in the last 14 months using the Lose Baby Weight plans.
I have been having a Healthy Mummy Smoothie 1-2 times a day. I usually have the banana and oat buster smoothie plus dinner and snacks from the Lose Baby Weight site or the cook books. Lately I've been eating lots of yummy warm comforting meals from the Comfort Eating Weight Loss Plan, like the green thai chicken curry, which is my FAVOURITE!!! Also some mornings I opt for porridge.
I have upped my water intake aiming for 2-3ltrs a day which is doing wonders. I have increased my exercise using the Healthy Mummy Post Pregnancy Exercise DVD, I'm doing HIIT twice a week, I've increased my weights from 4kgs to 7.5kgs and I'm aiming to go on the treadmill for a walk/run for 30-60mins a day.
Lately it has been a bit difficult to get on the treadmill with the 3 kids being a bit sick with the flu so I try and squeeze in exercise wherever I can like whilst I'm hanging out the washing, doing the dishes or when I pick up the never ending toys all over the floor, I try and be more active and do marching steps or lunges.
My 2nd boy is turning 3 at the end of June so I will be making the chocolate cake that I saw made on the Today Show and turning it into a construction cake. I will also be making the snacks a lot more healthier than my other parties.
My goals are to be more prepared with my meal plans and I can't wait for the Winter Weight Loss Challenge!
Tasheena Snow xx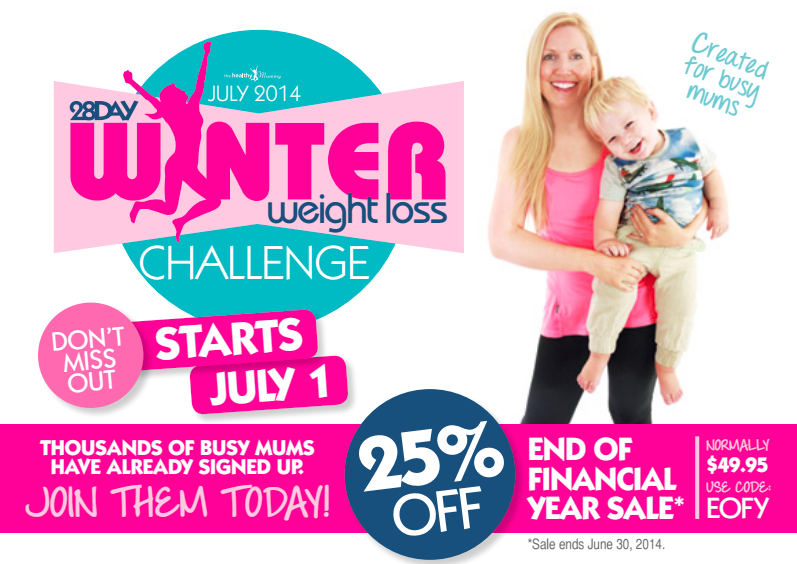 GET YOUR 10% DISCOUNT
If you are ready to lose weight then the Lose Baby Weight plans offer a healthy and safe exercise and diet routine and you can get a 10% discount by using code LOYALTY at the checkout
PLUS our BEST SELLING 28 Day Diet & Exercise Plan is available as a 200pg Printed Book and you can get your copy here 
Plus our NEW CALORIE BIBLE is now available – get your copy today! Only $19.95 and a must have in your handbag!