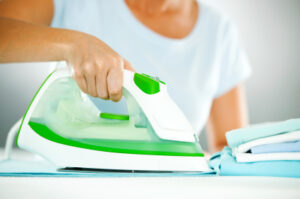 When you're trying to lose weight, especially baby weight, calories become a reasonably big part of your life. How many you're eating and, more importantly, how many you're burning off are crucial parts of the weight loss equation.
While becoming obsessed with input and output isn't healthy, having an awareness of the calorie content of your food and the potential number you may burn through exercise and other activities can be a useful way to keep weight loss on track.
Calorie burning is usually synonymous with exercise, cardio in particular. Walking, running, swimming or a structured gym class are all great ways to burn calories and contribute to your weight loss.
Incidental exercise has also been shown to have an impact on your weight, with simple, daily bursts of low impact, integrated exercise, contributing to your overall calorie burning potential (think walking to the shop instead of driving or taking the stairs instead of the life).
Research has also found that there are a range of simple activities that also help to burn calories. These aren't necessarily classified as 'exercise' (like walking to the bus stop or carrying heavy shopping to the car could be) but still have an impact on your body and weight. The best bit? The majority are things you may already be doing everyday. It's the calorie crunch without the burn.
Surprising calorie burners
Gardening – Pottering around the garden is a great way to burn extra calories with weeding and planting especially productive.

Ironing – Strangely enough ironing is a decent calorie burner due to the muscles it utilises in the arms, shoulders and back, burning 76 calories per half and hour.

Grocery shopping – Pushing a trolley and reaching for items to put it in for 45 minutes each week (not to mention wrangling a baby or toddler) burns around 125 calories.

Washing the dishes – A 20 minute session with the suds burns approximately 55 calories, not bad for a job that needs to be done almost everyday!

Walk the walk – Standing burns close to 50% more calories than sitting. Remaining on your feet while you chat on the phone o browse your iPad can give an extra boost to your calorie burning.

Down some (cold) H20 – Staying hydrated is important for weight loss and wellness but cooling down your glass or bottle can also have calorie burning benefits. When we drink cold water, our body has to kick things up a notch to to increase the temperature of the water so that our bodies can tolerate it, this in turn, burns calories. Start sipping!
Get Our Exercise DVD
And for the ULTIMATE SAFE, EFFECTIVE & TRUSTED Post Pregnancy Workout – see our EXPERT Post Pregnancy Exercise DVD below – you can purchase and see more information on it here
The DVD can be followed by all mums (for example new mums or mums with older children) and can be followed by someone with a basic or a more advanced level of fitness.
Lisa Westlake is our incredible fitness instructor and postnatal exercise specialist throughout the DVD. With her extensive physiotherapy experience and qualifications (Lisa is one of the most awarded fitness professionals in Australia), Lisa is the perfect fitness instructor to bring The Healthy Mummy Post Pregnancy Exercise DVD to life – you will love working out with her. (You can see our Q&A with Lisa with commonly asked questions on the DVD here)
The exercises in The Healthy Mummy Post Pregnancy Exercise DVD are effective and safe and Lisa will guide you through each of the workouts. As well as assisting in the improvement of your overall fitness levels, the workouts in the DVD will also help in the burning of calories, the improvement of your core strength and the strengthening of your pelvic floor.
The six workouts are broken down into 10 and 15 minute sections that you can do when it suits you – or if you have the time and energy you can do the DVD as one 70 minute continuous workout. The Healthy Mummy Post Pregnancy Exercise DVD also covers special considerations post-birth, such as caesarean sections, back strains, muscle separation, incontinence and pelvic floor issues.
[pb_vidembed title="The Post Pregnancy Exercise DVD" caption="" url="http://vimeo.com/73423922″ type="vem" w="600″ h="450″]

If you are ready to lose weight then the Lose Baby Weight plans offer a healthy and safe exercise and diet routine.
And don't forget to check out our current promotions and discounts page to see what specials we have on this week on our Healthy Mummy product range