By Emilley R Kingsman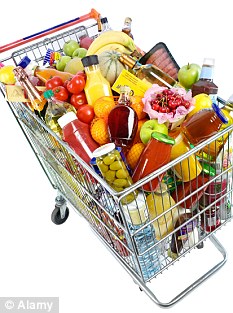 Hi Lose Baby Weight, I wanted to share with you how I have managed to overcome one of my biggest weight-loss enemies…the weekly grocery shop!
As a mum with a 12 week old baby, I find even just the thought of grocery shopping to be exhausting. Not only do I consider it to be a challenging experience, I was also finding that I would end up sabotaging my weight-loss efforts (yet again!).
However, I have slowly fine-tuned my grocery shopping process to allow for the most positive (and most healthy!) outcome possible. My tips for grocery shopping success:
Plan what you are going to cook for dinner for the week. Include lunches and snack ideas if possible. Write a shopping list from your plan
Add everyday household items to complete your shopping list and STICK TO IT! If it's not on the list, don't buy it! Once you're at the store, don't get drawn into adding items as an afterthought. Items from the list only! (This actually helps save money also, by cutting out items that you don't truly need)
Have something quick, healthy and satisfying to eat before you leave home (such as a Healthy Mummy smoothie). Going to the shops hungry usually means that unnecessary (and often high-calorie) items somehow sneak their way into your trolley
Go at a time when your child/ren are likely to be the least tired and cranky. Also try to go on a day that is less busy, if possible. Having a child who is causing you stress the whole round trip of Woolworths or Coles only makes you lose the plot and throw all sorts of random items in the trolley just to get out of there faster
Try to involve slightly older children by giving them their own list of items to find (with either pictures or words). Not only does this help to stave off boredom, but your also teaching them how to make healthy food choices (because healthy is what's on your shopping list…right?)
Steer clear of the chip, biscuit and confectionery aisles. Don't let temptation stare you in the face! By avoiding these aisles altogether you will find it easier to say no
Choose one of the confectionery-free checkouts. Not only is it easier on your will power, it also helps stop your children from asking for one of those enticing sweet treats on display
If all else fails, remind yourself (over and over, if you're tired and can feel your will power fading!) of how far you have come and how hard you have worked so far, and why you embarked on your weight-loss journey in the first place. Don't lose sight of your goal! We can all achieve success, we just have to be strong and put in the hard yards to get there.
By incorporating some of these steps into my shopping routine, I've found that I make it back to the car with a much more waist-friendly trolley of items and a much bigger smile on my face!
I have 20 kilos to go on my weight-loss journey, which sometimes seems a little daunting, but it's the small changes that help to make the big changes.
Making changes to ensure my trolley is full of good foods means that my family and I eat healthier and thus brings me one step closer to reaching that healthy weight range. I hope that some of these ideas can help other mummies to have a better grocery shopping experience too =)
Thanks for letting me share!
This article was written by Emilley Kingsman
If you would like to write for the Lose Baby Weight site please click here for details
If you are ready to lose weight then the Lose Baby Weight plans offer a healthy and safe exercise and diet routine.

And don't forget to check out our current promotions and discounts page to see what specials we have on this week on our Healthy Mummy product range