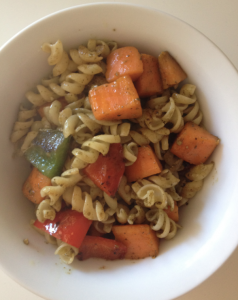 Thank you to Cassie Balo for sending in this delicious healthy eating recipe which would make a perfect lunch – plus if you are working is ideal to take to work in a lunch box too.
Ingredients
Half each of green and red capsicum
Half a sweet potato
1 1/2 tbsp basil pesto
Half cup whole meal pasta
Pinch sea salt
Drizzle extra virgin olive oil
Directions
Steam or boil the sweet potato until soft
Boil the pasta in salted water
Roast the capsicum in hot pan with olive oil
Add the sweet potato to the pan and brown slightly
Add the pasta, the basil pesto and some more olive oil and top with a pinch of sea salt
Enjoy hot or cold!!!
And here are Cassie's exercise tips
Wear your gym clothes so you feel motivated
Use your backyard or balcony to workout so you get some fresh air and Vitamin D
Use empty milk bottles or tinned food as hand weights when doing lunges and squats
Play your favourite motivating music while you workout
Always stretch before and after each workout. This helps warm up your muscles and also elongates them assisting with muscle tone and definition
Invest in a pair of ankle weights to wear around the house or when out and about walking
Drink a glass of orange juice prior to your workout as this gives your body a natural sugar hit and boosts your energy to get you through the workout
Keep your body hydrated with water throughout the day and ensure when working out you rehydrate with water
If you would like to write for the Lose Baby Weight site & get paid for it please click here for details
And don't forget to check out our current promotions and discounts page to see what specials we have on this week on our Healthy Mummy product range