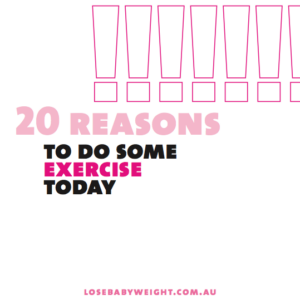 When you are trying to lose weight, eating well and moving more should be on the top of your priority list.
But when you have other priorities to juggle – kids, partner, work, the house, family commitments…it can be easy to make excuses not to look after yourself – which is one of the big reasons we made our EASY to fit into your day Exercise DVD.
And when it comes to exercise we are all guilty of coming up with a trillion excuses not to do it.
So today we have put together a list of 20 reasons why you SHOULD strap on your sneakers and do some exercise today (…not tomorrow).

In a few month's time the clothes you are wearing to work out will probably be too big
Getting some fresh air always makes you feel better, even if you've had a tough day or night with very little sleep
Exercising will give you more stamina in order to keep up with your kids
Being active and getting fit can increase your sex drive (and that's exercise too!)
You are being a great role model to your kids and showing them that a healthy lifestyle is something to be valued
It's important to have some time to yourself, and exercise is something that others will understand is important to you
Exercise will improve your metabolism which means that your body will work more efficiently to lose weight
It clears your head and gives you a chance to think through anything that is troubling you
Exercise not only helps you to lose weight, it also helps to keep off any weight that you've already lost
It can reduce the likelihood of anxiety and depression, as well as fatigue
All that blood pumping through your body can actually help with your brain function and memory
It will release endorphins (the feel-good hormone) which can improve your mood and keep your energy levels up
Your kids deserve to have a healthy and happy mum to support them and love them for many many years to come
It's a great chance to catch up with a friend if you have a workout buddy
You will burn more calories even when you are resting, especially if you do some form of resistance training
It can help you deal with stress and can also reduce your risk of illness
Exercise can help to speed up the recovery process after injury
It can help to improve your flexibility and motion, especially if you commit to doing some stretches afterwards
Working out can be fun, especially if you train with a friend or take part in a team sport such as netball or touch football
It will help you get a good night's sleep*
* sorry, we can't guarantee that your kids will allow this to happen
Exercise At Home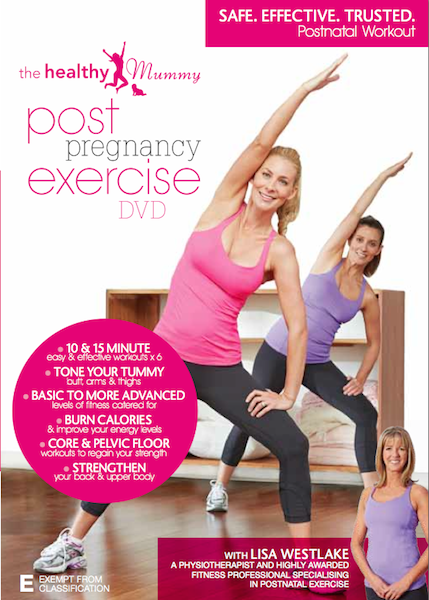 Need some help on what exercise to do at home?
Then get our BEST SELLING Exercise DVD that will intensively BURN CALORIES as well as help you to tone up your tummy and the workouts are broken down into 6 ten and fifteen minute workouts that will burn approx 450-550 calories per hour. And you can read the customer reviews here of the DVD
Need to stock up on Healthy Mummy Smoothies? Then see our shop here
And join our 28 Day Weight Loss Challenges here