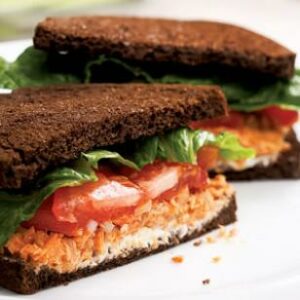 Most of our time is filled with either work or spending time with our kids so time is always of the essence. Preparing a low-calorie, quick and healthy lunch can be extremely easy if you have got the right recipes to follow.
This Salmon Salad Sandwich recipe will help you achieve your weight loss goals without sacrificing nutrition. Salmon is packed with all the essential 'healthy' fatty-acids that can do wonders for your skin and overall health.
Not only that, the pumpernickel bread that is used in this recipe is really good for reducing the calorie count of your post pregnancy diet plan. It's very low in carbs as it is made out of rye, and it is also high in fibre. Pumpernickel is also loaded with lignans which helps to lower the risk of breast cancer.
Ingredients:
400 grams of canned boneless, skinless wild Atlantic salmon, drained.
1/4 cup of minced red onion
2 tbsp lemon juice
1 tbsp extra-virgin olive oil
1/4 tsp freshly ground pepper
4 tbsp reduced-fat/low-fat cream cheese (optional)
8 slices pumpernickel bread
8 slices tomato (or you can even substitute it with cucumber)
2 large leaves of romaine lettuce cut in half.
Preparation method:
Mix salmon, onion, lemon juice, oil and pepper in a bowl.
Lightly spread small amounts of cream cheese on 4 slices of bread.
Spread 1/2 a cup of the mixed salmon onto the bread slices with cream cheese.
Place two tomatoes on each slice and a piece of lettuce.
Complete the recipe by placing the slice of bread without the cream cheese over the prepared slices and you are done!
That was really easy wasn't it? This light, fresh and yummy sandwich will surely help you feel full and healthy. Say goodbye to unhealthy binges and get down to the post pregnancy weight that you are aiming for with this awesome recipe.
Serves: 8 sandwiches
Calories per serving: 286
Fat: 9 grams
Carbohydrates: 29 grams
GET YOUR 10% DISCOUNT
If you are ready to lose weight then the Lose Baby Weight plans offer a healthy and safe exercise and diet routine and you can get a 10% discount by using code LOYALTY at the checkout
PLUS our BEST SELLING 28 Day Diet & Exercise Plan has now launched as an 84pg Printed Book and you can get your copy here – with free express postage if you order the book on its own
Click HERE to see our shop