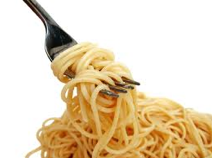 Picture this scene. It's the end of a busy day. You're tired, your partner is tired and your little one (or ones) is cranky. While you've stuck to your healthy eating plan during the day, downing your smoothies and snacking on plenty of nutrient rich food, you're now struggling to sort out a healthy, weight loss friendly meal for dinner.
Sound familiar? It's situations like these that are most likely to sabotage our best weight loss intentions. The combination of factors like being tired/stressed/busy along with the eventual hunger that will come when our bodies realise that it's time to eat can create a very negative environment where it's all too easy to pick up the phone for a takeaway, send hubby out for a fast food meal or defrost something less than thrilling from the freezer.
Dinner is the meal where this is most likely to occur and it can be very frustrating to feel as if you've done well all day, only to struggle around the last turn. This frustration can also lead to feelings of guilt which we all know aren't the greatest when it comes to retaining a sense of control over our eating (and not diving headlong into a cheese burger and block of chocolate!)
The solution to the problem is to have a variety of easy shortcuts to a quick and nutritious meal, up your sleeve. These kind of strategies mean that you can whip up something nutritious, very quickly, in half the time it would take for a pizza to arrive. These shortcut meals don't have to be meals made from scratch, in fact some of them involve pre-prepared food, but all of them are super easy to prepare and the majority take less than 20 minutes to get from kitchen to table.
Quick and easy dinner options
Omelette – An omelette is a fantastic, protein rich dinner options. Simply crack a couple of eggs, throw in a handful of veggies (spinach, mushrooms, tomato are all great), grate in some low fat cheese and you're done!
Eggs on toast – Sticking with the egg theme, eggs on toast is another easy option. After all, who said eggs can only be for breakfast? Poached or scrambled eggs with a little low fat milk, on wholegrain or multigrain toast is full of complex carbs and protein. Add spinach and mushroom to up the veggie content.
Pasta – You can't go past pasta with tomato based sauce for a quick and easy meal. Choose wholemeal pasta for low GI carbs and a tomato based stir through sauce for the lowest calories with plenty of essential vitamins, minerals and antioxidants
Homemade pizza – If you've got flat or mountain bread, crushed tomatoes and some cheese, you've got the makings of yummy pizza. Simply spread your flat bread with crushed tomatoes and sprinkle with cheese (and whatever other toppings you've got in the house). Pop under the grill for five minutes and you're sorted.
Soup – There are a range of yummy ready-made soup options in the supermarket these days. Many of the best can be found in the refrigerated section and contain a range of wholesome, sometimes even organic ingredients. Serve with crusty bread or toast for a complete meal.
GET YOUR 10% DISCOUNT
If you are ready to lose weight then the Lose Baby Weight plans offer a healthy and safe exercise and diet routine and you can get a 10% discount by using code LOYALTY at the checkout
Click HERE to see our shop