So the week 2 sleeping pattern that I was getting very excited about of him sleeping from 10.00pm through to 4.00am four nights on the trot was a complete fluke and for 8 days now my little noise machine has woken up every 2 hours on the dot and is definitely back into his 'party all night ways' and I have been EXHAUSTED!!  Luckily I have a fabulous hubby who is sharing the night time duties with me – I am doing the first half of the night up to 3.00am and he takes over for the second shift which gives both of us  a few hours continuous sleep.


My Avent electric expresser is still impressing me – and it is a total God send.  I am expressing approximately 5 times a day and I have had no problems with it at all and it means I have plenty of milk stored for Dad's night time feeds and it also means my nipples have a break from his supersonic suction action!
My milk supply is also really strong and this week I increased my Lose Baby Weight smoothies to two per day and since then the supply has increased enormously which is fantastic as so has his appetite!   My smoothies are a huge help as they take 3 minutes to make and give me all the nutritional requirements of a well balanced meal and keep me going.
I must admit that if I didn't have my smoothies my exhaustion might well mean that I turned to eating toast or bread all day as it takes no preparation and I love carbs!  So the smoothies are great and I also ensure that I have lots of frozen berries and fruit in the freezer so I don't have to constantly worry about buying fresh fruits.  I also discovered Chia seeds this week which I am adding into my smoothies an they are fantastic from a nutrition standpoint – they are the highest known plant source of omega 3's and are also high in potassium, phosphorus, folate, zinc, fibre, vitamin A, B12, C and amino acids – all GREAT when breastfeeding too.
Weirdly this week I have developed a really sore jaw which is causing me really painful tooth ache and head ache and I visited the dentist and they said I had no teeth issues and then I spoke to my Ob who said the hormones post birth can effect the jaw considerably – especially when combined with broken sleep.  So I am trying to rest my jaw by not eating chewy food and massaging my jaw during the day – the temptation is also to have smoothies all day for food but I am still making sure I have a meal for dinner but just trying for softer foods like sweet potato and cottage cheese.
I am also starving when I wake in the night so have started to prepare snacks for myself when I wake up so I am not tempted to eat bread – I have started to have chopped up apple and mango in the fridge or cottage cheese on crackers, or frozen raspberries with low fat yoghurt – all ready to go so when I am feeding my little man I just have to open the fridge and munch.
Week 3 also coincided with Christmas and a little break down on the NSW South Coast – he was great in the car but we had to come back early as he developed thrush in the mouth so on Boxing Day we spent a good few hours at the Sydney Children's Hospital in Randwick but it was worth it as the thrush is now clearing up with the medicine he was given (he was given Nilsat which we had to put 0.5ml  into his mouth 4 times a day).
Although I am itching to start back doing exercise I know how important it is to take it easy after childbirth so much to my own frustration I am only doing light walking at the moment.  But next week I am hoping to up the anti and start testing out my newPower Plate vibrating machine.
This machine vibrates when you stand on it and the hype is that your muscles get a much better work out on this than if you did the same exercise on the floor.  I can't wait to try it and hopefully I will be able to bring you a full review on the machine very soon.  But easy things I am also doing to get my body moving are leg lifts while I am in the shower, using my ankle weights (1kg each) as arm weights and lifting them while I am sitting on the sofa, lots of stretches in the morning and wearing my ankle weights when I go for a walk.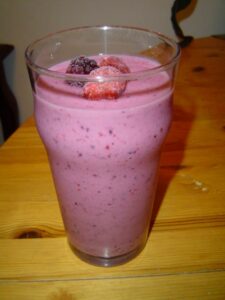 I weighed myself the other day too and I have lost 500grams this week which I am really happy about as I am eating a lot and haven't been obsessing about food and instead have been focussing on being healthy and ensuring my milk is good.  A normal day with food for me is;
At about 8.00am – A berry smoothie for breakfast with 2 tbsp of smoothie mix, chia seeds, oatmeal, rice milk and ice added in
At about 9.30 am – A healthy snack
At about 11.00am – A apple and some almonds
At about 1.00pm – A  smoothie with with 2 tbsp of smoothie mix, chia seeds, oatmeal, rice milk and ice added in
At about 3.00pm – Cottage cheese , tomatoes and cucumber
At about 5.00pm – A nectarine
At about 6.30pm – A quinoa salad with peas, tinned salmon, rocket, flaxseeds, red capsicum, olive oil, balsamic vinegar and cracked black pepper
At about 8.00pm – An orange
At about midnight – An apple
At about 3.00am – Some mango slices
I am also drinking about 4 cups of decaffeinated green tea per day and at least 1.5litres of water.
So week three is now over and week 4 coincides with Jan 1 and a new decade and I wish everyone a healthy, happy and full of love new year and new decade and encourage everyone to get fit and healthy and lose your baby weight – you won't ever look back once you have achieved your goals!!!