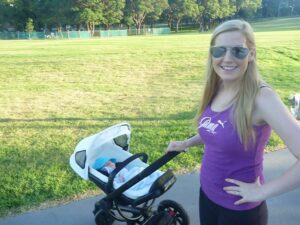 This week has been a really tough week. Just when Kai was looking to be getting to be a good sleeper and even did a 9 hour uninterrupted on the Sunday night, he then went into crazy sleep time and each night has been waking every hour and then not wanting to sleep in his cot.  And then in the daytime refusing to sleep for more than 5 minute intervals.  So I have been exhausted and frazzled and I coped ok until Wednesday but by Thursday I just felt awful and extremely down.  I had zero energy to exercise or care about exercising (and the only exercise I had done that week was in the Sydney Centennial Park walking group on Tuesday) and I had been too tired to even walk to the shops so had no healthy snacks to munch on which made me feel even worse.  My hubby was doing really early shifts at work this week too (starting at 4.30am) so he couldn't do any of the night shifts.  And it wasn't just the tiredness it was the exhaustion in my back and arms from carrying and settling bugalugs so much – I just wanted to collapse.  So I decided not to do a weigh in this week as I knew the number wouldn't be good which would just depress me even more and instead I took lots of fish oils (good for joint/muscle pain as they are anti inflammatory and good if you are feeling depressed as the long chain omega 3 fish oils helps the brain), lots of magnesium (for sore muscles) and hung in for Friday when my hubby had 2 days off so he could take over.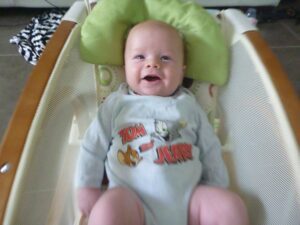 And when hubby did take over I got a whole 8 hours sleep which was just fantastic and on Saturday I felt 100 times better and ready to get back on the wagon and focus on losing the rest of my baby weight which I had 5kg to go still to get back to my pre pregnancy weight.
So, I upped the anti with my nutritional smoothies from Saturday and have discovered that by substituting all of the milk for water it didn't effect the taste at all and meant that I cut out about 100 calories – which to me meant that I could have an extra snack during the day as I was definitely a grazer of food!
I also was busy this week with creating the Lose 12kg in 12 weeks Challenge as having a set target and a set time frame helps keep people focus on the weight loss and stay motivated and I wanted to give mums as much ammunition as possible to free themselves of the baby weight – and with the 12 week challenge  lots of information on how you can do it comes with it – click here for more information.
I also bought Baby Einstein for Kai this week and I must say that he is transfixed by them – it keeps him quiet for a good 15 minutes when he watches them which to me is a God send – and hopefully they are doing him some good too!
So onwards and upwards to next week and I am definitely hoping for a better week!