Ashlee Petroff Mum of 3 has lost over 8kgs with Lose Baby Weight and is loving the healthy lifestyle change and feeling more energised! Excellent work Ashlee xx
Sign up for the 28 Day Challenge starting 1st of September!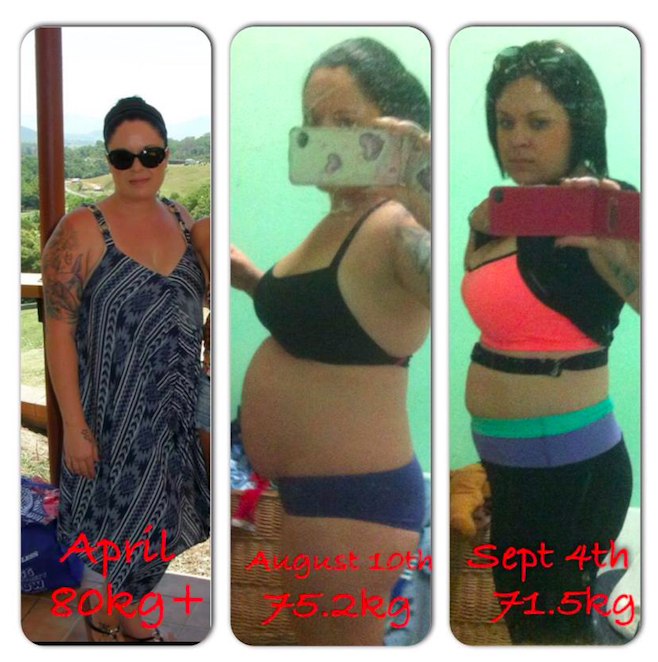 Hi Lose Baby Weight
I wanted to send in my story and journey with Lose Baby Weight.
My name is Ashlee I'm 28yo and have three gorgeous boys, 5,4 and 1yo.
Before I become pregnant with my first son 5 1/2 years ago I never had an issue with my weight. I weighed 50kg pre pregnancy and after giving birth I was 94kg!!!!!!! Putting on over 40kg was such a shock for me. It was the beginning of my depression and social anxiety.
My weight went up and down constantly, and I struggled a lot. I would avoid mirrors and photos constantly.
After my third son my weight sat around the 80kg mark, I new my weight was bad but just couldn't find the motivation. Until one day I walked by a mirror and caught a glimpse of a pregnant woman….. Me! Only I wasn't pregnant, the only thing that was inside my belly was grease, fat and oil all of which I ate on a daily basis. I was disgusted by what I saw. I was huge and no matter how many times my fiancé told me I was beautiful, I couldn't believe him . Because I knew exactly what had happened to my body and I was the cause of it by not fuelling it with what it needed to look and feel better.
I'd had enough and started to re train my mind firstly.
That if I wanted things to change, I was the only person that could do it. I knew it was going to be hard but I had to do it. For my kids, my fiancé and most importantly ME. Because instead of pretending I was happy I wanted to truly be happy on the inside.
I started with the July Challenge sitting at 80kg, I did the meals, Healthy Mummy Smoothies and exercise and got down to 73.8kg!!!! Yay me. But after that I went on a short holiday and regained a little weight which took me back to 75.2kg.
But once again I kicked my mind and butt back into gear.
I signed up for the subscription for the September challenge and in the mean time have gone back to the July challenge to get myself refocused and prepared for the September challenge.
And in a week and a half have gone from 75.2kg down to 71.8kg. I'm more determined and focused than I have ever been to get to my goal of 55kg.
Lose Baby Weight has taught me that this is not just a diet or quick fix, this is a lifestyle change. And I love it!!!
I'm not bloated, moody, and have much more energy.
I want ladies to know that it's ok to have a bad day or even week, because I did.
Regroup refocus and start fresh.
You will get there, every journey is different, no one persons journey is the same.
Thank you for letting me share
Ashlee Petroff
Need to stock up on Healthy Mummy Smoothies? Then see our shop here
And join our 28 Day Weight Loss Challenges here