Each month, a different mum on the Lose Baby Weight plans will be blogging about their journey, exercise, ups and downs and be here on a daily basis to help motivate YOU and THEMSELVES along the way – and if you want to become our Motivating Mum for one month see here on how you can enter (we pay you for it too!).
And in March our first Motivating Mum off the block and taking up the challenge to motivate you is Linda Hallas.
Linda has already done an incredible job on our weight loss plans and plans to reach her target weight by the end of March and is taking her role of Motivating Mum by the horns to help her do it!
You can read Linda's 1st week's weigh in results below – and she will be posting daily on our Lose Baby Weight Facebook page and blogging weekly on the website here – GOOD LUCK LINDA!! You can do it!
Linda Hallas' First Week's Weigh in March 5th 2013

This week I have woken up and had a different smoothie every morning. My chocolate and vanilla Healthy Mummy Smoothie arrived via express post, so it added to the variety. I am a big fan of the chocolate smoothie mix and I always run out of this one first.
My Favourite healthy mummy smoothie this week was the simple easy banana, honey, cinnamon combination! It is just so easy to make, easy to drink and so filling. I absolutely love the speed of making these and being able to run around the house organising the nappy bag, kinder lunch box, kinder bag, swimming bag, all the while slurping down my smoothie. Some days I struggle to finish them as they are so filling.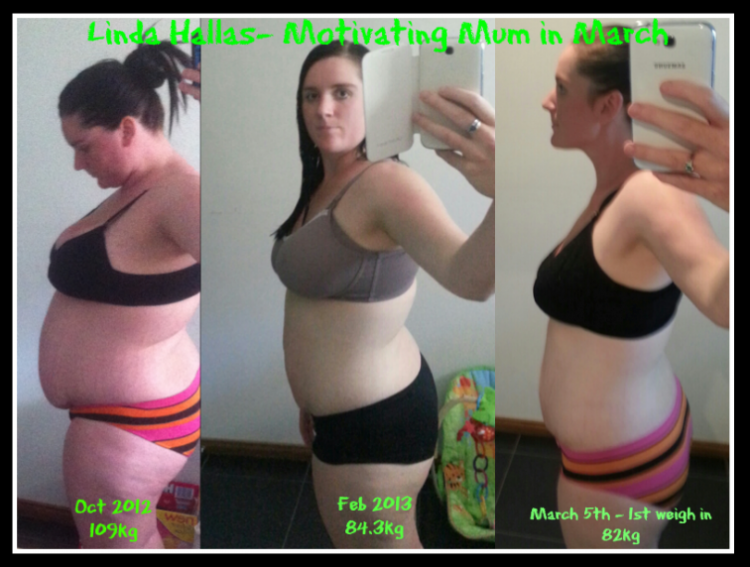 This week was great I have eaten either meals found on the Lose Baby weight website or straight out of the 28 days diet. I shopped for four nights of dinners and only brought exactly what I needed to cook these meals.
They have all been tasty and eaten by the entire family. My baby who has just started solids likes to eat what we are eating absolutely loves the Chicken and chickpea stew on the web site and my kids who have never had chickpeas did not even notice them. It was amazing. One night we even had people over for dinner and I cooked from the 28 day diet, it was complimented and finished by everyone. Thank you again Lose Baby Weight.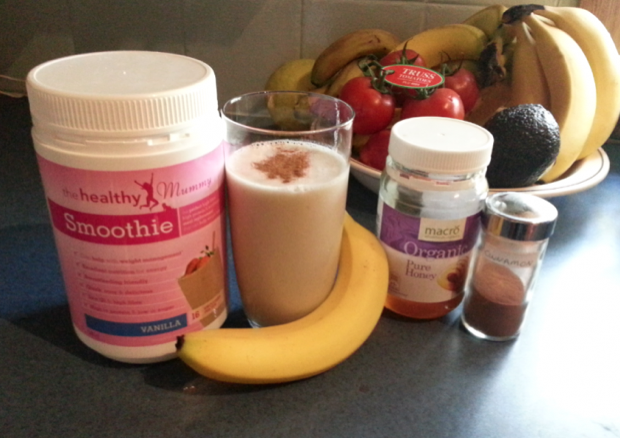 I have to thank my husband for walking in the door from work 3 nights a week and letting me feed the baby and leave him with two over tired toddlers to put to bed while I go for a walk, and lately I have even managed a jog even if it was only a short distance.
I was amazed I could jog. It felt long overdue and amazing to push my body past another boundary that I have drifted away from. I try not to go on these walk/jogs alone because I find it motivating to have someone with me who makes me walk a little faster or keep me going when I would otherwise give up.
I have found a favourite place to walk and I have recently been able to do some extra laps in the same amount of time than I could previously do. I feel proud of myself and I am starting to feel like I might be getting fit. I don't quite remember the last time I felt this fit, but it feels amazing just to be feeling bouncy and full of energy.
We had some rain and it meant we were stuck inside (talk about a mood damper). I find this part the hardest, when I have set a routine but then the weather decides to put a stop to it. I referred straight back to the awesome exercises set out in my 28 day diet and started doing some and then walked or jogged on the spot.
All in the comfort of my kitchen or lounge room, while the baby was sleeping soundly in her bed. Sometimes she refused to sleep and she thought me bouncing around was quite amazing and hilarious to watch (as I am sure it was!).
I am setting a goal this week to do 10 squats every time I have to open the fridge. I want to work my legs. I am going to put a piece of paper on the fridge with a note to remind me and I plan to mark it every time I do 10 squats. I wonder how many times I will think twice before going to the fridge.
I also wonder how many squats I will do. Are you with me? Will you working these huge leg muscles? I love that you can just squeeze it into your daily routine. I have never done this before, so keep count with me so we can compare the outcome.
Okay it's time to weigh in, this is what happened with me this week:
New current weight – 82.0kgs
Measurements-
Bust – 101cms
waist – 88cms
hips – 102cms
Thighs – 59cms