The amazing Natalie Gallagher Motivating Mum for July loses an incredible 24kgs with Lose Baby Weight and shares her mid month update.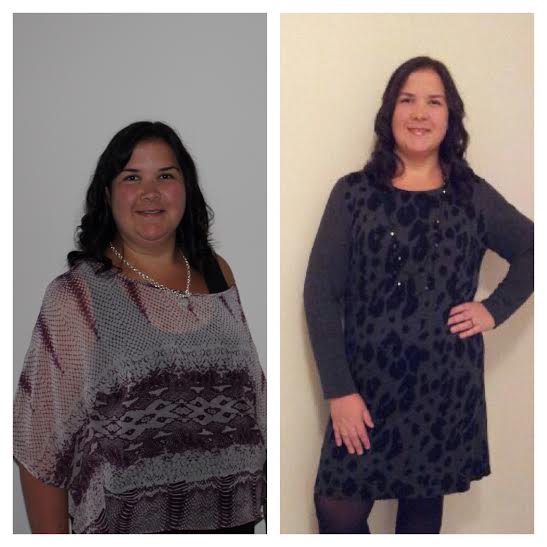 Hi Mummies,
I can't believe we are half way through July and half way through the Winter Challenge already! I hope you are enjoying the meal and exercise plans as much as I am. Let's talk about the food first (because after all, I do love food!) Like many of you, I have used the weekly meal plan as a guide and substituted a few meals here and there, but there are a few recipes that have solidified their place in my future menu planning and that I've made a few times already in the last two weeks.
At the top of the list is the Bounty Quinoa Porridge, which is absolutely to die for! I have had it several times for breakfast in the last couple of weeks, as well as a half serve with some fresh strawberries for dessert one night. Yummo!
Also, the Corn Fritters are so quick and easy to make and super tasty. They reheat in the microwave well which makes them a great lunch to bring to work. As for the dinners, I have loved the Glazed Ocean Trout (although I used salmon), the Chicken Paprika and the Chilli Con Carne.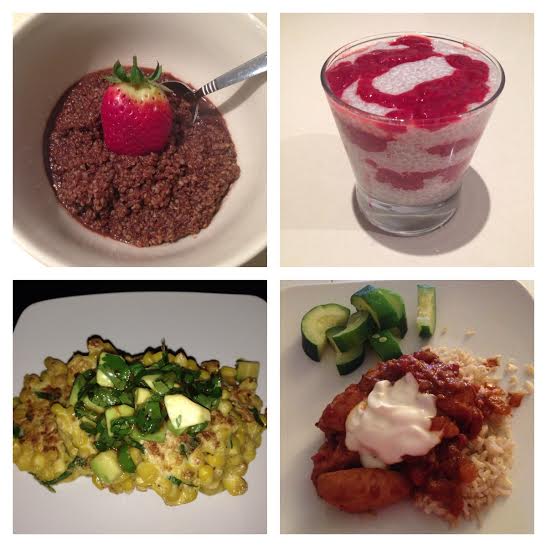 For me, the first half of July included a couple of nights out for dinner with friends as well as a trip to the snow for a few days with my munchkins. Events like these things can take the control out of our hands when it comes to healthy food choices, but they are part of life… and life is for living! I am of the opinion that if I'm going to go out for dinner or on a little holiday (neither of which I do all that often), then I am going to enjoy myself, and I am the sort of person who gets enjoyment from good food!
So it all comes down to balance for me… In anticipation of going out to dinner, I had a Healthy Mummy Smoothie for breakfast and another one for a late lunch with a healthy snack in between, and I squeezed in an extra session at the gym to balance out some of the extra calories I knew I would consume at dinner. I did notice two positive changes in myself at dinner though… I didn't order any bread at the start and I stopped eating when I was feeling full. Old habits can be broken!
The dreaded lurgy has made its way through my household in the last week, so I've spent a few days on the couch coughing and spluttering. While my mind was telling me to get up and exercise, my body was threatening to go on strike. It's important to listen to your body so I had a week off exercising and am slowly getting back into it with a combination of Body Pump classes and the Winter Challenge exercises.
With my body out of action, the best way to still be in control of my weight loss was to focus on the food. Sadly I am not one of those people who loses their appetite when sick, so it took some strength of mind to continue to prepare healthy meals for myself rather than opting for fast food. However it has paid off because when I jumped on the scales this morning, I still had a loss this week even with no exercise and brought my total weight loss to 24kg since starting the Lose Baby Weight plans in January.
I also had a non-scale victory and bought a pair of size 14 jeans! They do up, but are a little bit squeezy, so they are hanging in the wardrobe for now as motivation. Also, my Winter Challenge goal of cracking into the 80's is well and truly in sight which motivates me to keep going even more!
Two weeks down, two to go ladies! Bring it on!
Natalie Gallagher
GET YOUR 10% DISCOUNT
If you are ready to lose weight then the Lose Baby Weight plans offer a healthy and safe exercise and diet routine and you can get a 10% discount by using code LOYALTY at the checkout
PLUS our BEST SELLING 28 Day Diet & Exercise Plan is available as a 200pg Printed Book and you can get your copy here 
Plus our NEW CALORIE BIBLE is now available – get your copy today! Only $19.95 and a must have in your handbag!
Click HERE to see our shop