Motivating Mum Lauren Kolstad has lost over 20kgs with Lose Baby Weight and shares her end of month blog.
Excellent work Lauren!!!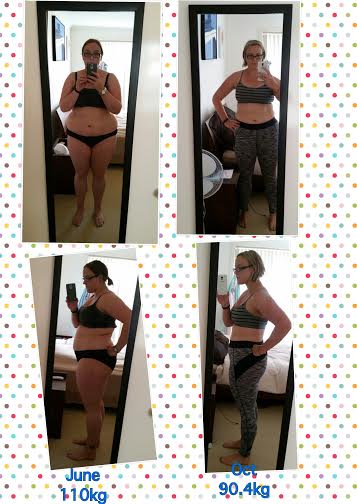 Hi Mummies
I have absolutely loved continuing on as a Motivating Mum in October – thank you all so much for being amazing support buddies and hopefully I have provided you with some inspiration and motivation too.
I wrote previously about setting some SMART goals with one of these being to get under 90kg by my birthday in November – well at last weigh in I was 90.1kg – soooooo close I can feel it! Though, starting at 110kg I really didn't believe that I would be here – 100g away from breaking into the 80's and the lowest I have weighed in nearly 6 years – but I am and it's all thanks to Rhian and the Lose Baby Weight team!
I often ask myself, why now, what has changed within me to give me motivation to stick with this. I guess the answer is both my son and the Lose Baby Weight philosophy to weight loss.
During the past 4 months there have been times when I've splurged, there's no way I could be so strict for this long without it. Plus I have a life and so that means social functions with food and being around temptation almost daily! By ensuring that I am eating appropriate calories for my individual weight loss needs, calculated using the BMR calculator (with my age, weight and activity level I am currently on 1800cals), I've found that I'm rarely hungry – usually just before it's time to eat again.
This has meant that when I do splurge, it's a rare occasion and most of the time, it's a decision I make knowing that I just have to get back on track afterwards, rather than going crazy and eating everything in sight. Such a change for me from the usual – be good for a while, be worse for a while, that while turns into a while more and results in the scales going back to my starting point and then some!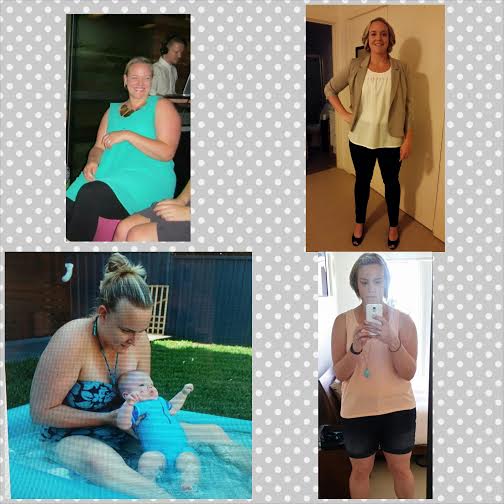 Losing weight will not change how I parent my child, but it has definitely had an impact on the type of mum I am in terms of being able to do more physical activities – run around and go on the swing and trampoline. Not being able to do these things with my energetic and rambunctious 2 year old was one of my biggest embarrassments and something that I am still working on. But there have definitely been improvements.
I've also gotten some new found confidence and have started enjoying clothes shopping, especially now that I don't have to shop in the large size clothing section. Shopping was always so overwhelming, the shopping experience would almost always end in tears and I just didn't have the energy to deal with that and face how big I had got. But lately I have been able to go into a store and while not everything fits just yet, there's usually a few options I can try and I've recently been able to buy a size 16 pair of shorts (down from a size 20).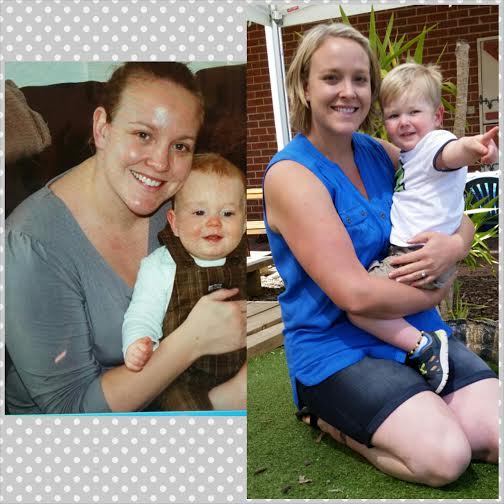 As a working mum I'm loving the convenience of having a quick, tasty and filling Healthy Mummy Smoothie for breakfast on my work days. 5 minutes to make breakfast and take it with me for my drive into work, so awesome! I've been trying to get out of my comfort zone and try new smoothies; current faves are the banoffee smoothie, tropical mango smoothie (using coconut water) and the snicker smoothie – omg yum!
October was an in between 28 Day Challenge month, so I have been mixing it up with meal planning using some previous challenge recipes (loving the chilli con carne and sauteed pork and pumpkin), recipes from the website and my current favourite recipe book – the Spring and Summer family friendly cookbook. With the weather warming up we're moving from some of the heartier comfort eating recipes to more of the BBQ style meat and salad and the summer cookbook is perfect for that! I'm definitely looking forward to all of the fresh new recipes in the November 28 day challenge.
Good luck in November – can't wait to share that I have broken my under 90kg goal and brought my total weight loss to over 20kgs.
Cheers
Lauren
Need to stock up on Healthy Mummy Smoothies? Then see our shop here
And join our 28 Day Weight Loss Challenges here