The incredible Motivating Mum Erin Field has lost an amazing 44.5kgs with Lose Baby Weight. She shares her update and is excited for the 28 Day Winter Weight Loss Challenge!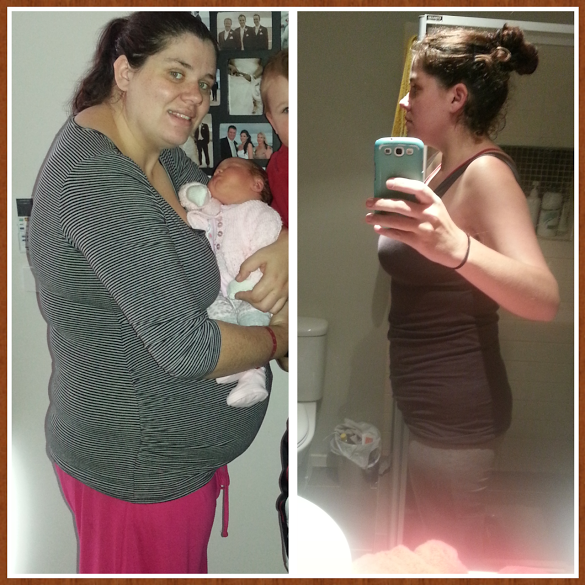 Hi Mums,
I am absolutely thrilled to be a Motivating Mum for July and for the first ever Healthy Mummy Winter Weight Loss Challenge!
About me…..I have struggled with my weight for about 4 years, since having my first baby. I put on a horrifying 40kg during my first pregnancy. Fast forward 3 years and it is April 2013, I have just had my second baby and a week later jumped on the scales to find myself a HUGE 122.7kg. I was always around 55-65kg so to be 122.7kg was a definite eye opener. And it was no longer just about me but about setting a healthy example for my two children.
I started the 28 Day Diet and Exercise Plan once I got home from the hospital, and then just started creating my own meal plans from the Lose Baby Weight website recipes. I started the smoothies at around 4 weeks post baby #2 and loved them! It has now been 14months since I had #2 and started Lose Baby Weight. I had put weight on during June (around 4.5 kg) after going on a 2 week cruise, and a little bit of self sabotage.
I was 78-80kgs around October/November 2014, putting my weight loss at 44.5 kg, I then plateaued for around 5 months before this small gain. I will be starting the month of July and The 28 Day Winter Weight Loss Challenge at 82.7 kg, with a goal for the month to get to under 80kg (even 79.9kg works for me!) and to also get back into the healthy eating with no self sabotage.
I really feel it when I don't eat healthily and that this  June was a month of catch 22s. I felt terrible and miserable so I ate, and my eating made me feel miserable and terrible! Well I am shaking it off, and getting back on the horse (or the Treadmill come tax return!!)
We can do this together. Even if you aren't doing the 28 Day Winter Weight Loss Challenge set out by the wonderful Lose Baby Weight, we are all undertaking our own challenges and the main reward is the same regardless – healthy, happy and fitter Mummies!
I look forward to checking in with everyone in a couple of weeks. I will be on the Healthy Mummy & Lose Baby Weight Private Support Group at least daily and always happy to answer any questions or offer any support I can. I used to think this was something i needed to do alone, but I have since realised, I need the support and motivation of others. I know that if I fall off the horse, the only person who can get back on it is me, but knowing i have done it before, means I can do it again. We all have good times and bad times, life sometimes gets in the way, but to be a happier healthier me, I will work on the way I deal with these curve balls.
Happy July!!!
Erin Field
xxxx
GET YOUR 10% DISCOUNT
If you are ready to lose weight then the Lose Baby Weight plans offer a healthy and safe exercise and diet routine and you can get a 10% discount by using code LOYALTY at the checkout
PLUS our BEST SELLING 28 Day Diet & Exercise Plan is available as a 200pg Printed Book and you can get your copy here 
Plus our NEW CALORIE BIBLE is now available – get your copy today! Only $19.95 and a must have in your handbag!
Click HERE to see our shop