The weather is starting to cool down, so we've put together a BRAND NEW eBOOK, which we are super excited about!
The Healthy Mummy Winter Smoothies Recipe Book is a beautiful book, overflowing with over 50 of our favourite comfort smoothie recipes to help you continue on your healthy eating meal plans through winter.
Smoothies are just perfect for busy mums. You can add so many healthy ingredients together with your favourite milk or water plus the
Healthy Mummy Smoothie powder
, and you have a nutrient loaded meal in minutes.
These winter smoothies are ideal to complement next month's 28 day weight loss challenge, which is all about Slow Cooking and One Pot Recipes.
Here is one of our favourites from the new book –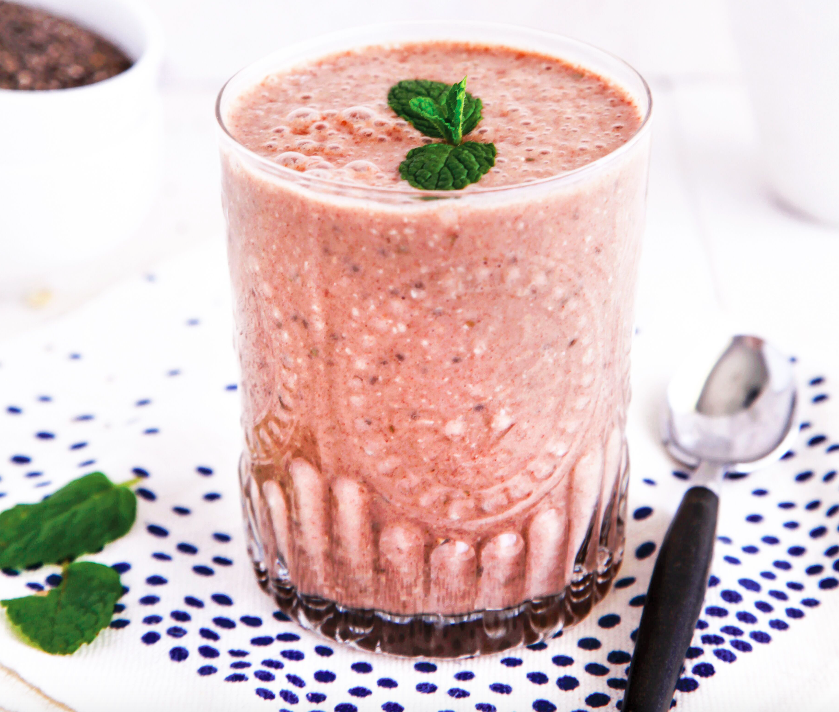 Mint Surprise Smoothie
For the choc-mint lovers. Mint is great for digestion and bananas contain potassium, which can lift your mood.
Ingredients (Makes 1 serve)
1 cup soy milk chocolate flavour (250 mls)
2 tablespoons Healthy Mummy Smoothie Mix Chocolate (25 grams)
3 teaspoons mint leaves (15 grams or 5 leaves)
1/2 banana (45 grams)
This is a 5 ingredients & under recipe. Please note that non-key ingredients such as salt, pepper, water, oil, vinegars, some herbs & spices, accompaniments such as side salads or vegetable sides etc are not included in the "5 & under" ingredient tally.
Method
Place all ingredients in a blender (adding some ice cubes if desired) and mix until well combined.
Tip – for a super smooth smoothie, remember to blend the ingredients for 2-3 minutes as the smoothies are a natural product, are non refined, are low in sugar, are high in natural fibres and contain whole foods so need a good blend.
Recipe makes 1 serve, 303 calories per serve.
(Please note that if you are a Challenge member and making this recipe for more people, you can customise the serves on the ingredients and the ingredient list will change accordingly.)
If you loved this recipe and would like all our Winter Smoothie recipes (there's over 50!) FREE, plus plenty of bonus tips on the best milks to use and how to save time and money, then enter your details below and it will be in your inbox within minutes.
It's packed full of everything you need to keep your heathy eating plan on track through winter, with smoothies, bliss balls, porridge, smoothie bowls and other sweet treats.