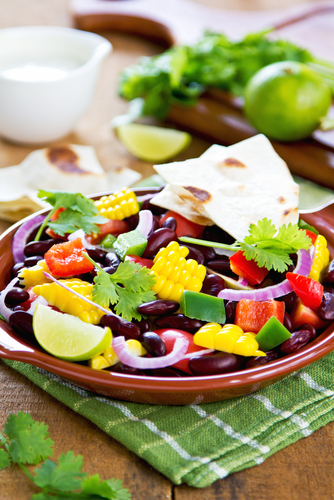 Here's a tasty dish that takes no time at all to throw together.
When you are trying to lose weight it's a great idea to use lots of colour in your meals.
It ensures you don't get bored, as it's visually appealing. It also means you are getting loads of essential vitamins and minerals from your meals.
Beans are a great store cupboard staple that add a hit of protein to any meal.
When they are tinned they are already cooked and so are just so convenient. Be sure to drain well and rinse under cold water before using.
Ingredients:
For the salad:

400g tin of kidney beans, drained and rinsed

1 small red onion, chopped

1 large green capsicum, cut into chunks

1 large red capsicum, cut into chunks

½ cup coriander leaves

1 corn on the cob, corn removed in chunks

2 ripe tomatoes, diced

2 tbsp Parmesan, grated

1 tbsp olive oil

2 tortillas, to serve
For the dressing:
2 tbsp olive oil
1 tsp minced garlic
1 tbsp lime juice
Method:
In a large bowl combine the onion, capsicum, coriander, corn, tomatoes, Parmesan, 1 tbsp olive oil and the kidney beans.
Make the dressing by shaking up the garlic, lime juice and 2 tbsp olive oil in a small jar. Pour over the salad.
Make the crispy tortillas by cutting into wedges and placing them under the grill until crisp and golden.
This is delicious served with some light sour cream or home made guacamole.
Serves: 2. Calories per serve: 550. (excl sour cream and guacamole)

Need to stock up on Healthy Mummy Smoothies? Then see our shop here
And join our 28 Day Weight Loss Challenges here