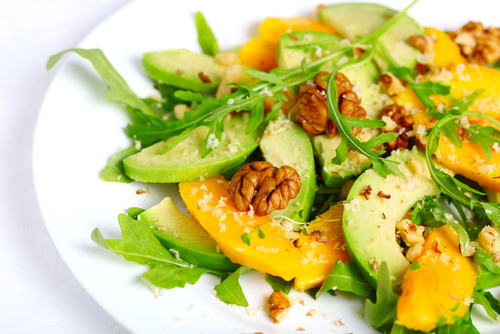 Here is a simple healthy eating side salad that makes the most of fresh summer produce.
Mangoes are at their peak at the moment which means they are packed with flavour and are also at a good price.
Keep them chilled before using to add a coolness to the salad that's perfect for the warmer weather.
Mangoes are packed with health benefits (click here to read more) and are a great way to add sweetness to your savoury meals – as well as being delicious on their own or in your Healthy Mummy Smoothie.
This salad pairs well with everything from grilled fish, chicken, lamb chops to BBQ steaks.
Avocado is a great vegetable to add to salads when you are trying to lose weight, as it adds a hit of creaminess while also providing nutrients, fibre and good fats.
Ingredients:
2 cups rocket lettuce
1 fresh mango, cut into chunks
1 ripe avocado, peeled, de-seeded and cut into chunks
¼ cup walnuts, crumbled
2 tbsp grated Parmesan cheese
Juice of ½ a lemon
2 tbsp olive oil
Salt and pepper to taste
Method:
Place the rocket in a large bowl and top with the mango, avocado, and walnuts.
Pour over the lemon juice, olive oil and Parmesan.
Season to taste and toss to coat.
Serves: 4 as a side. Calories per serve: 237.

GET YOUR 10% DISCOUNT
If you are ready to lose weight then the Lose Baby Weight plans offer a healthy and safe exercise and diet routine and you can get a 10% discount by using code LOYALTY at the checkout
PLUS our BEST SELLING 28 Day Diet & Exercise Plan is available as a 200pg Printed Book and you can get your copy here 
Plus our NEW CALORIE BIBLE is now available – get your copy today! Only $19.95 and a must have in your handbag!
Click HERE to see our shop