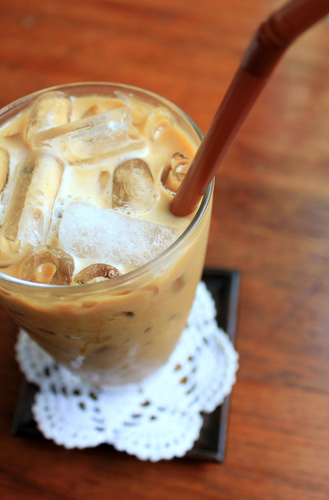 When the weather warms up it can be tempting to grab a cold drink from a café to cool off.
But many of the iced coffees from coffee shops are laden with sugar syrup and then topped with whipped cream.
This doesn't make them an ideal choice for those of us who are trying to lose pregnancy weight by following a healthy eating plan.
A great way to enjoy an iced coffee is to make it yourself at home.
We have a foolproof way to do this, and all you need is a coffee plunger (oh, and some coffee…).
If you are interested in some variations, why not try different flavoured coffee, or you could add your own flavour to the coffee before chilling, such as:
1 tsp ground cinnamon
1 tbsp cocoa or cacao
A sprinkling of ginger or nutmeg to taste
1 tsp vanilla bean paste
Ingredients:
3-4 scoops of your favourite ground coffee
Cold water
Cold milk of your choice
Ice cubes
Sweetener, if required
Method:
Prepare your plunger as you normally would, adding in the ground coffee to reach your desired strength.
Top up with cold water, and stir well.
Cover with plastic wrap and place in the fridge for at least 4 hours (so to enjoy it at 3pm, pop it in the fridge around 11am).
When chilled, plunge the coffee as normal.
Place ice cubes into your glasses and half fill the glass with your milk of choice. You can, of course, serve it without milk if you prefer.
Top up with the coffee and add a little sweetener if required (honey or some stevia work well).
The chilled black coffee can be stored in the fridge for several days.
And to make this iced coffee into a nutrient and protein packed drink add in 2 x tbsp of the Vanilla or Chocolate Healthy Mummy Smoothie and you can make your coffee into a filling lunch – or breakfast – just blend for 2 mins with the smoothie mix added
Serves: 4. Calories per serve: 90. (based on using skim milk and no sweetener)

GET YOUR 10% DISCOUNT
If you are ready to lose weight then the Lose Baby Weight plans offer a healthy and safe exercise and diet routine and you can get a 10% discount by using code LOYALTY at the checkout
PLUS our BEST SELLING 28 Day Diet & Exercise Plan is available as a 200pg Printed Book and you can get your copy here 
Plus our NEW CALORIE BIBLE is now available – get your copy today! Only $19.95 and a must have in your handbag!
Click HERE to see our shop