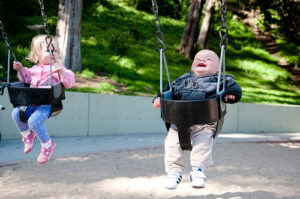 Organising play dates for your baby is an amazing way to get some time to relax, and it also gives you the opportunity to interact with other mums to share insights on how to manage your newborn or even chat about how to lose baby weight.
In addition, play dates can help your child develop key skills such as independence, communication, creativity, curiosity and problem-solving. It can also free up some time for you to do some post pregnancy workouts!
Be creative with the play dates and get other mums to go for walks in the park with baby strollers or go for an outing at the zoo. Depending on the age of your baby, many parks have fun playgrounds and picnic areas for children to play in.
We all need someone to talk to from time to time and getting social with other parents can help you build long-lasting friendships. Not only that, they can also double as support pillars to help you on your new mummy journey.
Also, don't forget that the park has endless possibilities for you to do light exercises. Brisk walks in the park or any form of walking will help you burn some calories and stimulate blood circulation to optimise your weight loss goals.
If you need some time to yourself, you can always organise with other mums to take turns to host the play dates. When your child goes for a play date at the designated home, take these one or two hours to get some snooze, read a book, watch television or take a long, relaxing shower.
However, before leaving your child at the play date, make sure that you help your baby initiate interaction with other kids so that she feels comfortable with the surrounding environment. This will also be a great time for you to do more in-depth exercises to help you lose baby weight. Take this time to do more intense exercises such as sit-ups, Kegel exercises, yoga or just a simple jog around the park.
Most importantly, your child's play date must be a responsible parent who emphasizes on child safety and growth. Go on a few play dates with your child to better understand the environment and to get to know the other parents. When you feel that it is safe to bring your child to their play dates, then you can start having your own free time to get on with your weight loss and diet plans.
Now that you've got more time to get started on your weight loss plans, have a look at our 28 Day Diet & Exercise Plan. Alternatively, for a quick and easy snack, have a go at our delicious and nutritious Healthy Mummy Range and creative smoothie recipes.