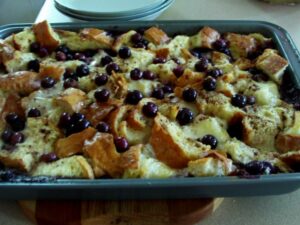 There are so many reasons why people are going gaga over blueberries and if you haven't got in on it, it's about time you added some into your daily post pregnancy diet.
Generally considered as a super food with amazing health benefits, blueberries are tasty and has tremendous antioxidant qualities.
The high levels of antioxidants makes it great for boosting blood flow in our body, prevents cancer, and helps us build immunity.
On top of that, catechins found in this delightful tiny fruit encourage the activation of fat-burning genes in our abdominal cells so that you can trim some bulk off your waist.
If you are looking for a tasty breakfast that is guaranteed to pack a punch, then check out this yummy Low Fat Blueberry French Toast!
Ingredients:
450 grams whole grain bread
2 1/2 cups non-fat milk
2 cups liquid egg replacer (can be found in Woolworths or Coles)
2 tsp vanilla extract
3 tbsp stevia
3/4 tsp ground cinnamon
2 cups fresh blueberries
Methods:
Cut each slice of bread in half.
Prepare a baking tray that is approximately 22 x 33 cm and coat it with non-stick cooking spray.
Place and overlap the sliced halves at the bottom of the tray until it is fully covered.
In a medium bowl, whisk milk, egg substitute, vanilla, sugar and cinnamon.
Sprinkle the blueberries over the bread slices and pour the mixture over it.
Using the back of a spoon, gently press the bread until the mixture is soaked in.
Cover with foil and refrigerate for 8 hours or overnight.
When it is ready for baking, preheat oven to about 180 degrees.
Bake covered for 40 minutes then uncover and bake for another 15 -20 minutes.
Serves: 12
Prep time: 8 hours
Cooking time: 1 hour
Calories: 202
Carbohydrate: 33.5g
Protein: 10.7g
GET YOUR 10% DISCOUNT
If you are ready to lose weight then the Lose Baby Weight plans offer a healthy and safe exercise and diet routine and you can get a 10% discount by using code LOYALTY at the checkout
PLUS our BEST SELLING 28 Day Diet & Exercise Plan has now launched as an 84pg Printed Book and you can get your copy here – with free express postage if you order the book on its own
Click HERE to see our shop