Nutritionist Lauren Kolstad has come on board as a Motivating Mum for September and has lost an incredible 12.3kgs in 10 weeks following the Lose Baby Weight plans.
Follow Laura as she takes on the 28 Day Challenge!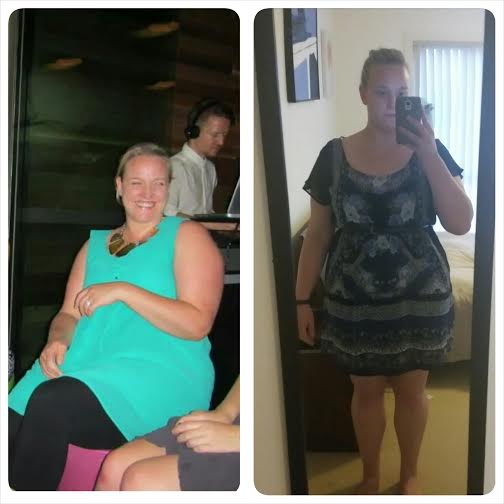 Hello lovely Mummies
I'm delighted and very excited to be a Motivating Mum for September.
Saturday 30th August is my son's 2nd birthday. Just over two months ago with my weight going up and up, I decided I needed to pull my head out, start valuing myself again and do something about it! My friend mentioned that she was doing the Lose Baby Weight Winter 28 Day Challenge and encouraged me to sign up. I am so glad I did!!
As a nutritionist I have never had a problem with knowing the right things to eat to live well and be healthy, for me it has always been a mental battle to stop emotional and bored eating. The Lose Baby Weight program really resonated with me as it provides sound nutritional and exercise advice with amazing support from both Rhian and the inspiring mummies who admin the Facebook Healthy Mummy & Lose Baby Weight Private Support Group.
At the beginning, with 30kg to lose, I broke my weight loss goals down into 5kg increments and made some lifestyle goals too. My lifestyle goals were to be able to fit on a swing at the park (I swear they make them smaller and smaller) and to go on the trampoline with my son (he was getting one for his birthday).
Well, I'm proud to say that following the Lose Baby Weight plans and doing the July challenge, I've lost 12.3kg in 10 weeks, am finally in double digits (currently 97.3kg) and can go both on the swing and jump on the trampoline!! I've also been able to FINALLY pack away my maternity clothes J yes I have been wearing them this whole time! It's like I have a whole new wardrobe again.
I have had some good results so far and I know that there will be times when this slows or I have plateaus, but the small changes I have made and continue to make, have had maximum results. There are so many recipes to pick and choose from and the plans are very easy to follow.
With a bit of organisation I am set for the week!! I usually plan my weekly menu on my day off (Friday) while my son is having his day nap and then when he wakes we go shopping. I have a Healthy Mummy Smoothie for breakfast (they taste amazing!) some healthy snacks at morning tea, afternoon tea and after dinner, and I choose a lunch and dinner from the 28 Day Challenge recipes or from the website. My husband and son are great eaters, so have happily inhaled all of the recipes we've tried – I'm even luckier that my husband is the main cook in the house, however it has taken a bit of work to get him to cook in a healthier way!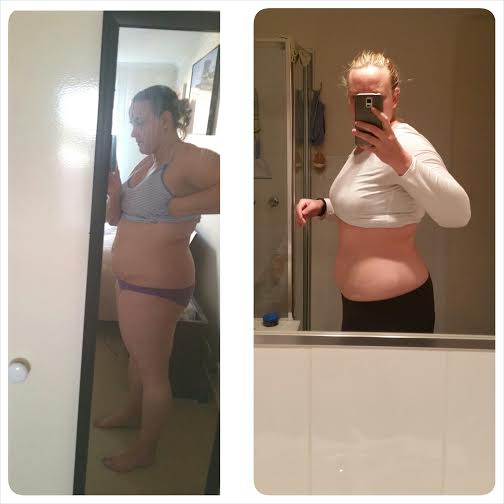 For the first time in my life I've also started running. As a teenager I was a national level swimmer and played basketball for NSW but even then I was no runner! My excuse was always 'swimmers don't run'. However, with motivation from my friend and the realisation that I needed to do something to get back into exercise, I started walking/jogging. I use the term jogging loosely as at 110kg (where I started) it was more of a shuffle/plod than a jog.
In 7 weeks I went from running approximately 30% of 5km in about 50-55min to running the whole way in about 35mins. I do the 5km run once a week and try to go for another 5km walk once a week. I've also been doing the free Tone Up Challenge for August and an occasional HIIT or kettlebell workout. Can't wait for the September 28 Day Challenge workouts.
I'm looking forward to the September 28 Day Challenge where I am aiming to get rid of the last 4kg and get to pre-pregnancy weight. With 18kg to get to goal I still have a long way to go, but with the support and motivation of all the other mummies I am well on my way,  hopefully I motivate a few of you too.
Lauren K
Need to stock up on Healthy Mummy Smoothies? Then see our shop here
And join our 28 Day Weight Loss Challenges here