'Hi ladies, I just wanted to send in my progress this year!
I set my goal in March when I first started on the Lose Baby Weight plan.
I was looking for a diet plan online and came across your site!
I am so happy to email and let you know that I have reached my goal!
I am mummy to 3 beautiful boys aged 5 months, 2 years and 4 years old.
I had my third baby boy in December last year.
When I was full term with him I weighed my largest at 94kg.
I have big boys and my big bubby was born at 4.5kg. After he was born I lost about 13kg and came down to 81kg.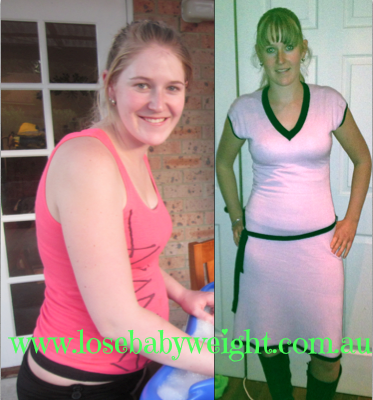 When my little one was over 3 months old I set the goal to get down to 68kg as this was what I think I was before I had my children.
I found the Lose Baby Weight site and purchased the 28 Day Plan, which then led me to purchasing the smoothies.
I was very skeptical about them, as protein shakes I had tried before basically tasted like vanilla flavoured chalk water
However the healthy mummy smoothies were delicious! I have made my own recipes and love them.
I found the Motivating Mums a real motivation… go figure!
Especially Linda and her big weight loss, I remember looking at her photos and feeling so excited for her.
So with a combination of the healthy mummy smoothies, meals and snacks from the 28 Day Plan, I have now gone beyond my goal weight and now weigh 66kg!
I've lost a total of 13kg with the Lose Baby Weight plans
And I feel great, my milk supply increased so much. Unlike when I was feeding my two older boys, my milk supply has kept up with him and I never feel like I don't have enough milk.
I feel so much healthier, I very rarely bloat and my digestive system seems to be so happy with what I'm putting in it!
I'm really struggling with my wardrobe and really need to go shopping!
I have pretty much nothing that fits me and I'm so excited to get myself a complimenting wardrobe again.
Thanks so much for the help and information you have provided!
I felt like it was impossible to lose weight, but the joy I feel at achieving my goal is amazing! I can control my weight!
I've attached some photos of myself 3 months post pregnant & now.
Thanks again.'
– Larni Hall
GET YOUR 10% DISCOUNT
If you are ready to lose weight then the Lose Baby Weight plans offer a healthy and safe exercise and diet routine and you can get a 10% discount by using code LOYALTY at the checkout
PLUS our BEST SELLING 28 Day Diet & Exercise Plan has now launched as an 84pg Printed Book and you can get your copy here 
Click HERE to see our shop